Lach Lo village of Nam Ka commune in Lak district of Dak Lak province) is a particular locality of hardship because of its complicated terrain and isolation from the outside world. Therefore, in addition to the investment of the State, the local people need the attention and sharing of the community. Stemming from such actual need, recently, with the support of Dak Lak provincial Police Advisory, the White Dove Volunteer Club belonging to the Red Cross of Thu Dau Mot city has organized a volunteer group to give loving gifts to disadvantaged people, especially scholarships and books to help children go to school.
Meaningful gifts are given to poor students at Lach Lo village
Accopanying children to school
In the rainy season of August, the road to Lach Lo village is covered with mud. It is, according to the commune official, more than 15km from Nam Ka Commune Center to the village which is nestled among the vast forests as one of the most villages of hardship in Nam Ka commune with many households being poor and nearly poor. Local people mainly live on swidden cultivation, and their life is still harsh and lacking.
In order to reach the village, our group had to get through the zigzag, muddy and jagged with rocks road to the village. Many slopes were so slippery that you have to by the sides. For those who are used to living in the city, this was a memorable experience for a lifetime as the rough road was nothing comparable to the poverty and hardship of local people.
Responding to the sincere heart of the delegation, from early on, a large number of people were present. Mr. Vu Trong Quan, Chairman of the White Dove Volunteer Club, said: "It must be very hard for the delegation to reach the village, but when they see the eagerness of the people, all the fatigue was dispelled, instead, it was joy and happiness as we were doing the meaningful work." During the return trip to Nam Ka commune, especially to Lach Lo village, the delegation presented 12 study promotion gifts and learning tools to poor students for them to overcome difficulties and 100 gifts of essential necessities of pants and clothes for the households.
Lieutenant Colonel Nguyen Thanh Hai, Deputy Head of the Public Security Staff Office of Dak Lak province, said: "The White Dove Volunteer Club has brought meaningful gifts to the people of Lach Lo village in particular and Nam Ka commune in general. Hopefully the words of encouragement and practical gifts will help the people of Lach Lo village in Nam Ka commune have the motivation to overcome obstacles and hardship in life to feel secure in doing business, develop production, and well implement the guidelines of the Party, policies and laws of the State."
The desire for change in Lach Lo
According to Y Dua Bdap or Ma Khieu, a police officer of the village, during the US resistance war, Lach Lo was an important resistance base where it protected and nurtured revolutionary cadres and was the rear to solve the problem of liberating the homeland. Currently, Lach Lo people still face many difficulties because there is no road to enter by car. People's livelihood is still mainly self-sufficient. Agricultural production depends entirely on nature, so it is difficult to divert to development.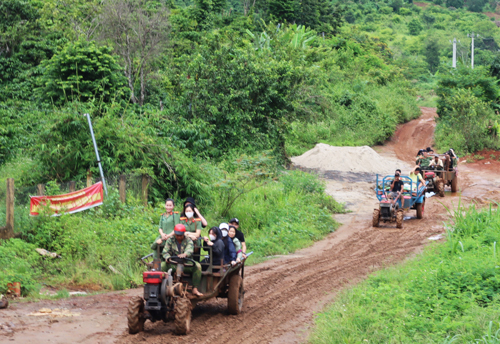 The means of transportation to reach Lach Lo village can only be pickup trucks, trucks, and tractors
According to Trade Chief Ama Nhan, the Party and State are always taking good care as many times they have mobilize people to move to new settlements, but the locals have lived and established for many generations and wanted to stay on their land left by their fathers and continues to promote the village's tradition of solidarity. "Being interested by the Party, State and authorities at all levels, our people are very happy and grateful. Before, there was no electricity, no road, and no school. We knew almost nothing about the outside world. Now, the State has provided electricity, opened roads, and built a school for the children," Ama Nhan said emotionally.
In fact, to get to Lach Lo, today it is a bit more convenient than before thanks to the patrol and forest protection road of Nam Ka Nature Reserve; however, you can only ride a motorbike, and cars cannot enter. If it's rainy season, motorbikes have to be wrapped a "dog leash" (a kind of chain) around the wheel with a steady handlebar to be able to cross more than 10km of forest roads.
To change is nothing more than teaching children to know the words. Locally, in order to maintain class attendance, teachers are not only teachers but also the motivators to call for parents to send their children to class.
"It is not possible for children to follow their parents to the fields. We have to save money so that when we have the opportunity to go out to the central town, we can buy some gifts or some candy to reward the children who go to school. Most of the children are very excited," said H' Bich Du, a preschool teacher. It is known that teacher H' Bich Du, born in 1985 of Bong Grang commune in Lak district of Dak Lak province graduated 7 years ago, and has only been employed for 2 years. As a local son, right after being recruited, H' Bich Du volunteered to teach in the village.
And Ms. Hoang Thi Cam Van has also volunteered to install the village for 2 years. "Seeing the children love them so much, which motivates us to overcome sadness and hardship in a life without the internet and social networks to see the children going to school. At their age, local children are disadvantaged in many ways, now if I do not make efforts to bring love to them, later on they will lose even more in the society. Despite difficulties and lack of everything, we will still stay at the school and the classes so that the children can have fun and study," said Ms. Van.
Saying farewell to Lach Lo, and to poor farmers and children with innocent smiles, our group hopes to meet again in the upcoming Mid-Autumn Festival to bring the local children a season of full moon.
Reported by Thu Thao – Translated by Vi Bao