Upholding the desire to bring the workers away from their hometown a happy spring and suitable for the current Covid-19 pandemic prevention and control situation, the Center for Youth Workers' Support and Binh Duong provincial Trade Union have organized a series of programs of humanistic and practical meaning to motivate and share with difficult young workers who stayed in Binh Duong during Lunar New Year.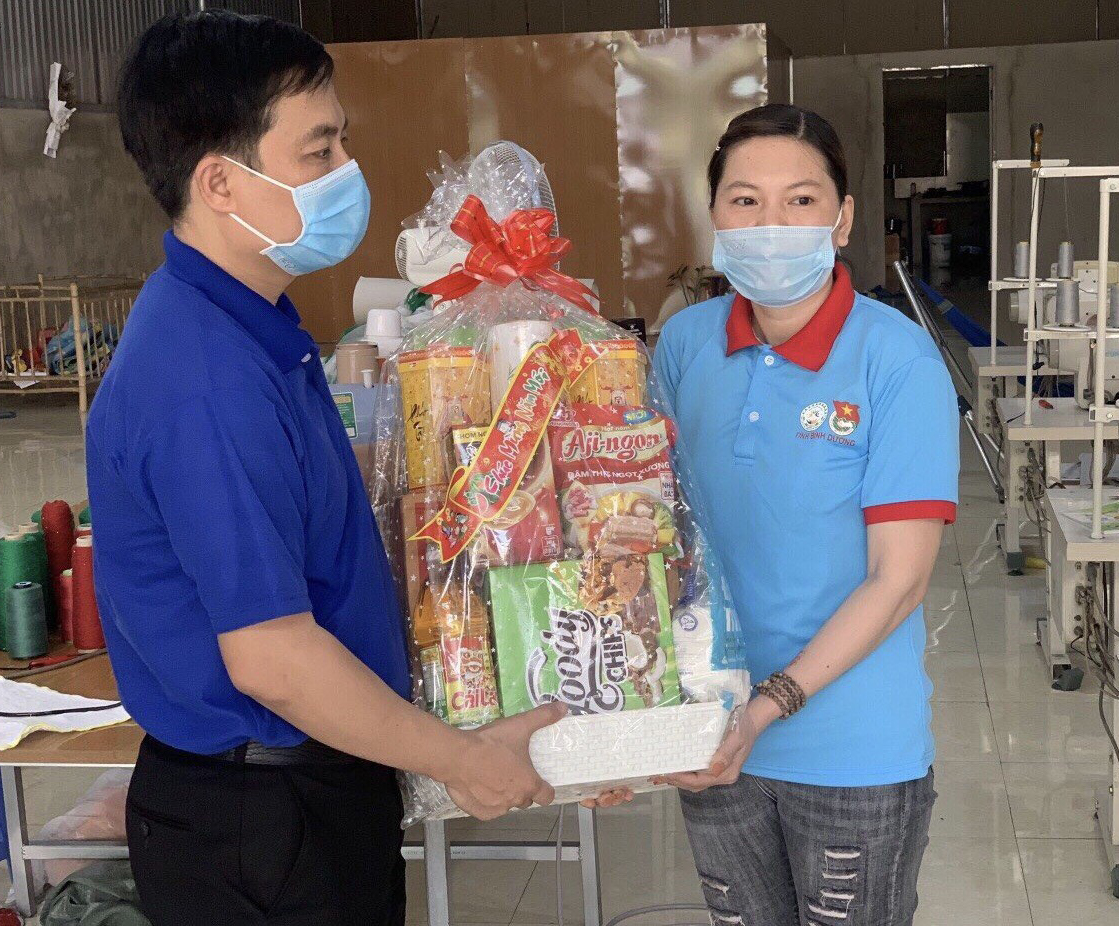 Leader of Center for Youth Workers' Support hands gifts to those workers not having returned home for Tet
Upholding the spirit of mutual sentiment, the Youth Workers 'Connection Clubs under the Center for the Young Workers' Support participated in offering 500 'banh tet' for the poor workers. In addition, thanks to the support of Becamex IDC Corporation, the center also gave 100 gifts to young workers in need and gave gifts from Binh Duong provincial People's Committee to the managers of the Youth Workers' Connection Club under the center. At the same time, propaganda on prevention and control of Covid-19 has been implemented to donate 5,000 masks to the connection clubs. Last but not least, the center's leaders have also directly visited and encouraged two young workers of Truong Thi Dung (from Nghe An), who are working at CF Vina Company and Nguyen Thi Thanh (from Bac Lieu) who has canceled a ticket not returning home during the Lunar New Year due to the Covid-19 epidemic. Center leaders visited and encouraged them and gave each of them a gift worth VND 700,000.
Along with that, the center also organized the program of "New Year's Warmth". During the program, the center's leaders and benefactors visited and wished for Tet at the accommodation of young workers in difficulties in Nam Tan Uyen Industrial Park (Tan Uyen town), Residential Area of Hoa Loi (Hoa Phu ward, Thu Dau Mot city) and My Phuoc 1, 2, 3 industrial parks (Ben Cat town).
At the destinations, the center's leaders and donors gave New Year gifts and wishing to young workers who could not have enough conditions to return to their hometown for Tet holiday and children of workers in need. By the program, the organizers gave 90 gifts to the workers, each gift worth VND 500,000. Nguyen Van Hop, a worker of Pma Industrier Vietnam Co., Ltd. and a native of Thua Thien Hue, said: "Due to the Covid-19 epidemic, my whole family returned the ticket to stay in Binh Duong for Tet. This is the first year I have to celebrate Tet away from my hometown but I received warm love on the 30th of Tet holiday from the brothers and sisters, leaders of the Center for Young Workers' Support Center. Thank you for creating a happy and safe Tet atmosphere for my family."
A joyful Tet atmosphere connected among the young workers who did not come home for Tet holiday also exists at the Youth Workers' Connection clubs. It was reunion meals of workers who werefar from their hometown, financed by the center. The dishes were carefully prepared by the young workers at the hostels in the spirit of their eagerness to gather with traditional dishes of Tet. Le Thi Que, a worker at Yuichi Fukada VN Company (in My Phuoc 3 Industrial Park, Ben Cat town) and a native of Nghe An, said: "We at the hostel have thoughtfully prepared for the meeting and the dishes. Being able to make the same dishes as at home is of my liking. My siblings and I talk and transmit information to prevent and control the Covid-19 epidemic as well as to welcome Tet holiday safely and happily just like home."
As for Son Quy Sach, a Khmer from Soc Trang and Chairman of the Youth Workers' Connection Club No. 8 (working at Long Win Company in Nam Tan Uyen Industrial Park, Tan Uyen town), said: "This year, due to the epidemic of Covid-19, many friends in the Youth Workers' Connection Club No. 8 in particular and the young workers in the area did not return to their hometown for Tet. The Center for Young Workers' Support in the province had meaningful activities to share with other young workers in difficulties who stayed in Binh Duong to welcome a thrifty and healthy Tet. Thereby, the young workers living far away from their hometown become more and more attached to Binh Duong because of their true love and affection."
Reported by Nhu Y – Translated by Vi Bao