During the national Tet festival 2023, the atmosphere and activities to welcome the new year, welcome the spring were lively. Everywhere in the province, people can feel the jubilant Tet atmosphere. The streets are filled with the spring colors which contain beliefs and hopes…
Streets greet the spring
At Binh Duong New City Park, exciting activities were organized, such as cultural programs, sound and artistic lights performances, fireworks show on New Year's Eve to celebrate the New Year; cultural music shows for 3 nights from January 22 to 24 (from the 1st to the 3rd of the first lunar month) became an attractive spring rendezvous for the public. The inner city of Thu Dau Mot also drew numerous people to the Night Market - Bach Dang pedestrian street, Phu Cuong Cathedral etc.
To create a highlight for the new spring and meet the spring travel demand of people inside and outside the province, Thu Dau Mot City focused on city decoration and flower welcome gate, street lights on every roads, parks, gardens... A new spring has arrived in the dynamic, developing, friendly and loyal Thu Dau Mot City.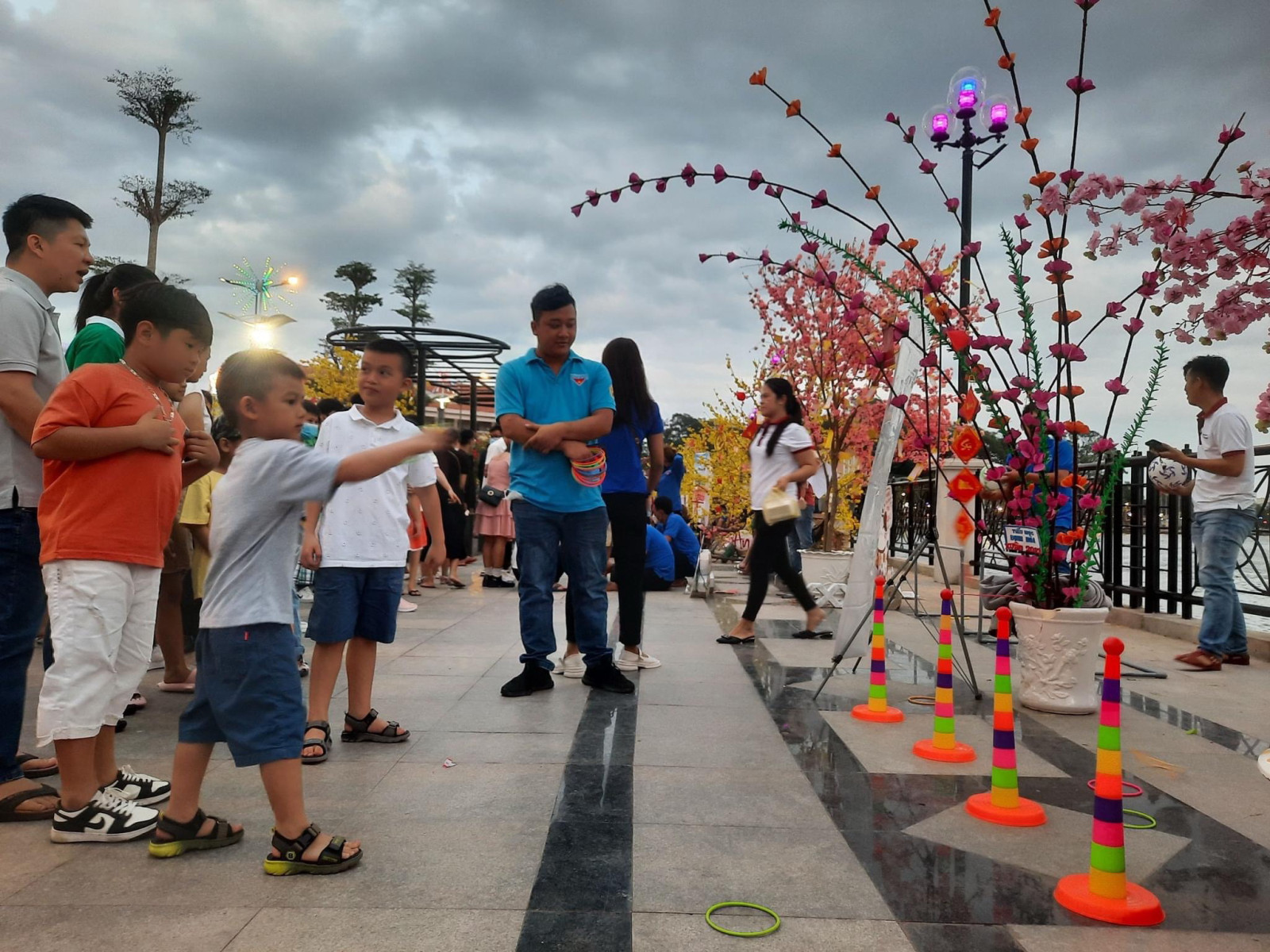 Bach Dang Walking Street (Thu Dau Mot City) attracts a large number of visitors during the Lunar New Year holidays 2023.
The Tet atmosphere in urban areas such as Thuan An City, Di An City, Ben Cat Town, and Tan Uyen Town was also vibrant and bustling. The streets were filled with spring colors, blooming flowers and colorful lights. In Thuan An city, spring flower streets had many Tet features. On the threshold of Tet, the Spring Flower Street on Cach Mang Thang Tam from An Thanh ward through Hung Dinh, Binh Nham to Lai Thieu, in which the most concentration was in Cau Ngang area and Binh Nham park, was very crowded with buyers and sellers. Nguyen Thi Anh Hong, a resident of Binh Nham ward, said: "Although the price of flowers this year is a bit high, but it is the Tet festival, every family must have flowers to light up the house. My family decided to walk the flower street and bought more than a dozen pots of ornamental flowers to decorate our home.
Warm spring love
Not only in urban areas, the spring air was also pervasive in rural areas. This year, in districts of Bau Bang, Dau Tieng, Phu Giao, North Tan Uyen, Party committees and local authorities organized a variety of activities to celebrate the Party and the Lunar New Year.
On the 93rd anniversary of the Communist Party of Vietnam (February 3, 1930 - February 3, 2023) and the Lunar New Year 2023, Bau Bang district held many exciting cultural, artistic, and sports activities, attracting many participants. Accordingly, Center for Culture, Sports and Radio of the district launched a local football tournament to celebrate the Party and celebrate the spring. The tournament had the participation of 8 teams from units and clubs in the district. This was a meaningful activity to celebrate the 93rd Party anniversary and welcome the new spring, created a healthy and useful playground for locals and workers inside and outside the district in the new spring days.
Previously, in order to help people and workers having difficult circumstances enjoy the Spring Festival, many units and benefactors organized activities to visit and give Tet gifts. Accordingly, the District Office of Labor - Invalids and Social Affairs coordinated with Kien Long Commercial Joint Stock Bank (Binh Duong Branch) to organize a Tet gift giving program. At this program, these units offered 100 gifts, each worth 500,000 VND, to poor households, needy children, former youth volunteers living in hardship. In addition, the District Youth Union and Youth Federation coordinated with Executive Board of District Buddhist Sangha to organize a spring coach program to support poor members, young workers. On this occasion, these units also gave 100 gifts of necessities to workers.
In Dau Tieng district, during the warm spring days, besides visiting and giving Tet gifts to policy beneficiaries, people having difficult circumstances, workers away from home, the district also did many meaningful activities for the celebration of the Party and the Lunar New Year. In which, the District People's Committee organized the program "Spring soldiers 2023". This is an annual activity of the district to meet and honor soldiers who completed their military service and return to their homeland, and at the same time to interact with young people preparing to join the army. In a warm, joyful atmosphere between military and civilian people, the young soldiers received the love and encouragement from heads of Provincial Military Command and local leaders.
The atmosphere to welcome the Lunar New Year in Phu Giao District was also very lively. Colorful flags and flowers from all over the district and commune centers to local neighborhoods and hamlets to welcome the spring 2023. In the center of the district, streets are decorated with flower flags and banners to celebrate the Party - celebrate spring, creating a more jubilant and animated atmosphere of the New Year. Tet flower markets attracted plenty of visitors and buyers, who bought flowers with the expectation of a new year of good health and successful work. In addition, the district also implemented social security policies for people with meritorious services to the revolution, social protection groups, poor students, poor households, near-poor households, workers having extremely difficult circumstances during the Tet 2023.
Namely, the district provided Tet support money for more than 4,000 policy beneficiaries and people with meritorious services to the revolution, with a total amount of nearly 7.2 billion VND; visited and gave 699 gifts worth nearly 1.4 billion VND to policy families and people; offered Tet gifts financed by the district budget to 600 disadvantaged workers who could not return to their hometown and stay in Binh Duong during Tet, with a total cost of 600 million VND...
The district's Youth Unions and Associations also organized many practical and meaningful Tet care activities for members. Namely, the District Labor Confederation organized the program "Tet reunion - Celebrate spring together" to give Tet gifts to needy union members and workers; the District Women's Union also organized a program to give Tet gifts to members having difficult circumstances; the District Red Cross with "Zero-Dong Tet market" offered many gifts and daily necessities to people having difficult circumstances...
The Spring 2023 in North Tan Uyen District was also buzzing and joyful. Programs and activities to celebrate the Party and celebrate the spring were organized everywhere. From rural roads, offices, to communes and hamlets were decorated with colorful flags and flowers to welcome the New Year. This year, the district's citrus fruit farming area was also in the harvest season, providing a variety of unique agricultural products... The air was filled with grapefruit, tangerine, and orange scents from gardens, streets to markets. A harvest season goes hand in hand with the common joy of every family in the new spring…
Translated by Ngoc Huynh