Considered as a locality with "global thinking and national vision", Binh Duong has chosen a smart development path to become a city of science, technology, and innovation and a destination of international trade.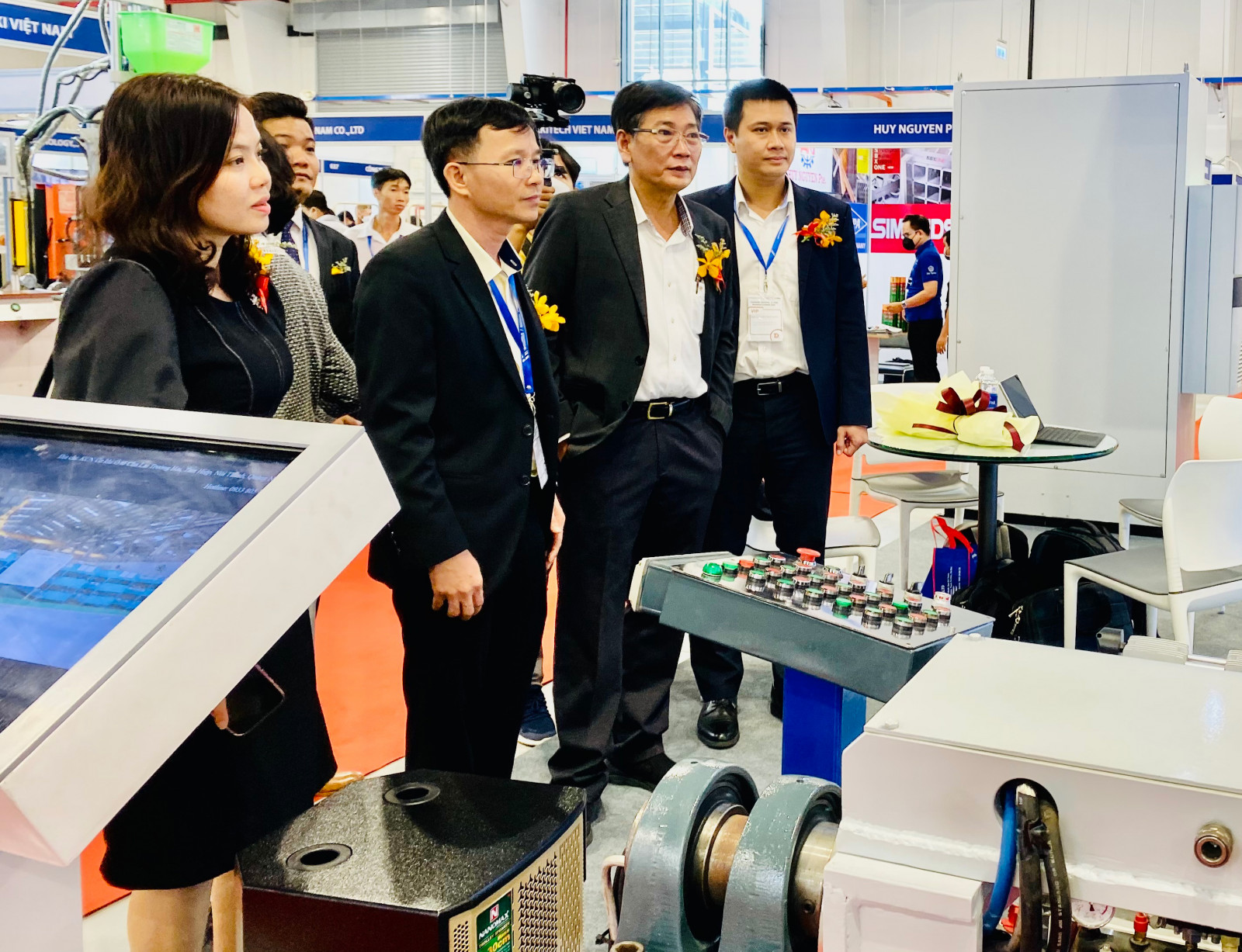 The VIMF 2022 exhibition just held in Binh Duong facilitates the connection of domestic and foreign businesses. In the photo: Provincial leaders visit smart technology models at the exhibition
Global connection
With the "Innovation Zone" Project, Binh Duong is building a goal of economic development in balance with increasing the proportion of services in the economic structure. In order to realize the goal, Binh Duong focuses on planning to supplement the urban master plan with the modern orientation to utilities connecting within the regions and inter-regions. At the same time, it is strongly attracted to trade and information technology. At the same time, Binh Duong also focuses on training to improve the quality of human resources and to supplement high-class service programs, supply chains, logistics, infrastructure, and diversified transportation according to international economic standards.
Binh Duong determined that promoting investment attraction in the field of trade and high quality services not only creates a new face for Binh Duong but also is an important highlight contributing to the development of the Southern key economic region in accordance with the direction of the People's Committee of Binh Duong province linking industry, urban, and services. That is the guideline for the implementation of plans in the direction of prioritizing resources to accelerate the connection of belts, arterial roads, seaports, and international airports, which is what creates a Binh Duong with long-term vision and connection as a great foundation for the province to confidently overcome existing challenges.
With the way of urban development planning according to the TOD model - the model of urban chain development along public transport routes, it will create a place to help distribute the population evenly, promote local commerce, public transport, and street culture. An important highlight for Binh Duong to promote the development of the trade - service sector in the direction of smart is the construction and development of the World Trade Center of Binh Duong New City (WTC BD) - a unit that will play a nuclear role to opens the door of trade with 230 world trade centers around the world, connecting with international organizations.
In addition, Binh Duong is deploying a cross-border e-commerce test area as the first pilot model in Vietnam. Goods serving e-commerce platforms in Southeast Asia will be stored in those bonded warehouses, and when an order arises in any country, the goods will be shipped there. The project is expected to be a lever to help position Binh Duong as a logistics center for e-commerce in Southeast Asia.
Binh Duong also promotes research and development activities to bring a new service and intellectual services. In the new city of Binh Duong, Eastern International University has more than 20 start-up businesses operating with a system of Techlab, Fablad rooms, and Business Incubators serving and attracting startups from new ideas and real life application. The highlight is the experimental workshop for industrial start-ups, with the advantage of having an industrial production background, Binh Duong is the most suitable place for the construction and development of startups in industry and production. The project is currently in the construction phase and is about to be completed, promising to be an ideal place for the implementation of start-up ideas in the industry.
To expand cooperation
Despite many challenges, Binh Duong's accumulated foundation after the past journey is huge. Binh Duong has expanded diplomatic relations and cooperated with many big cities in the world such as Deajon of Korea, Yamaguchi of Japan, Einhovend of Netherlands etc. Many big brands in the world have set up factories in Binh Duong such as Panasonic, Pepsi, Kumho, and Vinamilk. Binh Duong's education and training system has developed with many universities and cooperates well with major universities in the world such as the National University of Singapore, the University of Portland. Great technology firms such as BOSCH and PHILIPS have come to learn and wish to expand cooperation as an important foundation for promoting cooperation and developing trade in services in a smart way.
On the other hand, Binh Duong has a large industrial base, so technology development and digital transformation strategies for both the public and private sectors are very suitable for the 4th industrial revolution development. In addition, with the development models of smart industrial parks and with the application of information technology and automation technologies in management and operation, the attraction of residents, new generation talents would be affected to create an important driving force for the development of commerce and smart services.
Talking to us, Mr. Cao Tan Luc, Director of OMG Events Company, Head of the Organizing Committee of Vietnam Industrial and Manufacturing Exhibition (VIMF 2022), affirmed: "With a modern infrastructure system and an international standard exhibition center with surrounding facilities, WTC BD has been and will be the destination of international conferences and exhibitions as the new conditions for businesses to develop to affirm Binh Duong's position."
Reported by Tieu My – Translated by Vi Bao