In more than 10 years of efforts to implement the new rural construction program, the new rural appearance of the localities of Phu Giao district, up to now, has clearly changed as the material and spiritual life of the people have been constantly improved and enhanced.
The success
In 2018-2020, Phu Giao district has implemented advanced new rural construction in localities. At the same time, it has integrated and taken advantage of infrastructure investment resources to raise criteria for new rural areas, especially infrastructure for agricultural production such as irrigation and intra-field traffic from public investment capital, on which, infrastructure and cultural institutions in the area have been built basically and completed in the direction of multi-purpose such as transportation, irrigation, cultural houses etc.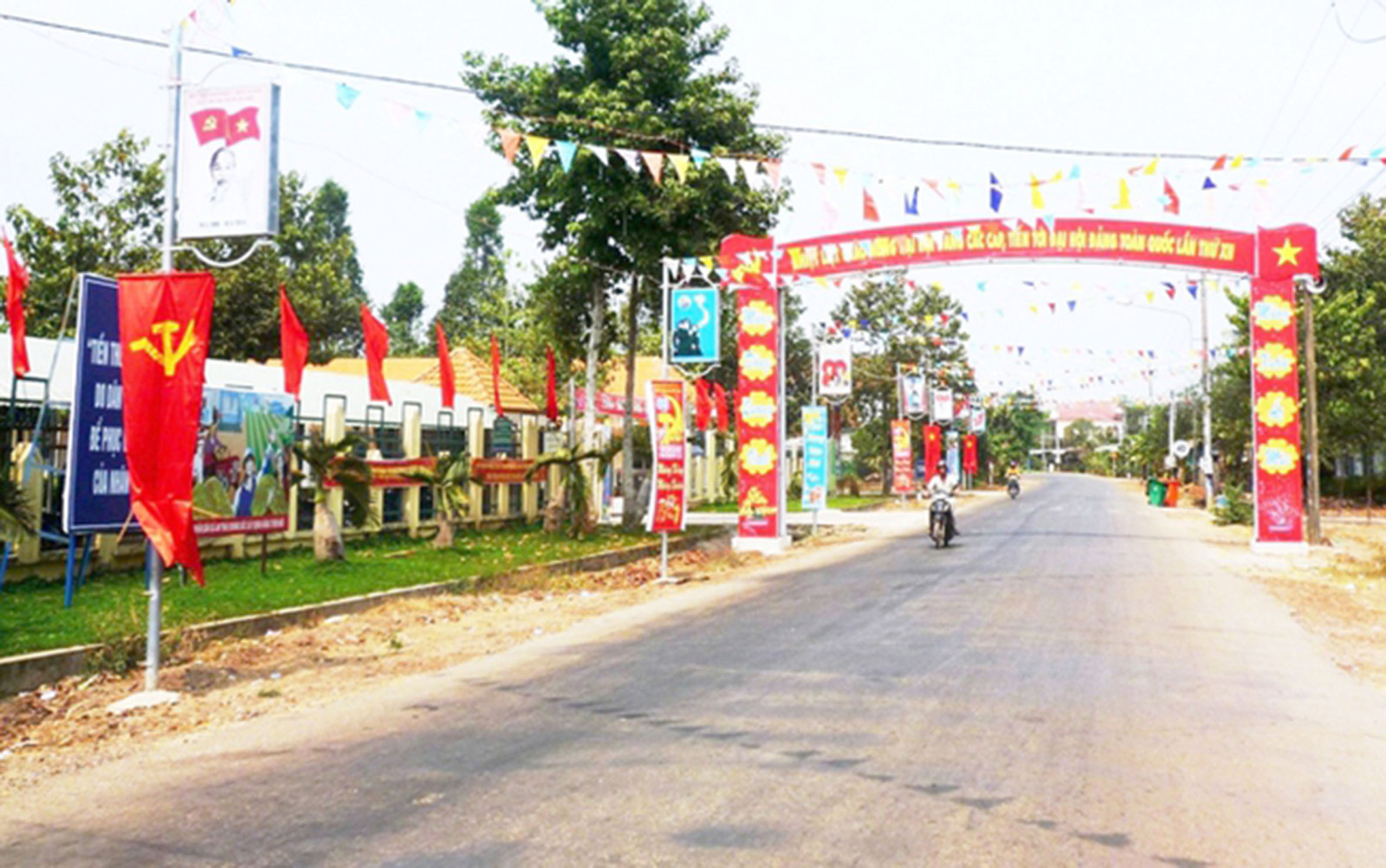 Phu Giao district is focusing on building up to the new and improved rural district standards. In the photo: The new countryside in An Thai commune is changing day by day
Up to now, all 10 communes of the district have been qualified for the new rural commune standard; 7 out of 10 communes have been recognized as meeting advanced rural standards. The economic life of communes met the newly enhanced rural standards has more positive changes. It is expected that in the 2021-2025, Phu Giao district will successfully build a model new rural commune. Particularly in 2022, the district strives for the remaining 3 communes of An Binh, Tam Lap, and Phuoc Hoa to achieve the status of new and improved rural areas. In 2023, the district strives to complete the dossiers and submit the same to the provincial authority and the central government to recognize the district as meeting the newly enhanced rural standards.
It can be said that, thanks to the construction of a new rural area, the district's socio-economic infrastructure has been invested quite synchronously. The material and spiritual life of the people in the district has been improved, making the rural life of Phu Giao more bustling. "Now, wherever we go in Phu Giao district, we can easily see that the villages are renovated; the streets and alleys are paved with asphalt or concrete, and are clean. People's spacious houses have mushroomed, and rural life has become bustling as the economy is getting better and better," Bui Van Bao at An Thai commune said.
The agricultural production, benefited from the application of high technology, organic and safe production processes, has been in the inevitable direction of Phu Giao district. In addition to An Thai Hi-tech Agricultural Park and dairy farming in Phuoc Sang commune covering more than 882 hectares, Phu Giao district has established more than 300 hi-tech agricultural production facilities, of which, many models bring high economic value for profit by 30-40%. Currently, the district has developed 4 more products that have achieved one commune one product (OCOP) recognition and is appraising dossiers for the next 5 potential ones.
To become a place worth living
At the Scientific Workshop on Developing high-tech agricultural tourism in the direction of smart villages in Phu Giao district, Associate Professor Ngo Thi Phuong Lan – the president of University of Social Sciences and Humanities, evaluated that Phu Giao district has performed quite well the new rural construction program. The agricultural and rural economic results achieved in recent years have created a sufficient foundation for Phu Giao district to deploy the smart village model, aiming to build standards for smart new rural communes as the assurance of the construction of innovative new rural areas towards the goal of sustainable rural development.
Besides, the advantages of high-tech agricultural production and natural and cultural tourism resources allow the district to develop high-tech agricultural tourism. The development of high-tech agricultural tourism on the basis of smart villages will, then, create a premise towards building standards for smart new rural communes. Smart village is a model of community of hamlets and communes in rural areas using digital technology-based solutions and taking advantage of local strengths and opportunities for sustainable development.
Phu Giao district is one of the localities in the province that is gradually implementing the smart village model to create a new look for the rural area and improve the economic and cultural life for the people.
It is known that the general goal of socio-economic development in 2021-2030 with a vision to 2050 of Phu Giao district focus on promoting the development of hi-tech agriculture by actively inviting investment and industrial development including service of agricultural production combined with promoting trade and services. The district also focus on comprehensive development of cultural and social fields while recovering and developing socio-economic, ensuring national defense and security to soon building Phu Giao district into a new rural district with enhanced model of sustainable development.
In 2021-2025, the economic structure of agriculture - industry - service of the district is 36.20% - 34.50% - 29.30% respectively. In 2026-2030, the figure is projected 34.60% - 35.50% - 29.90% respectively. Van Quang Chinh – Deputy Chairman of Phu Giao district People's Committee, said that building smart villages in Phu Giao district would create a venue for initiatives on practical issues in life such as rural digital transformation, smart and high-tech agriculture, sustainable jobs, labor productivity, community cohesion, education, clean energy, waste treatment, environmental protection among others In the future, smart villages becoming livable, environmentally friendly places, would be one of the green symbols of Binh Duong province.
Reported by Thoai Phuong – Translated by Vi Bao