March 29, a delegation of the Central Committee led by Deputy State President Vo Thi Anh Xuan visited and presented gifts to social beneficiaries in Ben Cat town. Accompanying the delegation was Nguyen Van Loi - Member of the CPV Central Committee, Secretary of the provincial Party Committee, Head of the provincial Delegation of the National Assembly, Nguyen Loc Ha, Member of Standing Committee of provincial Party Committee, Deputy Chairman of provincial People's Committee.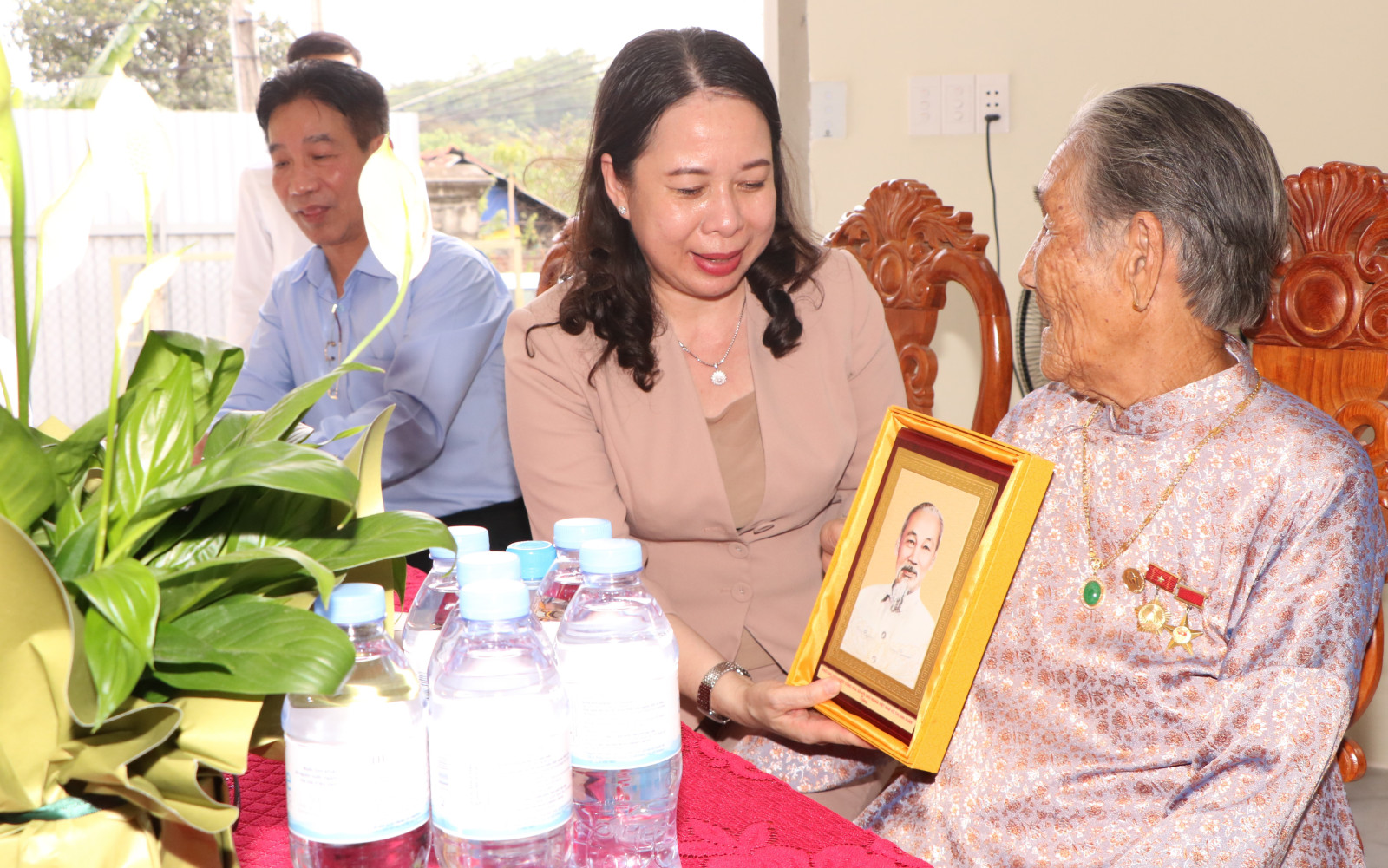 Deputy State President Vo Thi Anh Xuan is paying a visit with health wishings and gifts giving to show gratitude to Vietnamese heroic mother Ung Thi Nung at Kien Dien hamlet of An Dien commune in Ben Cat town. Photo: Do Trong.
Social Security guaranteed
Reporting to Deputy State President Vo Thi Anh Xuan and her delegation, Tran Thi Thao – Deputy Chairwoman of the People's Committee of Ben Cat town, said that the town has always focused on promoting socio-economic development, calling for investment attraction. Up to now, the economic structure has continued to develop in the right direction with industry accounting for more than 72%, services over 27%, and agriculture 0.3%. The field of culture - society has always been interested in implementation to achieve many positive results; social security is guaranteed. National target programs on poverty alleviation, job creation, care for socially privileged families, people with meritorious services, social protection beneficiaries, children especially children in extremely difficult circumstances, laborers in difficult circumstances in the locality are well implemented. During the recent Lunar New Year 2023, the town visited and gave gifts to social beneficiaries, socially privileged families, poor and nearly-poor households, children and workers in difficult circumstances from the budget of more than VND 15.645 billion; visits have been made and gifts given from socialization sources with a budget of over VND 5 billion.
Social beneficiaries and people with meritorious services are fully taken care of. Currently, the whole town has 4,300 people with meritorious services and their family members; 853 are receiving monthly allowance. Payments and subsidies to socially privileged families and people with meritorious services are made timely and in accordance with regulations. On average, each month, the town only pays benefits to social beneficiaries, people with meritorious services and their relatives with a subsidy of over VND 1.5 billion.
Reporting to the Deputy State President and her delegation, Nguyen Kim Loan - Chairwoman of the provincial Trade Union, said that Binh Duong Trade Union's activities over the past time have been constantly been renewed and directed towards to take care of and protect the legitimate and practical interests of union members and employees. For example, during the recent Lunar New Year 2023, trade unions at all levels organized the program "Tet reunion" with many activities to take care of union members and employees. In particular, the provincial labor union and the immediate superior trade union at the grassroots level in coordination with the departments, branches and local authorities held 5 sessions of "The Trade Union Tet Market in 2023" at the Vietnam General Trade Union of provincial and district level with 170 booths a time organized and provided essential items at preferential prices reduced from 5 - 50%, quality assurance to serve in areas with a large number of workers, gift vouchers, and gifts to workers suffering from serious diseases, occupational accidents, difficult circumstances and other priority subjects. The organization of the "Union Tet Market" sessions attracted more than 45,000 workers with tens of thousands of union members benefiting from discounted purchases, of which more than 7,000 workers were given vouchers with a total amount of VND 1.8 billion from the union budget and socialization sources.
In addition, the provincial labor union has also proposed and supported by the provincial People's Committee for 46,500 trade union members and workers in extremely difficult circumstances with a total amount of VND 46.5 billion divided to each pack worth VND 1 million of cash; spending support from the trade union's financial source were for nearly 83,000 members in difficult circumstances with a total amount of more than VND 41.4 billion at each pack worth VND 500,000 in cash.
"In the coming time, the Trade Union will continue to innovate and create in a substantive and effective way for the legitimate interests of union members and workers," said Nguyen Kim Loan.
Difficulties and challenges turned opportunities
Speaking at the meeting, Deputy State President Vo Thi Anh Xuan highly appreciated the rapid development of industry and services of Ben Cat town in particular and Binh Duong province in general as well as the care-taking of material and spiritual life and social security policies to serve the people. The Deputy State President also praised the achievements of the Party Committee, authorities and people of Binh Duong province in recent years, especially that the province was ranked second in attracting foreign investment compared to the whole country with State budget revenue achieved positive results, strong export growth, and a bright spot in socio-economic development of the Southeast region and the whole country.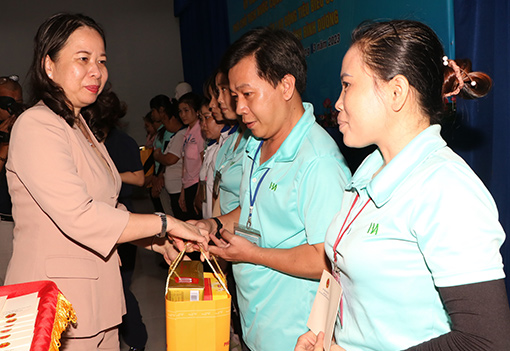 Deputy State President Vo Thi Anh Xuan presents gifts to workers with difficult circumstances at My Phuoc Industrial Park in Ben Cat town
At the same time, the Deputy State President also said that Binh Duong always pays attention to social security work, devoting a lot of resources to taking care of the lives of socially privileged families, people with meritorious services and workers. Deputy State President Vo Thi Anh Xuan hoped that in the coming time of economic development, the province would continue to pay attention to sustainable development and calculate the appropriate periods to match the proportion in the economic structure to reserve space for funds of land to catch up with new technology, digital technology, and green growth with focus on preparing infrastructure and quality human resources to catch the new trend in the next stages. In addition, the locality also needs to pay more attention to the work of improving life, employment, and ensuring social security for the people, to reserve for difficult times to take care of people locally and from other places to continue to create advantages for the locality in terms of labor resources.
Deputy State President Vo Thi Anh Xuan emphasized that 2023 would be a pivotal year for accelerating implementation, striving to fulfill the targets of the Resolution of the 13th National Party Congress. Facing the common difficulties of the world and domestic economic situation, Binh Duong needs to continue promoting the spirit of solidarity, renewing thoughts and taking the initiative in having timely scenarios to respond, turning difficulties and challenges into the window opportunities, maintain the speed of economic development, and continue to create new miracles in the next stages of development.
Reported by Do Trong – Translated by Vi Bao