The Summer Youth Volunteer Campaign always brings many outstanding imprints of Binh Duong youth. The meaningful and practical activities of the Youth Union have created the voluntary spirit of youth in building civilized urban and new-style rural areas.
Many gratitude activities
In the atmosphere of July, Youth Unions at all levels can not forget a task of paying tribute to heroes and martyrs who sacrificed their lives for national independence. Referring to North Tan Uyen district, Binh Duong youth always remember that this place was the old War Zone D marking the revolutionary history. Returning to Hieu Liem commune, we witnessed the image of Youth Union members coming to the household of To Huu Phuc, a wounded soldier in Chanh Hung hamlet to participate in cleaning up his house, showing gratitude to their elders.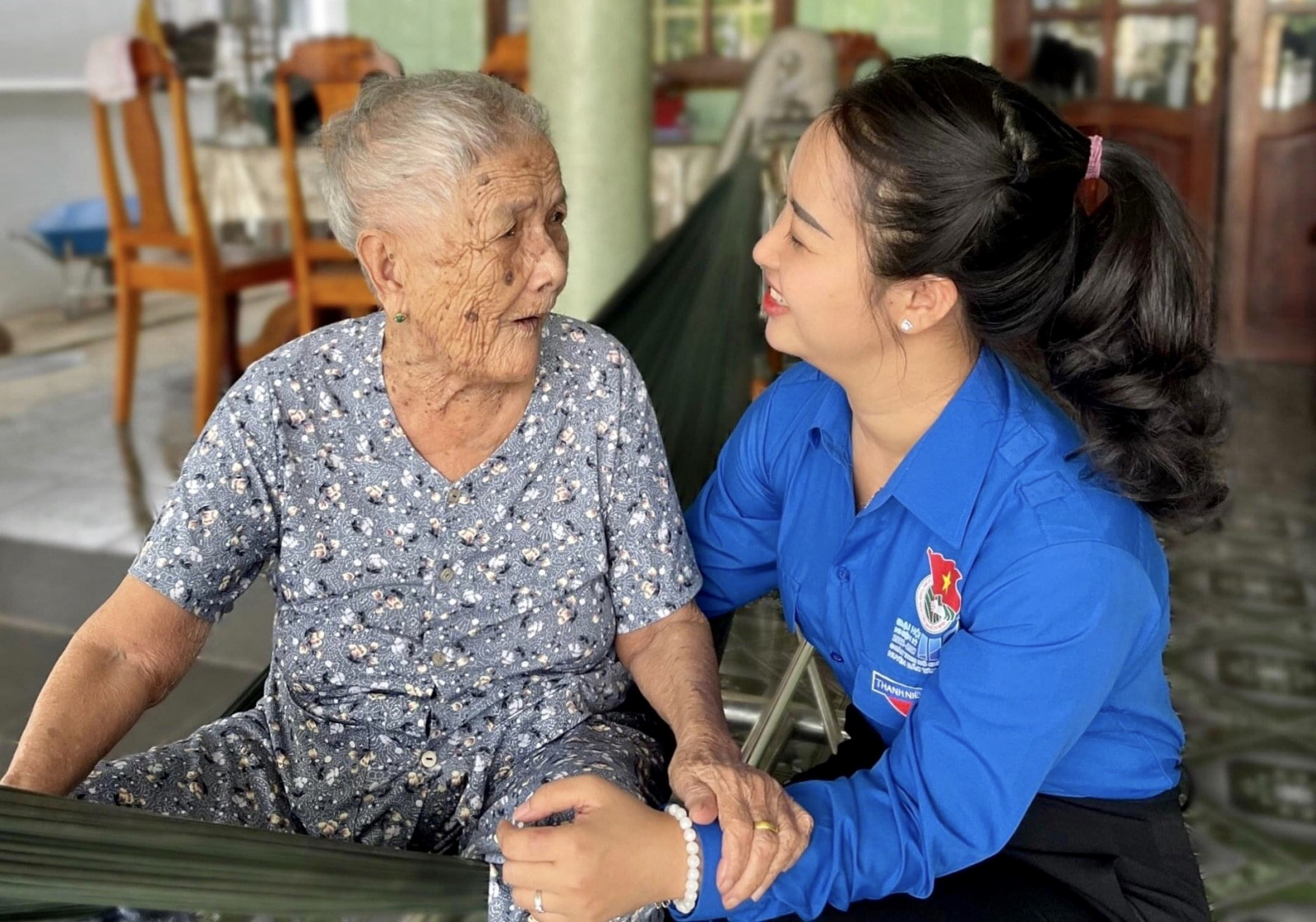 North Tan Uyen district's Youth Union cadre visits heroic Vietnamese mother Doan Thi Cheo in Tan Binh town
North Tan Uyen district's Youth Union has always paid attention to activities of taking care of and helping families with meritorious services to the revolution. The district's Youth Union Standing Committee has just organized to visit and offer gifts to heroic Vietnamese mother Doan Thi Cheo in Tan Binh town. The district's Youth Union officials graciously visited, expressed their deep gratitude and gave their mother a gift worth VND 1 million.
Do Ngoc Loi, Secretary of North Tan Uyen district's Youth Union said: "Young people in North Tan Uyen district are always proud of being born and raised on the land of War Zone D with the tradition of revolutionary history. The local youngsters always remember and always attach special importance to performing the task of "paying debt of gratitude", "when drinking water, remembering its source", thereby reminding them of the heroic tradition of their elders; arousing love for the homeland, being grateful to those with meritorious services in the cause of national construction and defense while building up the ideal of life and aspiration of dedication among youth generation in the new era".
Volunteering for community
In order to spread the spirit of youth, promote their voluntary role in the Summer Youth Youth Campaign 2022, provincial Youth Unions at all levels have actively carried out voluntary activities for the community. The Youth Union of Binh Thang ward in Di An city has also just coordinated with the ward's Fatherland Front Committee to carry out mass mobilization work, supporting the construction of "great unity" houses for disadvantaged households in Hiep Thang quarter...
Since the Summer Youth Youth Campaign 2022, Youth Unions at all levels of Di An city have performed practical deeds for community every week. Along with voluntary activities for social welfare, Youth Union members have participated in building up a green - clean - beautiful - civilized environment. The Youth Union of Tan Binh ward in Di An city in collaboration with the ward's Veterans Association, Military and Missile Battalion D43 has also organized the movement of the "three-color" coalition - the "Green march" campaign.
Implementing the program, the coalition forces planted 150 green trees along the stream in Tan Phuoc quarter. Planting these trees will bring a new look to the route along the stream and create a landscape for the locality. The coalition's activities will tighten solidarity among organizations, armed forces, veterans and Youth Union members in the ward, thereby continuing together carrying out works that bring much benefit to the community.
Tran Bao Lam, Vice-Secretary of provincial Youth Union said that the campaign "Green march" - the 3-colour coalition was diversified by the Youth Union. The Youth Unions of districts, towns, cities, armed forces in the province have implemented a campaign with focus on organizing activities in new-style rural communes. These units have cooperated in upgrading rural roads, in-field canals, maintaining environmental sanitation, planting green trees and organizing voluntary Saturdays to assist in handling administrative procedures. In addition, they have also supported students with difficult circumstances; organized return-to-the-root" journeys, visited, offered gifts, built charity and gratitude houses for policy beneficiary families and those with meritorious services to the revolution.
On the other hand, depending on the local real situation, Youth Union branches in the province will organize training courses on fire prevention and fighting skills, coordinate with relevant units to organize experience activities for children, namely "Semester in the army", "Active teenagers - Learning good things", "Seeds of kindness", "One day as a soldier"…, thereby creating an useful educational and training environment for children during the summer vacation.
Tran Bao Lam, Vice-Secretary of provincial Youth Union said that the campaign "Green march" - the 3-color coalition was diversified by the Youth Union. The Youth Unions of districts, towns, cities, armed forces in the province have implemented a campaign with focus on organizing activities in new-style rural communes…
Reported by K.Tuyen-Translated by Kim Tin