The issue of child abuse and violence is a painful issue that is of particular concern to the society. In order to actively prevent the above situation, departments, mass organization and localities in the province have implemented many synchronous solutions. However, this work still needs the cooperation and help of families, schools and the whole society to promote its effectiveness.
Abuse, violence with complicated developments
In recent years, the abuse and violence of children have been complicated, causing public outrage. A series of child violence and abuse cases occurred across the country and in the province, causing public outrage and confusion for many parents. Most cases of sexual abuse of children were perpetrated by family members or caregivers. Noticeably, all the cases had a common motif that the subjects took advantage of their familiarity to commit acts of violence and abuse, both physically and mentally.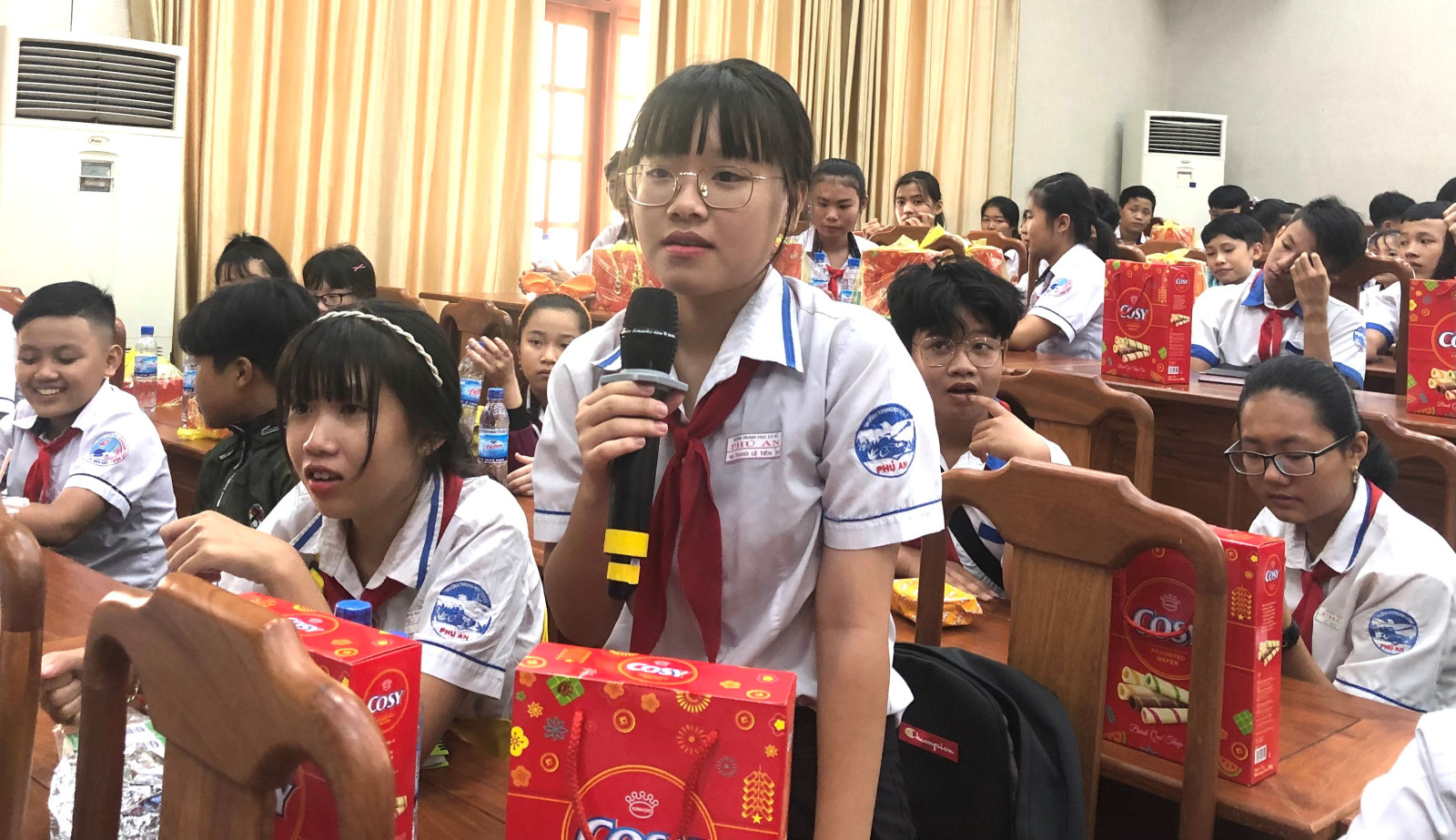 Ben Cat organizes a program to listen to children to understand their thoughts and aspirations
Recently, there was the story of Nguyen Thi Phuong Thao, a female karaoke bar worker who beat her one-year-old son to death. Thao was born in 1995, from An Giang province, staying with two young children, N.H.G.B born in 2020 and N.H.G.A. born in 2022 in Ben Cat town's Tan Dinh ward. After drinking alcohol at the bar, Thao returned to her room and laid under the hammock where N.H.G.A was sleeping. While sleeping, Thao heard N.H.G.A to cry. She took the hammock to comfort her child, but the bady didn't stop crying. Therefore, she used her hands to hit her body many times until A. stopped crying and then continued sleeping. At about 23 o'clock on the same day, Thao woke up and found that A. was no longer breathing with a pale body, so she asked for someone to take her child to the emergency room. The bady died before being taken to the hospital with multiple injuries. Through working with the investigative agency, Thao confessed that she used her hands to hit her children many times. Earlier, Thao used methamphetamine.
The story of N.V.T in Phu Giao distric's An Binh commune is still mentioned by people with the sad truth that children are unsafe in the environment they love and trust the most. Nguyen Thi Lien is T.'s stepmother. She was angry at T. for refusing to sleep, so she slapped T.'s face many times. She also used her foot to kick T.'s abdomen on the side, pulling T. off the floor in the presence of Nguyen Van H., T.'s father. At the police station, she admitted her bad behavior. She is receiving a social support allowance and belongs to the group of severely mentally ill people. The fact that Lien beat T., who is H's son and H. knew and witnessed, but did not ask for the local police agency to handle it, making many people get angry. The locality also took T. to a medical facility for health check and injury assessment at the rate of 5%.
Cooperation from families, schools and the whole society needed
According to the Department of Children under the Ministry of Labor, War Invalids and Social Affairs, there are about 2,000 cases of child abuse every year across the country. The cause of this situation is that some families have not spent much time paying attention to their children or many people still have the concept of "love for the whip" education. Meanwhile, many other people are indifferent, or afraid to intervene. The child support service network in the community is still lacking and weak…
To actively prevent abuse and violence against children, departments and mass organizations in the province have joined hands and implemented many synchronous solutions. Dang Thanh Tuan, Head of Phu Giao district's Education and Training Division said: "So far, all primary, secondary and high schools in the district have established at least one psychological consultancy group for students. The content of consultancy is very diverse, associated with propaganda on ethics, lifestyle, life skills, and prevention of abuse and violence".
Meanwhile, Nguyen Thi Hien, Vice- Chairwoman of Thuan An city People's Committee said: "To protect children from the risk of abuse, the city has implemented a child protection model at communal level and child protection collaborators in residential areas. Members of the model is responsible for managing and monitoring a group of children at the risk of abuse, thereby taking timely support and intervention measures. However, the prevention of child abuse and violence needs the cooperation of families, schools and the whole society. Parents should regularly spend time talking, confiding, making friends with their children, giving them a solid spiritual fulcrum.
Over the past time, all-level authorities, sectors and localities in the province have always paid attention to creating conditions for children to develop comprehensively both physically, intellectually and spiritually. Children in the province not only enjoyed the priority policies of the Party and State, the rights specified in the Law on Children, but also got care and played. However, at present, the local system of staff working in child protection and care at all levels is still concurrent, constantly changing new staff, so it is not timely to advise and difficult to monitor the situation. A part of the family of freelancers is not clear about their responsibilities in protecting, caring for and educating children, lacks knowledge and skills to protect children from accidents and injuries.
Reported by Hoang Linh-Van Quyen-Translated by Kim Tin