Cash flow always looks to more attractive investment channels with higher returns, so when interest rates decrease, cash flow will shift from the savings channel to the stock and real estate markets, according to experts.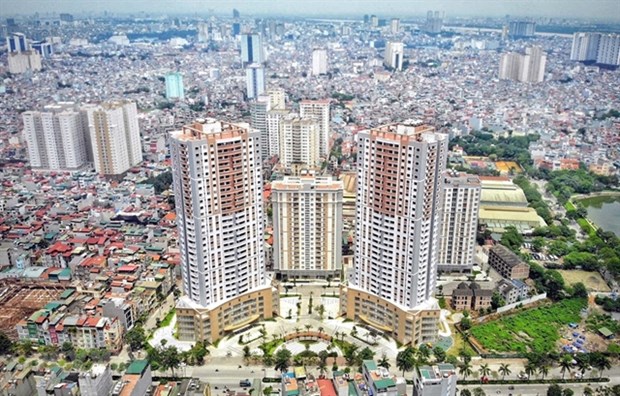 A residential area in Hanoi. Real estate becomes more attractive under the low interest rate context
According to Huynh Minh Tuan, Investment Director at Mirae Asset Securities & Investments Company, when interest rates are low, savers will begin to consider and shift their asset allocation. Cash flow is always "smart money" and always looks for more attractive investments with higher returns.
The money can move from the savings channel to other investment markets, such as real estate and stock markets, but there will be a delay. It may be a few months late for the real estate channel, but for the stock channel, it will be faster, maybe from next month, Tuan said.
The activity of transferring savings books has also flourished recently. There was a firm that last weekend announced to buy back 1,500 billion bonds but only bought back 600 bonds. That shows that investors want to keep high-yielding assets while deposit interest rates fall deeply. The interest rate on this bond is 10.5%, which is 30% higher than current savings rates.
According to Tuan, some industries will benefit from the interest rate reduction trend.
With the stock market, statistics in the past showed stocks increased when interest rates were lower. In particular, capital-intensive industries such as real estate, securities, banking, and construction materials will benefit, Tuan said.
According to Tuan, the stock market does not reflect the current economy but shows the economy's expectations for the future. When interest rates decrease, industries, which are expected to be positive, are real estate, securities, building materials, and consumer goods, but all need time.
As for the banking industry, it is necessary to look further because when interest rates are reduced for a while, bad debts will stabilise again.
As for the stock market, experts said the positive point in the current period is that although foreign investors net sold 10 trillion VND, the securities market is still sideways or moving in a narrow range. That proves domestic investors are buying stocks and mainly individual customers, or the cash flow is gradually returning to the market.
According to Tuan, in the current sideways time, investors looking for stocks with cheap valuations but cheap prices must be considered by each industry and asset. When the stock market moves in a narrow range, it's a good opportunity to select stocks.
Talking more about stock selection, Nguyen Nhat Khanh, head of Mirae Asset Securities & Investments Company's Investment Advisory Division, said under the current narrow sideways market, it is advisable to choose stocks with their own story and belong to the group of small- and medium-cap because cash flow will not have to spend too much force to push up the prices of these stock groups.
At the same time, it is not always possible to choose the leading stocks in the industry, but it is possible to consider choosing stocks that attract less interest, then the profitable bet will be higher./.
VNA