An Binh commune, Phu Giao district in the early days of March. Occasionally, a light breeze blew, dispelled the baking hot of a dry season. New spacious, clean, and beautiful rural roads led to agricultural economic models of billionaire farmers in this village...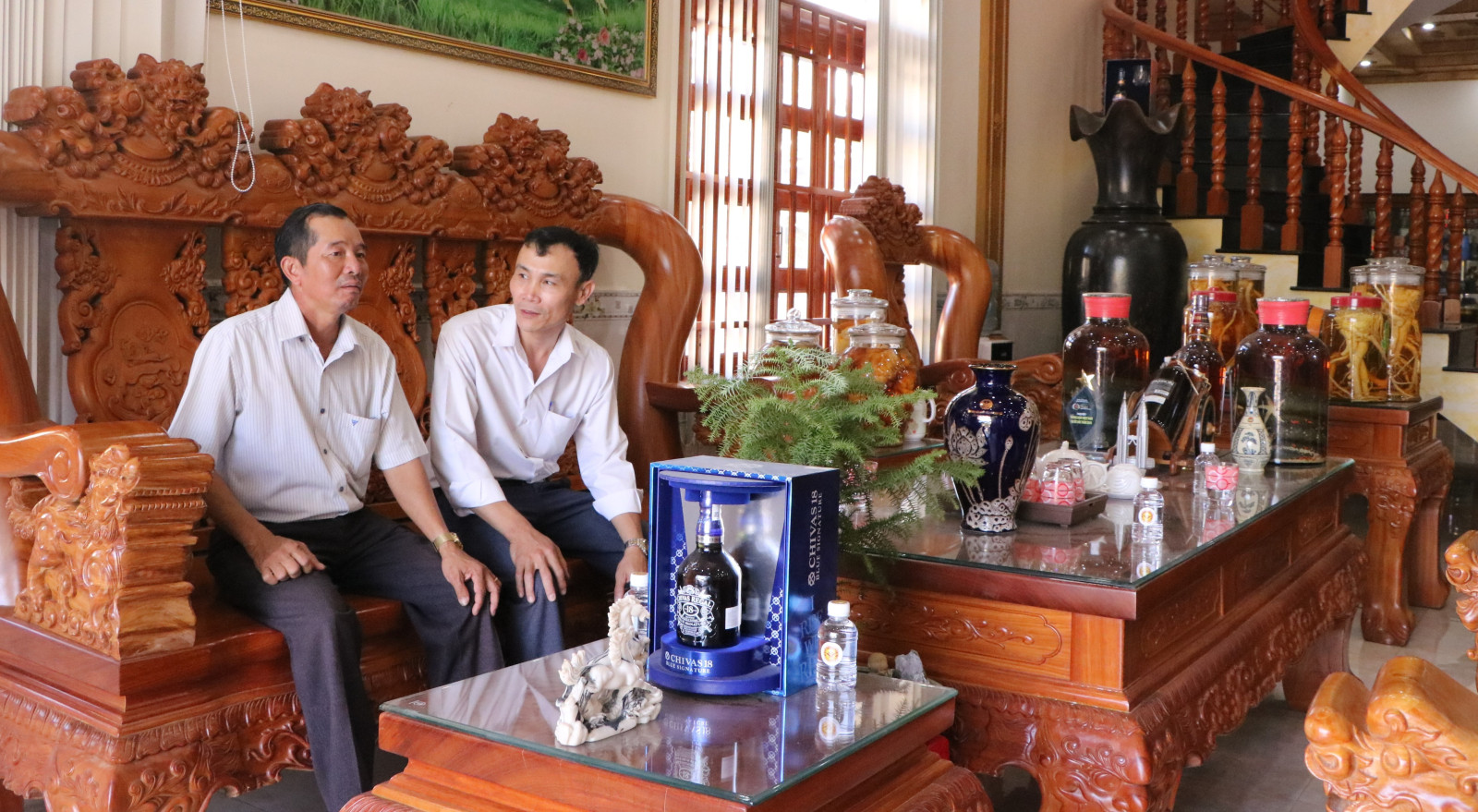 With a strong will to get rich, Dinh Ngoc Khuong (left) currently owns a billion-dollar fortune, shares about the will to overcome difficulties to get rich legitimately.
Where there's a will, there's a way
Ông Đinh Ngọc Khương được người dân ở xã An Bình gọi bằng cái tên trìu mến là "Khương gà". Different from the conventional association with shabby peasants, Dinh Ngoc Khuong has the style of a businessman in the era of high-tech application. Visiting his chicken farm and durian orchard, Khuong said that before, his life was very difficult, to make a living, he had to do many jobs, then borrowed a small loan to buy 2 hectares of land and grow cassava, longan, and livestock. Since then, his family has improved their lives, now his family has a total agricultural land area of more than 12 hectares, of which 4 hectares are planted with durian trees, 4 hectares of rubber trees, and the rest 5 hectares are to build livestock barn.
Khuong said that since 2005, the family started raising pigs on a small scale, initially with 10 sows, then buy more 30-40 pigs, but was still on a household scale. In 2010, when he was a member of Farmers' Union of An Binh commune, had approach to effective models, attended training courses on effective agricultural production, he began to apply and raised more broiler chickens, initially with only about 20,000 chickens, then gradually increased the number of chickens and pigs. At that time, pork price was high, in early 2017, his family invested in a pig farm with a larger scale to develop their pig herd.
"However, in 2019, the outbreak of African swine fever caused great damage to the livestock industry, thus my family also suffered much damage, the pig farm had to be temporarily vacant, and the redevelopment of the pig herd also faced many difficulties due to the scarcity of breeding stock, the absence of a vaccine for the disease and the high probability of the disease reappearance. After this incident, my family decided not to raise pigs anymore, but focused on raising chickens because they realized that raising chickens had stable consumption; although at some times the price was low, its profit is above average," said Khuong.
Raising chickens opens up new business directions. In order to take the initiative in input and reduce product costs, increase competitiveness in the market, after researching and learning experience, Khuong decided to invest in a large-scale chicken breeding farm. The hatchery was built by the family in 2019 with an investment of 28 billion VND, applying high technology with a closed process, from raising chickens for eggs, choosing eggs, incubating eggs, and taking care of chicks. In the hatchery to raise 40,000 chickens, 18 automatic incubators are used with a capacity of 19,200 eggs each, the maximum capacity of the farm is 600,000 breeding chickens/month.
Up to now, his family has self-produced breeding stock for their chicken farms and supplied chicken breeds to household farms inside and outside the district. Chicken flock of Khuong's family has 200,000 chickens, the raising time is 60 days before sale, the average weight of each chicken when sold is 1.7kg, 4 litters each year, giving an average output of 1,800 tons/year, selling price of 42,000 VND/kg of chicken can bring a profit of about 5,000 VND/kg...
Also as one of the good farmers in An Binh commune, Nguyen Tan Liem has grown 4 hectares of durian for many years and gained high efficiency. Liem said that many years ago, he planted rubber trees, but due to the low price of rubber latex, this model is no longer effective. After that, his family switched to growing longan and lingzhi mushroom, but its economic efficiency was not high. Learning about fruit trees with high economic value, in 2018 his family switched to growing durian. With the current selling price at farm of 100,000 VND/kg, excluding costs, his family earns a profit of 1 billion VND/crop. In order to improve the economic efficiency of durian, Liem successfully applies off-season fruit production and expects to apply this technique to the whole farm in next year's crop.
Responsibility, kindness
From empty hands but with a strong will and courage, Khuong and Liem and other farmers in Phu Giao district have exploited and effectively used resources, such as capital, land, application of science and technology, new technology into production, overcome difficulties to get rich legitimately and earned billions of VNDs for their family. Not only enriching themselves, they also share, help other farmers, and uphold the spirit of responsibility and gratitude to the community.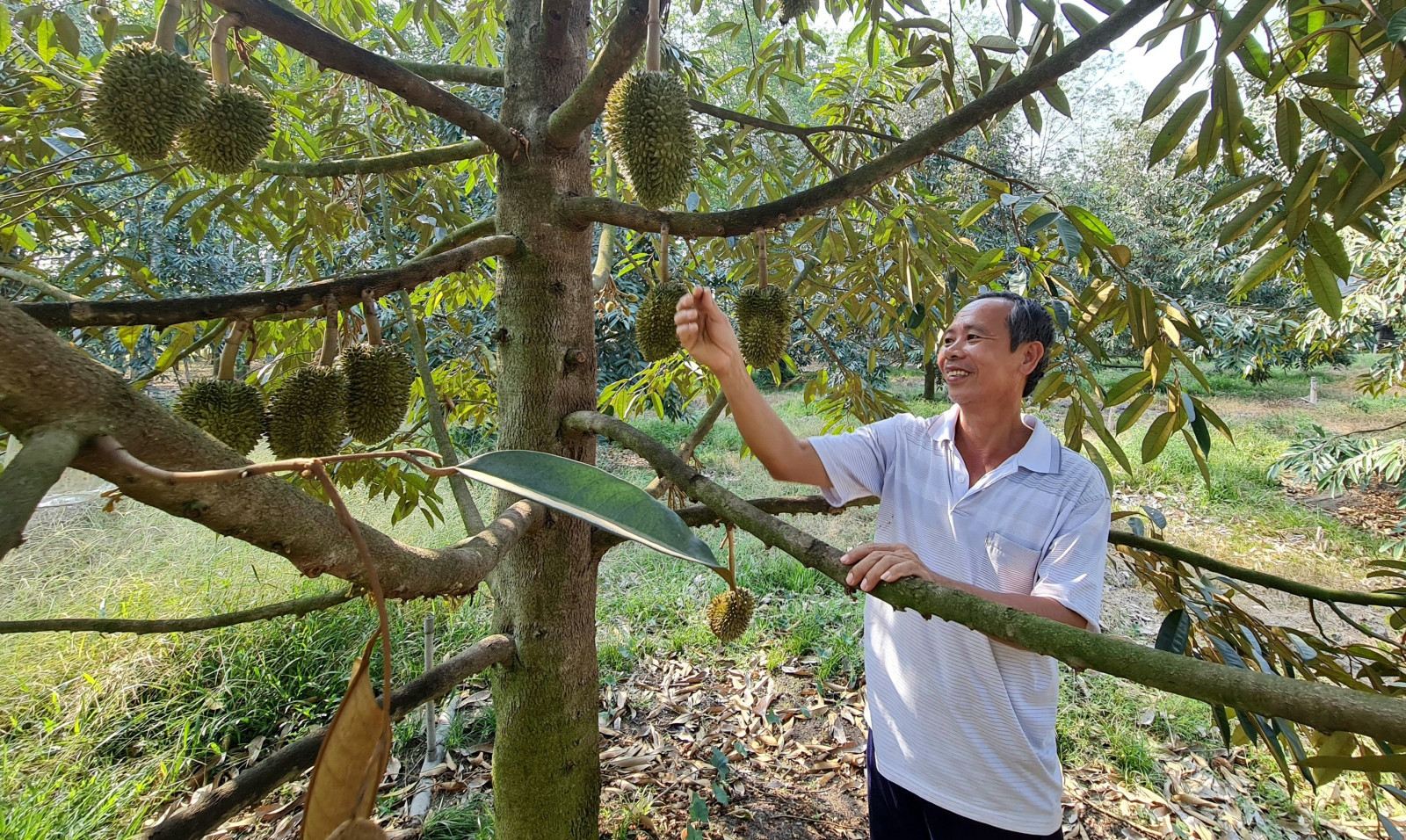 Nguyen Tan Liem introduces the application of techniques that help durian trees produce off-season fruits.
Trinh Duc Dung, Chairman of Phu Giao District Farmers' Union, said that billionaire farmers in the district not only generate high revenue for their families, but also create jobs for local workers, contribute to the development of agricultural economy and new rural construction. For example, the production model of Dinh Ngoc Khuong creates stable jobs for more than 50 workers, with the lowest income of 7 million VND/person/month and the highest of 15 million VND/person/month. This model has been visited by many farmers to learn experience. Some disadvantaged households can buy Khuong's breeding animals with late payment without interest to develop farms. These billionaire farmers have responsibility towards the community, actively contribute to Fund for the Poor, People's Support Fund, and support people affected by diseases and natural disasters...
"Especially, during the outbreak of the Covid-19 pandemic, Khuong's family donated money and necessities worth 130 million VND to the disease prevention and control. In addition, the family also actively participates in the construction of new and advanced rural areas, such as voluntarily cutting down trees to clear land, contributing money to repair and renew rural roads and other rural infrastructure construction projects with an amount of over 150 million VND", Dung said.
Reported by K.Phong - Translated by Ngoc Huynh