Sub-regional cooperation in the coming time should focus on three priorities for sustainable development, Prime Minister Pham Minh Chinh said at the ASEAN High-level Forum on sub-regional cooperation for sustainable development and inclusive growth held on November 30 via videoconference.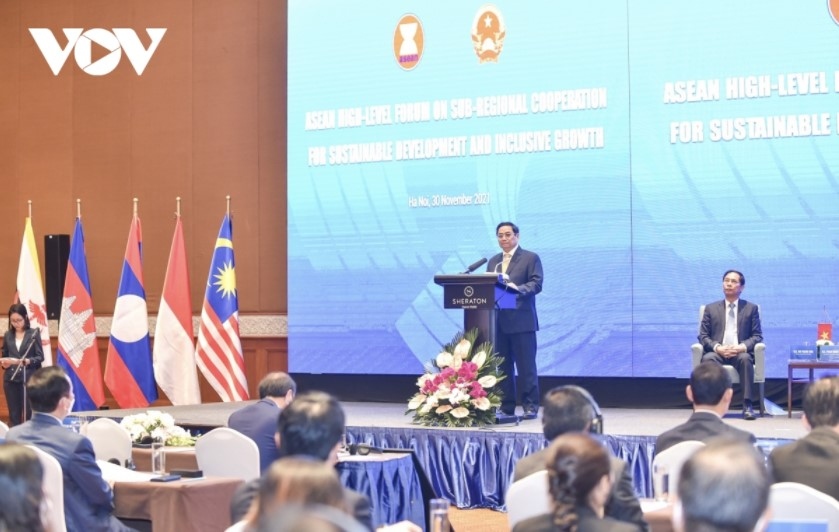 Prime Minister Pham Minh Chinh speaks at the event
The forum provides a platform for countries in the region, partners, international organizations, and experts from the business community to exchange views, and seek appropriate directions and solutions to exploit distinct potentials, expand opportunities and competitive advantages to promote development in sub-regions.
In his speech, PM Chinh highly appreciated the active support of ASEAN member states and the regional group's friends and partners in the process of preparing to organize the first forum of the ASEAN on sub-regional cooperation.
For decades, ASEAN and its members have always focused on narrowing the gap and accelerating the implementation of the ASEAN integration initiative. Along with ASEAN's rapid and extensive regional integration process, it is increasingly important to connect and ensure that sub-regions keep up with the common development process of the region.
The Vietnamese Government chief emphasized that solidarity, cooperation and close coordination among countries are essential conditions to ensure inclusive growth and sustainable development.
"We need a global, all-people approach in responding to current global challenges, especially the COVID-19 pandemic, climate change, environmental pollution, and water security," Chinh stated.
PM Chinh also underlined the need to effectively tap potential in the sub-regions, in order to create business and investment conditions for businesses and public-private cooperation. Governments need to support and offer optimal conditions for businesses to seek and exploit business and investment opportunities in sub-regions, he added.
"It is necessary to take the people as the subject, the center, the goal and the driving force for development," Chinh stressed.
PM Chinh also proposed supporting capacity building to ensure sustainable development in sub-regions.
"We call on ASEAN member states, partners, especially developed countries, international organizations, banks and the business community to actively support and help developing countries and sub-regions in terms of big enough financial sources," the Vietnamese cabinet leader said.
Incentives should be given to streamlining procedures for technology transfer, especially high technology, green technology and technologies for sustainable development, in order to conserve natural resources, thereby improving capacity effectively deal with challenges that threaten sustainable development in sub-regions, including epidemics, climate change, environmental degradation, and depletion of natural resources, PM Chinh said.
PM Phuc underscored the necessity of strengthening connectivity between sub-regions, narrowing the development gap, especially in terms of strategic infrastructure, economic integration, and digital transformation. This should be done along with promoting cultural and people-to-people exchanges, creating favorable conditions people's travel and transportation of goods, and linking remote areas of sub-regions with major economic centers of each country and region.
"We suggest that ASEAN's regional cooperation programs, as well as the results of cooperation between ASEAN and its partners, should be spread to the sub-regions and linked in harmony with cooperation efforts within the sub-regional frameworks in order to encourage the business community to increase investment in appropriate fields," Chinh said.
PM Chinh believes that, through this first forum on sub-regional cooperation, ASEAN will continue to maintain and step up cooperation efforts to develop sub-regions in the future, and realize the goal of building an ASEAN community of equitable and sustainable development, thus contributing to peace, stability and cooperation in the region and the world as a whole.
VOV