At Midea Consumer Electric Vietnam Company (Vietnam - Singapore 1 Industrial Park), Nguyen Thi Ngoc Nhu is a well-known printing team leader.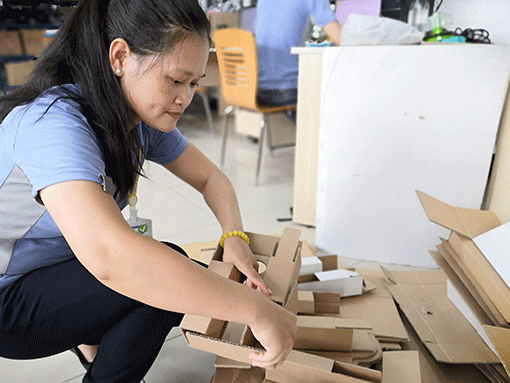 Ms. Nguyen works diligently and studies more to initiates technical innovations to improve production efficiency.
To overcome difficult circumstances
Because of her family' difficult circumstance, after graduating from high school in 2003, Nguyen Thi Ngoc Nhu did not take college entrance exam like her peers, but chose to work as a worker before she enrolled in an accounting junior college, then went to university. Ms. Nguyen said: "At first, my working duration as a worker was 12 hours / day; the job was hard but salary did not meet essential living needs, and I could not afford further study. So I decided to quit my job to study accounting at Binh Duong Economic - Technical College".
In order to have money to pay for her living cost as well as tuition, in addition to studying time, she did a part-time job of tapping rubber latex to earn more money. "After finishing my program, I continued to apply for a job at companies, but most companies, apart from professional requirements, also required candidates to be foreign language fluent. Therefore, she had to work and went to evening Chinese classes.
In 2009, Nhu applied for a job at Midea Consumer Elictric Vietnam Company. At the beginning, she was just the staff to set norms for orders. Her unceasing efforts to fulfill her tasks well plus her Chinese fluency helped her to take a step forward in her job. Then she was sent to the parent company in China for professional training. In 2011, she was assigned to hold new position as the Head of Printing Team, which was specialized in design of packaging and labels of products manufactured by the company.
To her co-workers, Ms. Nguyen is always willing to share her experience and guide everyone to complete their jobs well. Her dedication helped many young newcomers to alleviate their confusion, then made constant progress. Duong Thi Dieu, a colleague of Ms. Nguyen, said: "I have been working with Nhu for more than 10 years, I see Nhu as someone who has the energy to overcome difficulties and complete her duties. She is not only strict and thorough in her work but also enthusiastically shares her experience with colleagues to develop together and complete assigned tasks well. She is a good example for many workers to follow.
Continuous innovation
Over 11 years working at Midea Consumer Elictric Vietnam Company, Ms. Nguyen always tries her best to improve her professional knowledge, especially to improve her professional skills, to make creativity and technical innovations. Her innovative solutions with high applicability appreciated by Directors Board and colleagues. Her most favorite initiatives is the one to improve stamping for MDV and Comfee product labels". Due to high production demand of the company, it requires timely product completion and delivery to customers; If investing in more materials, the company must spend a considerable amount of money. After many researches, she suggested the company's leadership improved this stage. She spent a lot of time looking for substitute materials and processing more details, then presented an initiative and successfully applied it into production stage.
This initiative not only benefits the company by nearly 130 million VND / year, but also reduces worker operations on the line by nearly 12 million times / year. In addition, she also had other technical initiatives, saved the company 156 million VND / year in printing cost, reduced stamp cost by 650 million VND / year, and reduced worker operations on the line by nearly 1.4 million times / year"... These initiatives have helped the company reorganize reasonably production stages to improve productivity, product quality, bringing economic benefit of nearly 1.4 billion VND / year.
The precious thing about her is that she knows how to mobilize collective strength as joining hands to implement initiatives and solutions. Therefore, when a new idea come, her colleagues and she discuss to give the most possible solution. Liu Hai Zhou, Management division of Midea Consumer Elictric Vietnam Company, commented: "Nhu is a shining example of diligence, passion for creation. Her initiatives not only help the company save costs, develop stably, but also bring health benefits to workers, reduce operation redundancy. As the Head of Printing Team, she is always enthusiastic about sharing her experience, guiding her colleagues, especially young people who have just started working. Thereby helping them to have a steady progress in their career".
Over the past years, Ms. Nguyen has always been evaluated by the Board of Directors of the company to excellently fulfil her assigned tasks, actively participate in activities organized by the company and trade union. In three consecutive years 2018, 2019 and 2020, she received a certificate of merit by Provincial Labor Confederation for having outstanding task performance and commendation from Board of Directors. Most recently, she was honored by Provincial People's Committee as an exemplary citizen.
Reported by Do Trong - Translated by Ngoc Huynh