After half the term of implementing the 12th Party Resolution, 2020-2025 tenure, Tan Uyen City has achieved and exceeded 13/24 targets; the remaining targets are basically done according to the plan. In the new journey, the Party Committee, authorities, and people of Tan Uyen City are determined to successfully implement the set targets and tasks, continue to record more breakthroughs and develop synchronously in all fields, realize the goal of developing Tan Uyen into a class-two city before 2025.
13/24 targets met and exceeded
For the 2020-2025 tenure, Party Committee of Tan Uyen City sets the overall goal of continuing to build a clean and strong Party Committee; improves state management capacity and efficiency; accelerate economic restructuring in the direction of industry - service - agriculture, focuses on rapidly increasing the proportion of the service sector; industrial growth tied to service development, urban development and residential areas according to planning; to step up investment in socio-economic infrastructure in the direction of modernity as a driving force for development; maintain political stability, social order and safety; well performs the administrative reform incorporating the fight against corruption, wastefulness, and bureaucracy; builds a contingent of party members, especially leading and managerial officials on a par with their duties in the new situation and well organizing the apparatus to streamline the payroll in the direction of leanness and operational efficiency; brings into play the strength of the great national unity bloc; ensures social security, improving people's live, caring for, building and developing people in the direction of civilization and progress; strives by 2025 to reach class-two urban standards.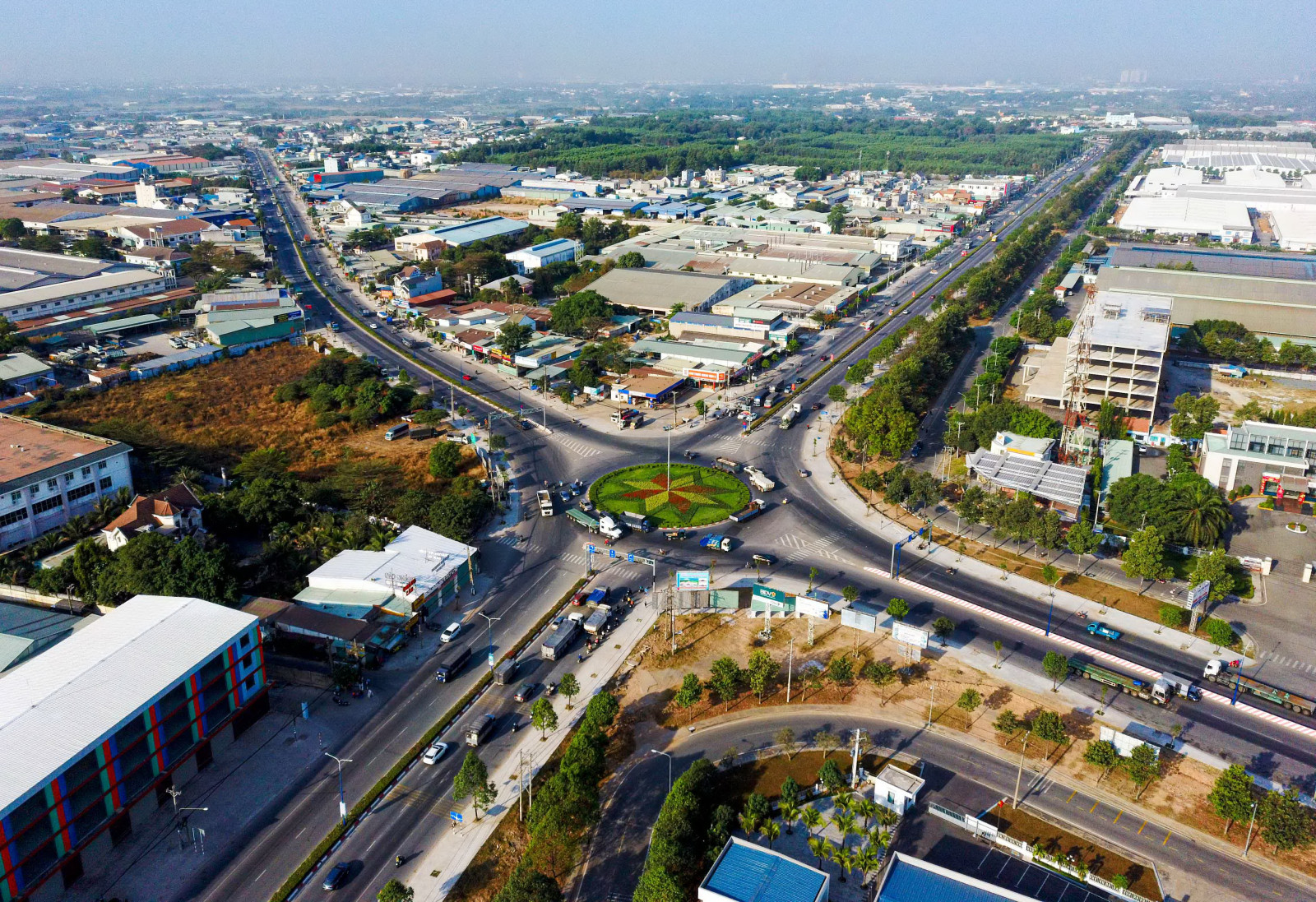 In the new pathway, Party Committee, authorities, and people of Tan Uyen City are determined to record more breakthroughs and realize the goal of developing Tan Uyen into a class-two city before 2025.
Doan Hong Tuoi, Deputy Secretary of the City Party Committee, Chairman of People's Committee, said that the economy has been heavily affected by the Covid-19. However, with synchronous solutions, after half a term, Tan Uyen City achieved and exceeded 13/24 targets (of which 3 targets are exceeded, 10 targets are met), remaining targets are implemented according to the plan.
Namely, economic structure shifted towards industry - service - agriculture with the proportion of 61.3% - 37.59% - 1.11% respectively. Industrial production value increased on average 11.01%/year. Total retail sales of goods and services increased on average by 23.08%/year. Commerce, logistics, tourism, and finance-banking industries have gradually become mainstays of service sector. Investment in economic and technical infrastructure is strengthened, especially in key projects, thereby creating favorable conditions to attract investment. Urban upgrading work was well implemented and achieved many good results. Culture and society made great progress, social security was ensured, and the material and mental lives of all classes of people has been gradually improved. National defense and security are maintained and stable. The construction of the all-people national defense, the people's security posture, and the construction of defense areas were consolidated and developed more firmly. Political security, social order and safety ensure stability, creating favorable conditions for economic and social development.
Record more breakthroughs
To objectively assess causes of advantages and disadvantages; review targets, set out specific directions and solutions for the unsatisfactory targets", Party Committee of Tan Uyen City is determined to achieve the set targets and resolutions, realize the goal of bringing Tan Uyen to class-two city before 2025.
To accomplish the goals of tenure 2020-2025, Bui Minh Tri, Secretary of Tan Uyen Party Committee, said that Party Committee, authorities, and people of Tan Uyen City will continue to seriously perform Party resolutions at all levels; especially thoroughly grasp Resolution No. 06-NQ/TW dated January 24, 2022 of the Politburo on planning, construction, management, and sustainable development of urban areas in Vietnam until 2030, with a vision for 2045; focus on improving the quality of planning and planning management; urban development is integrated with urban economic development, build Tan Uyen city as an urban area of industry - service - agriculture combined with eco-tourism, regional traffic hub.
Tan Uyen city has a very large proportion of migrant workers, so the city will pay attention to arranging land fund, investing in construction of social housing projects and other social infrastructure (health care, education, culture, public services, trees, parks, etc.) to solve problems of settlement and job for employees, ensuring equitable, balanced and sustainable development. Besides, the city strengthens training and improves the quality of human resources to meet development requirements; improves qualifications and skills of employees; develops digital infrastructure, climate change adaptation infrastructure. In particular, the city pays attention to doing well mass mobilization work, promoting the role of Fatherland Front and socio-political organizations, promptly solving people's concerns right from grassroots level, strongly promoting the spirit of unity and solidarity in the Party.
Party Committee of Tan Uyen City is determined to overcome difficulties and challenges, be dynamic and creative, promotes all potential and strengths of the city, and strive to build the city, build a civilized lifestyle, be worthy of an economic center, be a driving role in the sustainable economic development of the province.
The establishment of Tan Uyen City is the most prominent mark of the past half term. Accordingly, on February 13, 2023, the National Assembly Standing Committee issued Resolution No. 725/ NQ-UBTVQH15 "On the establishment of Tan Uyen city in Binh Duong province" that has been effective from October 4th, 2023. Tan Uyen city was established based on the status quo of Tan Uyen town, with an area of 191.76km2, a population of 466,053 people, with 12 affiliated administrative units including 10 wards and 2 communes.
Reported by Thu Thao - Translated by Ngoc Huynh