The renovation and embellishment are to change the appearance of a central urban area under the province, in the 2021-2025 period, Thu Dau Mot city hence focuses on implementing and gradually realizing the goals. Up to now, the city has achieved certain results, making important contributions to local urban development.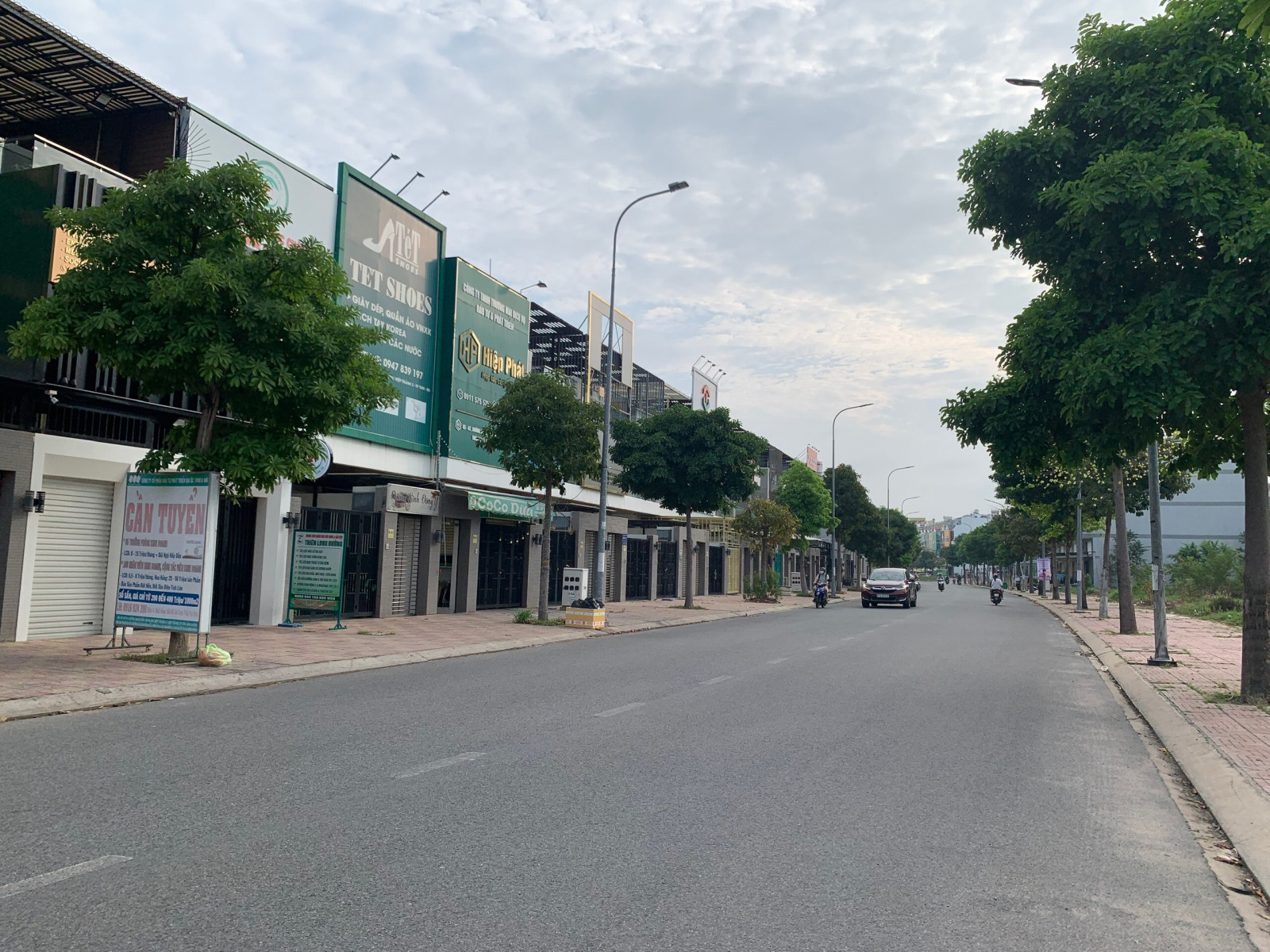 New residential areas were formed, making Thu Dau Mot increasingly more beautiful and spacious. In photo: A corner of Phuc Dat residential area in Hiep Thanh ward.
Create a highlight
Thu Dau Mot City has developed some typical architectural works, public spaces creating urban highlights. These construction works are WTC Exhibition Center in Binh Duong New City, Hikari commercial area, Sora Gardens in Hoa Phu Ward. In addition, the city reviewed and set up detailed planning for Thu Dau Mot Park, including park, Provincial Children's Cultural House, Provincial Museum, and schools, etc., into a complex. At the same time, the project of Cach Mang Thang Tam - Ngo Quyen intersection park in Phu Cuong ward is under construction. In addition, the city is currently carrying out the development of a synchronous urban infrastructure system between new construction and existing urban upgrading, improving the urban living environment through the completion of 115/120 parks in the city.
The city has also developed a general city plan, a 1/2000 scale zoning plan covering 14/14 wards. Currently, the city has 83 detailed planning projects approved at the scale of 1/500 of residential areas and urban centers, and detailed plans of 1/500 scale in areas of urban embellishment and development that are in the planning process, such as: the area of Provincial Library, headquarters of the City Party Committee (old), Ba Lua port... The city creates all favorable conditions and removes difficulties for investors, construction, and well performs compensation and support for site clearance to carry out new construction and urban upgrading projects.
Nguyen Thu Cuc, Chairwoman of TDM City People's Committee said: "Over the past time, urban renovation and urban upgrading have been actively coordinated by agencies and branches to effectively implement, promptly urge the execution of works, projects... Many cultural works, community playgrounds were formed, creating urban green spaces, meeting the people's entertainment and sports needs, contributing to improving living standards, creating good effects for urban construction work in the province".
Join hands for construction
Along with the urban renovation and embellishment, the city also focuses on restoring the urban order - the construction order in the whole area. Specifically, many roads, such as Doan Tran Nghiep, Yersin, Binh Duong Boulevard, Pham Ngoc Thach, Tran Van On..., have restored order, dismantled illegal construction part; expansion, advertising, encroachment on sidewalks and roadbeds are handled and rectified in a timely manner.
The city has put into operation pedestrian streets, night market on the extended Bach Dang street, arranged and maintained order of business and trading activities on streets around Thu Dau Mot market. Coordinate with competent sectors to research and forecast public parking needs, propose planning solutions, investment policies, and models of management and exploitation of the public parking system in the center of Thu Dau Mot town. Currently, the city is investing in Thu Dau Mot city intelligent operation center (IOC) and continues to develop a plan to monitor traffic, social security and order in the city.
Apart from well implementing economic and urban planning goals, a campaign named "Building a cultural - civilized urban lifestyle" was also effectively implemented by 14 wards in the city. Namely, the appearance of Phu My ward has been changing rapidly. The most obvious is asphalted traffic roads, investment in drainage systems, parks and flowers gardens to make public entertainment places more and more beautiful. In particular, the ward also has a model of opening book park, morning coffee park - meeting with people to create more cultural exchange space.
The innovation in both quality and quantity in development makes many people in the ward very happy and pleased. Dinh Duc Dai, a resident lives on DX037 Street, Quarter 4, Phu My Ward, shared: "A few years ago, Phu My was associated with the countryside but now it is different. Asphalt roads and street lights, especially roads are planted with beautifully decorated trees, living space is very safe and fresh.
Nguyen Thu Cuc, Chairwoman of TDM City People's Committee said: "Promoting the role and synergy of both the political system and local people in urban embellishment and development, the city has directed agencies and departments to strengthen propagation and explain guidelines and policies to all classes of people and each household, creating high social consensus. As a result, three years after implementing Program No. 13 of the City Party Committee, initially the city's appearance is increasingly spacious and modern, making an important contribution to the development of Thu Dau Mot urban area towards green growth, smart city, improve the quality of living environment and urban landscape".
Nguyen Thu Cuc, Chairwoman of Thu Dau Mot City People's Committee: Besides residential areas, urban areas, commercial and service systems are increasingly developed and perfected, many parks, gardens, amusement parks built in recent years have created many urban green spaces, meeting people's needs for entertainment and physical training, contributing to improving people's living standards. In the coming time, the city will focus on directing and mobilizing resources to accelerate the adjustment of the Thu Dau Mot urban area's general planning; invest in the urban renovation and upgrading of existing urban centers in combination with the construction and development of new urban centers according to planning. Besides, the city will apply science and technology in upgrading and managing urban lighting systems, encourage households to use clean energy towards a green growth city.
Reported by H.Thuan, C.Tien - Translated by Ngoc Huynh