Many teachers in Tan Uyen Town, together with the medical force, have joined hands to fight against the Covid-19, volunteered to support the disease prevention and control. With the spirit of the people's teachers, who are responsible and act for the community, many teachers in Tan Uyen Town have worked hard on all fronts to fight the disease.
Tran Anh Dung: to dedicate himself to community health
From the call for teachers to participate in the Covid-19 prevention and control, Tran Anh Dung, Deputy Head of Education and Training Office of Tan Uyen Town, volunteered to go for the anti-pandemic since the first days of July. As a person that was in charge of looking for volunteers in the town's education and training branch, he gathered a force of teachers to assist the health branch in carrying out disease prevention and control tasks.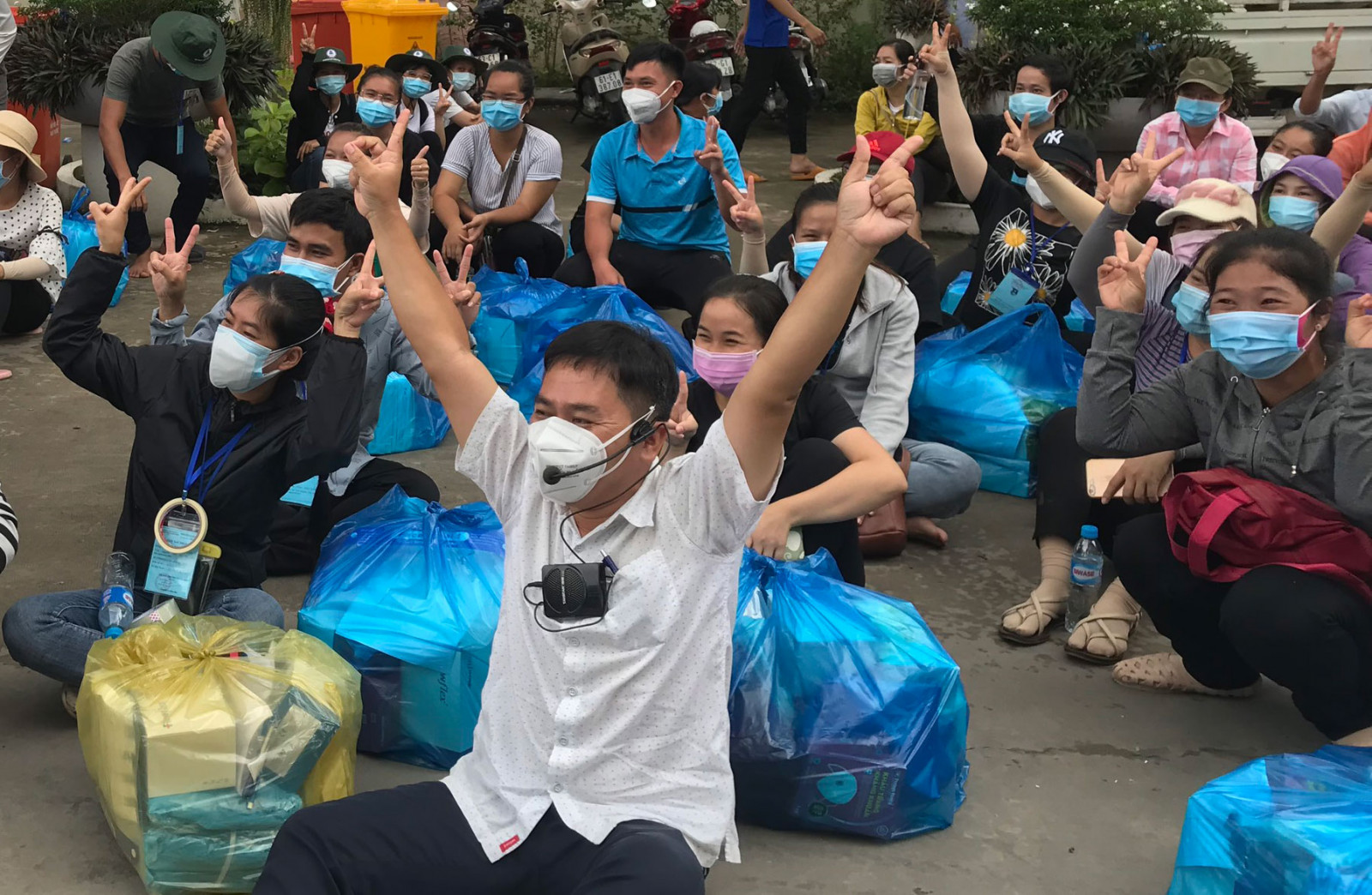 Dung (centre) shows his determination in aiding the prevention and control of the Covid-19.
In August, when the Covid-19 broke out strongly in Tan Uyen town, to share hardships and difficulties with doctors and nurses, Dung and other teachers rushed to join the front lines in "red zones" of the town. He said: "Regardless if it is day or night, my teammates and I strive to fulfill our assigned tasks on all fronts, from taking samples to separate F0s from the community, assisting in food and necessity distribution, guiding people to get vaccinated against Covid-19. We always hold a strong belief in the victory against the pandemic for teachers and children to return to schools, we are able to soon return to the podium and our beloved students."
During the time when he took part in the pandemic struggle, Dung was respected by his colleagues for his combat method, responsible work attitude, quick and accurate performance. His job is not only to send relief troops, but also to perform other tasks, such as: to train new personnel, handle the shortage of medical supplies, contact local authorities for handling F0, come to grassroots level to check the progress, review sampling process and technique... The works came continuously, sometimes he even forgot eating and drinking.
Now entering a new school year, he has two roles and two duties: A teacher does educational training work and assists the disease prevention control at the same time. Dung, like other teachers, is still full of enthusiasm on the front lines of the pandemic fight, and hopes that the Covid-19 would soon be eliminated so that teachers and students could return to school to continue their career.
Nguyen Thi Yen Oanh: A volunteer for a big battle
Nguyen Thi Yen Oanh, Vice Principal of Khanh Binh Junior High School, is also one of many teachers involved in the prevention and control of Covid-19 in Tan Uyen Town since the early days of the outbreak.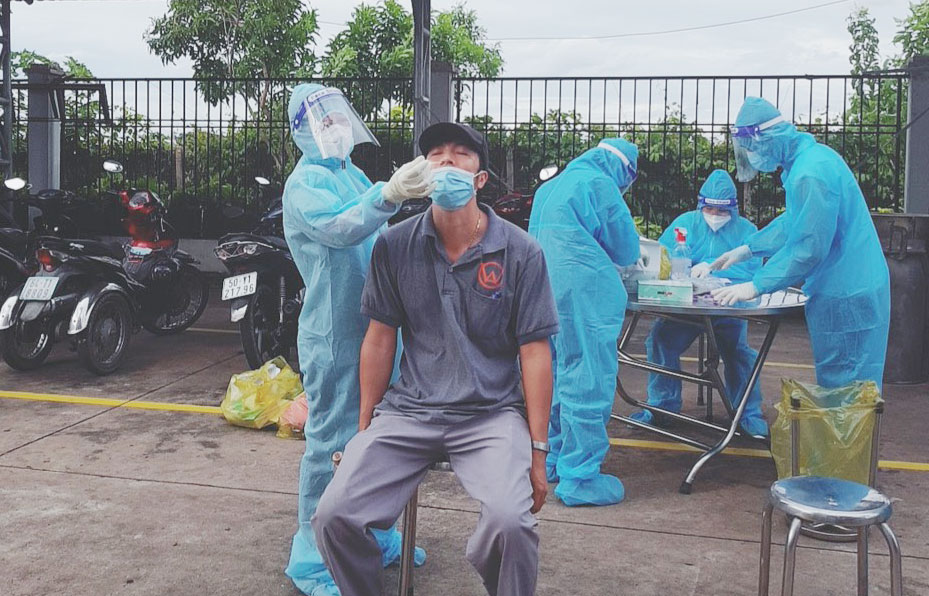 Teacher Oanh performed a quick test to screen people for Covid-19 infection.
Although her home is in Di An city, she has taken part in the disease prevention and control work in Tan Uyen town with the spirit "Fighting the pandemic like fighting the enemy". Since joining the volunteer team of education training branch, she performs her tasks regularly every day and always arrives on time so as not to affect her teammates. She confided that to set an example for her subordinates, she volunteered to participate in this big battle from the very beginning.
Initially, teachers participated in data entry process. Since the health branch carried out mass testing campaign to separate F0s from the community, Oanh continued to volunteer and assist medical workers. With her enthusiasm and responsible spirit, Oanh was not afraid of facing F0s for the first time. She said: "Visiting each lodging house, witnessing F0 cases facing pitiful circumstances, we feel a strong sense of responsibility towards the task we are doing, which is more important than ever. Many times we advised workers in lodging houses to calmly go for testing. If they keep hiding in lodging rooms, then the incubation period is long, their health cannot be well protected. From those sincere feelings, almost residents have had a good cooperation with us, helping the work to be carried out smoothly and quickly.
Oanh said that at first, the number of F0 cases in the community was quite high, but now it has decreased significantly. On a day when there are not any F0 cases detected, volunteers like her are very happy, because this means that Tan Uyen Town is returning to the "new normal" state. At present, teachers in Tan Uyen Town continue to assist health workers in disease prevention and control. Teacher Oanh still arranges time to complete her work at school, while taking part in the disease prevention and control.
Reported by H.Thai, T.Uyen - Translated by Ngoc Huynh