More than 8,000 guests from 63 provinces and cities across the country and 20 countries in the world will attend the National Innovative Entrepreneurship Day (Techfest Vietnam 2022), which is expected to officially take place at Binh Duong provincial Convention and Exhibition Center from December 2 to 4, 2022.
Chain of connection activities
Nguyen Loc Ha, member of provincial Party Standing Committee, Vice-Chairman of provincial People's Committee said that organizing this event is an honor and a great opportunity for Binh Duong to have more extensive access to the startup ecosystem of Vietnam and developed countries, connecting and attracting international experts and investors to participate in innovative start-up activities that are strongly deployed in Binh Duong.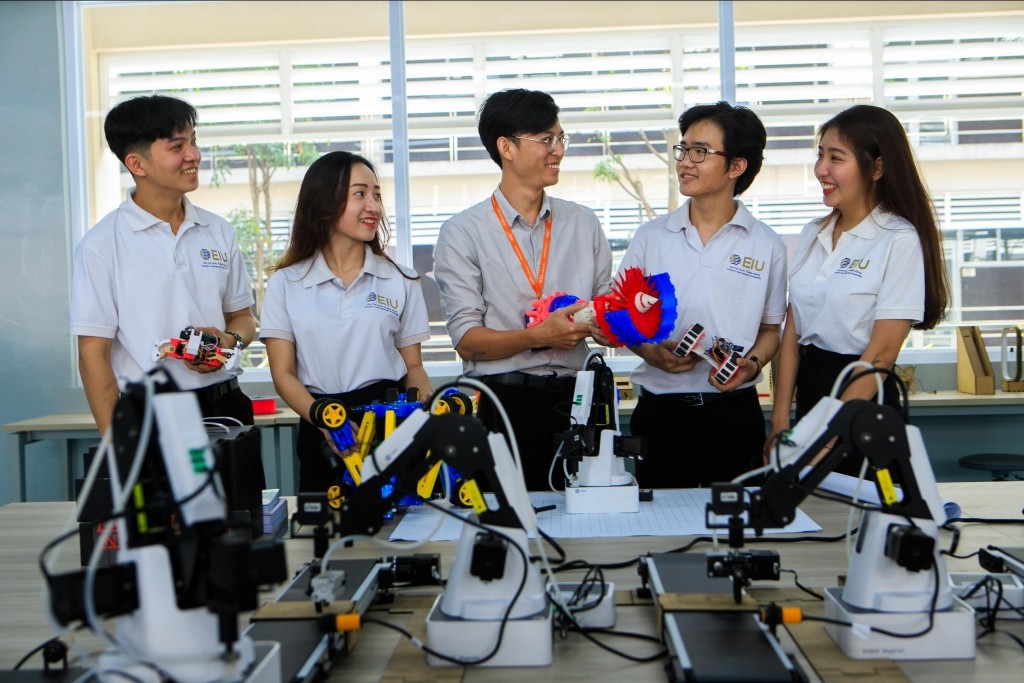 Techfest Vietnam 2022 takes place at Binh Duong provincial Exhibition and Convention Center
Through specific programs such as Techfest exhibition, start-up business connection seminar and sightseeing activities designed specifically for the startup business community, Binh Duong wants to introduce the local. potential start-up ecosystem being nurtured and supported while introducing the local extensive activities and strategies in the process of promoting the development of the innovative startup ecosystem; introducing material facilities and specific programs that have been built and completed by Binh Duong and Becamex IDC, in order to maximize support for the startup business ecosystem. Along with that, the province has also proposed specific strategic policies to attract, support and promote the development of an innovative startup ecosystem locally and nationally.
Within the framework of the program, Techfesh Vietnam 2022 will feature over 250 booths on innovative start-up products and services; about 30 conferences and seminars on technology trends, connecting investment, sharing experience in developing innovative start-up ecosystems, sharing experience and lessons on model transformation to adapt and make breakthroughs after the pandemic…Espencially, the National Policy Forum for the development of innovative startup ecosystem in the period of 2021-2025 on the afternoon of December 3 and the Techfesh Vietnam's imprint program 2022 on the evening of December 3 are outstanding and important events.
Along with that, the final round of the national innovation startup talent competition is one of the important events at the festival. This is a contest to find solutions and services with a high content of technology and innovation. Participants are Vietnamese at home and abroad. After 3 months of competing with activities on training, connecting with domestic and foreign experts, the 10 best teams were selected from 500 profiles to go on to the final round. The winning team has the opportunity to receive a prize of US$ 500,000 and a special support package after the program from the competition's partner.
Many new features
With the theme of "Open Innovation - Opening New Thinking", the Techfest Vietnam 2022 aims at finding development solutions in the fields that are heavily impacted by the Covid-19 pandemic and have potential in the future such as health, education, energy..., thereby solving problems on human resource training to meet the needs of domestic and international markets, striving to bring into play the talent of Vietnamese people, creating good values ​​for future generations.
At the press conference about Techfest Vietnam 2022, Pham Hong Quat, Director of provincial Department of Market Development and Science-Technology Enterprises under the Ministry of Science and Technology said that Techfest Vietnam 2022 has many famous speakers from American and European countries for open innovation will share with domestic businesses about best practices and global trends in solving post-Covid-19 problems in the fields of applying new technologies, thereby giving advice and suggestions for Vietnam.
The Ministry of Science and Technology also assessed that the national innovation start-up movement has developed strongly and entered all fields, using science and technology advancements to solve problems of the social and economic life. Techfest Vietnam 2022 will bring the activities of technology villages and businesses together in order to solve the local problems. Compared to the previous period, Techfest Vietnam 2022 has 34 technology villages with the appearance of 18 new technology villages, including Metaverse virtual universe, Blockchain, AI, clean medicine, creative arts, Marketing, clean energy, circular economy, ecology, transportation...
In fact, development is having changes associated with market needs and trends. This year, in addition to traditional technology villages, many new technology villages such as Fintech, Metaverse, Blockchain... are business models with fast growth with a lot of technology content. Especially, villages on green technology, circular technology, clean medicine, new energy are the trend of the world, which are being interested by international investment funds... Many models have solved the society's challenges, creating jobs, a significant source of income for disadvantaged people and bringing growth to businesses.
In particular, the Ministry of Science and Technology has highly appreciated technology villages for accompanying Techfest. The difference of this year's event is that it attracts the participation of social forces, forerunners and successful businesses with support in terms of startup ideas. Technology villages have participated in solving many problems posed during the process of the local and national development as well as enterprises 'evolution.
Techfest is the largest annual event for startup enterprises in Vietnam and it was held in 2015 for the first time to promote innovative start-up activities. Since 2016, the program has become the main activity within the framework of the project "Supporting the national innovation startup ecosystem until 2025". Up to now, Techfest Vietnam has attracted the participation of 2,600 startup enterprises, 1,000 domestic and international investors and more than 20,000 visitors.
Reported by Phuong Le-Translated by Kim Tin