The National Innovation Start-up Supporting Network now has more than 400 members along with more than 1,000 scientists, experts and interested subjects about entrepreneurship from universities, research institutes, and organizations of domestic and foreign support. The annual Techfest is considered the largest annual playground for this community in Vietnam; and, Techfest Vietnam 2022 held in Binh Duong left impressive marks and figures.
Strong start-up community
This year's festival has a large scale, with the wide participation of many social factors, especially the participation of businesses to attract more than 8,000 guests who are representatives of start-up communities from 63 provinces of the whole nation and 20 countries in the world. Before the series of events in 2022, Techfest has spread and resonated across the country in more than 10 regional and local Techfests being held, and at the same time, many local-level innovative start-up support networks have been launched.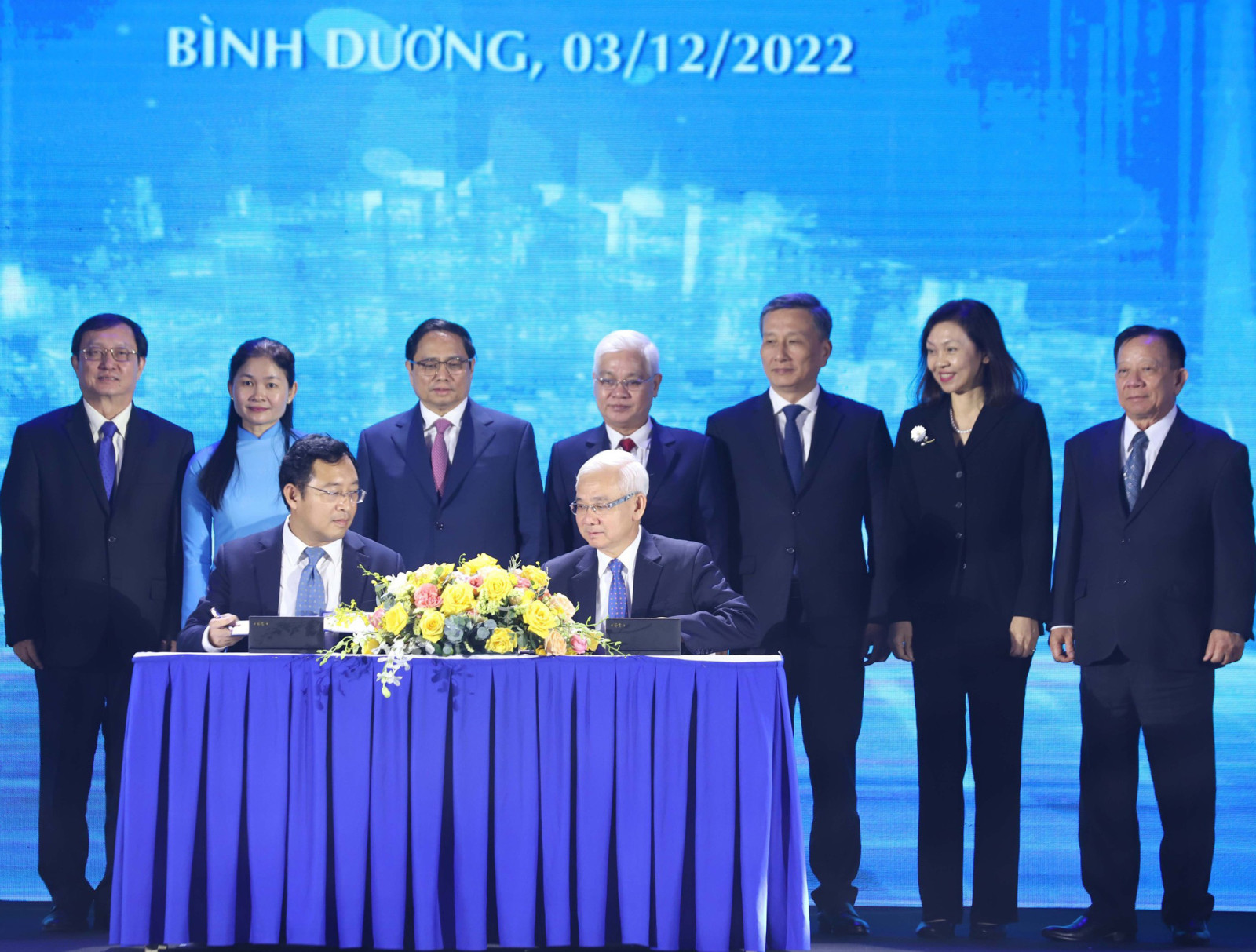 Leaders of the government, ministries, branches and Binh Duong province witness the signing ceremony of a cooperation agreement between the Bureau of Market Development, Science and Technology Enterprises with Becamex IDC
In terms of infrastructure, the National Innovation Startup Supporting Center has established a number of locations in Hanoi, Da Nang and Ho Chi Minh city; and more than 20 localities have been establishing Innovation Startup Centers such as Ba Ria - Vung Tau, Can Tho, Da Nang, Hai Phong, Binh Duong and many more. More than 170 universities, colleges, and vocational education institutions have been supporting start-up activities in more than 200 coworking spaces which were formed and developed.
Huynh Thanh Dat - Minister of Science and Technology, said: "In 2022, innovative start-ups have recorded many impressive results to create an open ecosystem typical of Vietnam. The national creative start-up ecosystem develops sustainably and strongly based on the development of each component and the close linkage of the ecosystem with partners around the world, capable of attracting startups within the domestic and international resources".
The pmprint of Binh Duong
With the goal of becoming a bright spot in the Southern Key Economic Zone, Binh Duong has been implementing important strategies for socio-economic development; the focus is on building and perfecting an innovation ecosystem, attracting and building high-quality human resources, promoting digital transformation and continuing the strategy of smart city development under the 4th Industrial Revolution towards the goal of overcoming the middle-income trap, and reaching a GDP per capita of USD 14,500 by 2030.
Thanks to the active and pioneering contribution of Becamex IDC Corporation, Binh Duong has built a modern and synchronous infrastructure, especially in the new city area, meeting international standards. In addition, the province also actively organizes live and online world-class annual events, national startup competitions, and promotes the formation of professional international connection models. In particular, the province creates mechanisms and conditions to encourage businesses, institutions and organizations to actively invest in building an innovative startup ecosystem.
By the above efforts, Binh Duong is honored to be selected as the host of Techfest Vietnam 2022. Vo Van Minh - Chairman of the provincial People's Committee, said that the implementation of Project 844 of the Prime Minister on development assistance in the national startup ecosystem has helped Binh Duong pay special attention to creating supporting mechanisms and policies and devoting resources to developing science and technology, especially innovation and start-up activities. Binh Duong has quickly issued a very specific and local policy coupled with Project 826 to support creative startups.
"Techfest Vietnam 2022 is an event of practical significance to promote startup activities and spread the spirit of innovation. Binh Duong hopes to exchange and learn experiences in developing innovative start-up ecosystems of localities across the country by attracting new cooperation in socio-economic development as well as in the process of building and developing Binh Duong province in the direction of intelligence and creativity. Binh Duong is determined to continue to invest strongly in science and technology, innovate and create motivation for the province to develop towards a smart city with digital and intellectual economy," Chairman of the provincial People's Committee said. At the Techfest Vietnam 2022, a cooperation agreement signing ceremony between the Bureau of Market Development and Science and Technology Enterprises and Becamex IDC Corporation took place on developing an innovative startup ecosystem and support industrial digital transformation.
In the strategy, Becamex IDC on behalf of VSIP partners, Eastern International University, Singapore Polytechnic, 4.0 Industry Alliance established the 4.0 Innovation Center. This event once again demonstrates the efforts and companionship of Binh Duong province, Becamex IDC and partners for the startup and innovation community in Vietnam in the journey of transformation under the 4th industrial revolution.
Binh Duong province, under the support of Becamex IDC and its partners, determined to continue to invest strongly in science and technology, innovate and create motivation for the province to develop towards the smart city, contributing to improving the competitiveness of Vietnam with its position as the production center of Asia.
Reported by Phuong Le – Translated by Vi Bao