On the morning of January 12, Binh Duong Provincial People's Committee and Red Cross Society hosted a program named Tet of Compassion and Spring Festival 2023. The ceremony was attended by Bui Thi Hoa, President of the Central Committee of Vietnam Red Cross; Nguyen Van Loi, Member of the Party Central Committee, Secretary of Binh Duong Provincial Party Committee, Head of Provincial National Assembly's Delegation; Nguyen Hoang Thao, Permanent Deputy Secretary of Provincial Party Committee; Vo Van Minh, Deputy Secretary of Provincial Party Committee, Chairman of Provincial People's Committee; and officials in Provincial Party Standing Committee, leaders of Provincial People's Council, People's Committee, and Fatherland Front; former leaders of the province; representatives of provincial departments and agencies, more than 2,000 voluntary blood donors, the poor, the disadvantaged, and workers.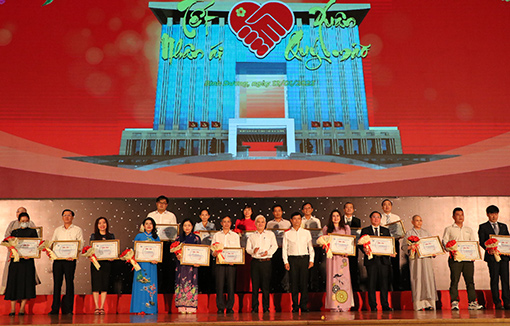 Provincial leaders present gratitude boards to individuals and units who supported humanitarian activities of the Provincial Red Cross. Reported by Hong Thuan - Translated by Ngoc Huynh
Giving lasts forever
Right from the early morning, the lobby area outside Provincial Convention and Exhibition Center was crowded with volunteers from agencies, units and localities in the province. They gathered to do a very meaningful job, which is to donate blood to save lives.
With the message "Every blood drop given, a life saved", each participant of voluntary blood donation found their hearts joyful as participating in this humanistic program. There were many people who have donated blood many times, but there were also ones who took part in blood donation for the first time.
Especially, in this program, there were people who had received blood, overcome the near-death experience, then recovered their health and now donate blood to save other lives. Phan Thi Ngoc Mai in Dau Tieng town of Dau Tieng district is one of such cases. Mai said that in one birth-giving, she needed a blood transfusion and fortunately thanks to the timely blood provision, she overcame the critical situation.
She thought that blood from donors saved her life, therefore when her daughter was 3 years old, Mai registered to join voluntary blood donation to continue sharing her blood with patients in need. Since then, she has regularly participated in blood donation several times every year.
Not only Mai, to voluntary blood donors, they all have the same thought that is to help patients when they are deprived of blood. With the noble meaning of blood donation to save lives, the 2023 Pink Spring Festival attracted hundreds of volunteers. Thereby, the organizers received 599 blood units, contributing to supplement the blood reserve for treatment and emergency in the coming time.
Warm spring love
Taking place at the same time in the lobby area of Provincial Convention and Exhibition Center, it was "Tet zero-Dong market" with many products priced at VND0 to serve the poor, workers, and vulnerable people.
This Tet zero-Dong market was organized by the Vietnam Red Cross in collaboration with Binh Duong Provincial Red Cross, supported 500 disadvantaged people in the province. In addition to shopping vouchers worth 1 million VND each, each person at the market also received an additional 500,000 VND in cash. Total expenditure of the market was 750 million VND, of which the Vietnam Red Cross mobilized Coca Cola Vietnam Company to support 500 million VND of necessity goods, Binh Duong Provincial Red Cross supported 250 million VND in cash. At the program, Provincial Red Cross received the support and donation of more than 130 businesses, trade unions, departments, agencies, organizations, individuals and benefactors to carry out humanitarian activities with a total of nearly 40 billion VND.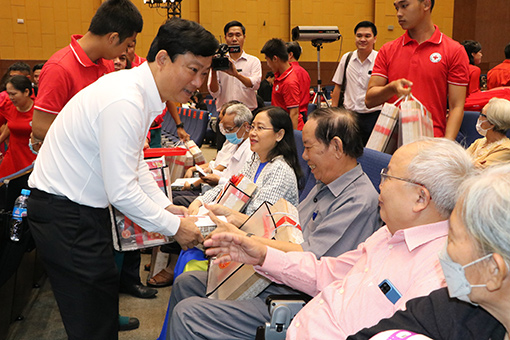 Vo Van Minh, Deputy Secretary of Provincial Party Committee, Chairman of Provincial People's Committee, gives Tet gifts to poor people at the program Tet of Compassion and Spring Festival 2023.
Besides, Provincial Red Cross gave Tet gifts to 500 poor people, people with disabilities, and needy workers. Each gift included cash and Tet gifts worth 1.5 million VND. Nguyen Thi Muon, 75 years old, lives in Phu My ward, Thu Dau Mot city, is a blind person that received Tet gifts in this program, said: "Daily life has many difficulties, I don't have much money to buy Tet goods. Today, I am very happy as receiving Tet gifts and money. Thanks to the support of Provincial Red Cross, my family will have a warmer Tet…".
At the ceremony, Nguyen Hoang Thao said that the Tet of Compassion and Spring Festival 2023 were a very meaningful and deeply humane programs that demonstrates the national morality of "Good leaves take care of torn leaves", especially on Tet holidays... The programs and activities of Provincial Red Cross have formed a far-reaching mass movement, regardless of age, status, social class, anyone can participate with love for humanity, sympathy, compassion to share and help each other.
The benefactors all come with kind hearts that want to do good deeds, protect and share the smallest piece of rice, even a coat, with devotion, practicality, directness, and timeliness to disadvantaged people, thus making the poor and unfortunate people feel warm, relieve their hardships; contributing to enriching the Vietnamese people's tradition of kindness, which has a sustainable, long-lasting and pervasive vitality...
Reported by Hong Thuan - Translated by Ngoc Huynh