In the morning of November 25, the Association of Elderly People of Thuan An city held its third Congress, of 2021-2026 tenure with the theme of strengthening the construction of a strong Elderly Association contributing to the CPV and government care-taking and role promotion of the elderlyto build a civilized, rich and beautiful city of Thuan An. Attending the congress was 80 delegates representing nearly 12,000 elderly members in the city.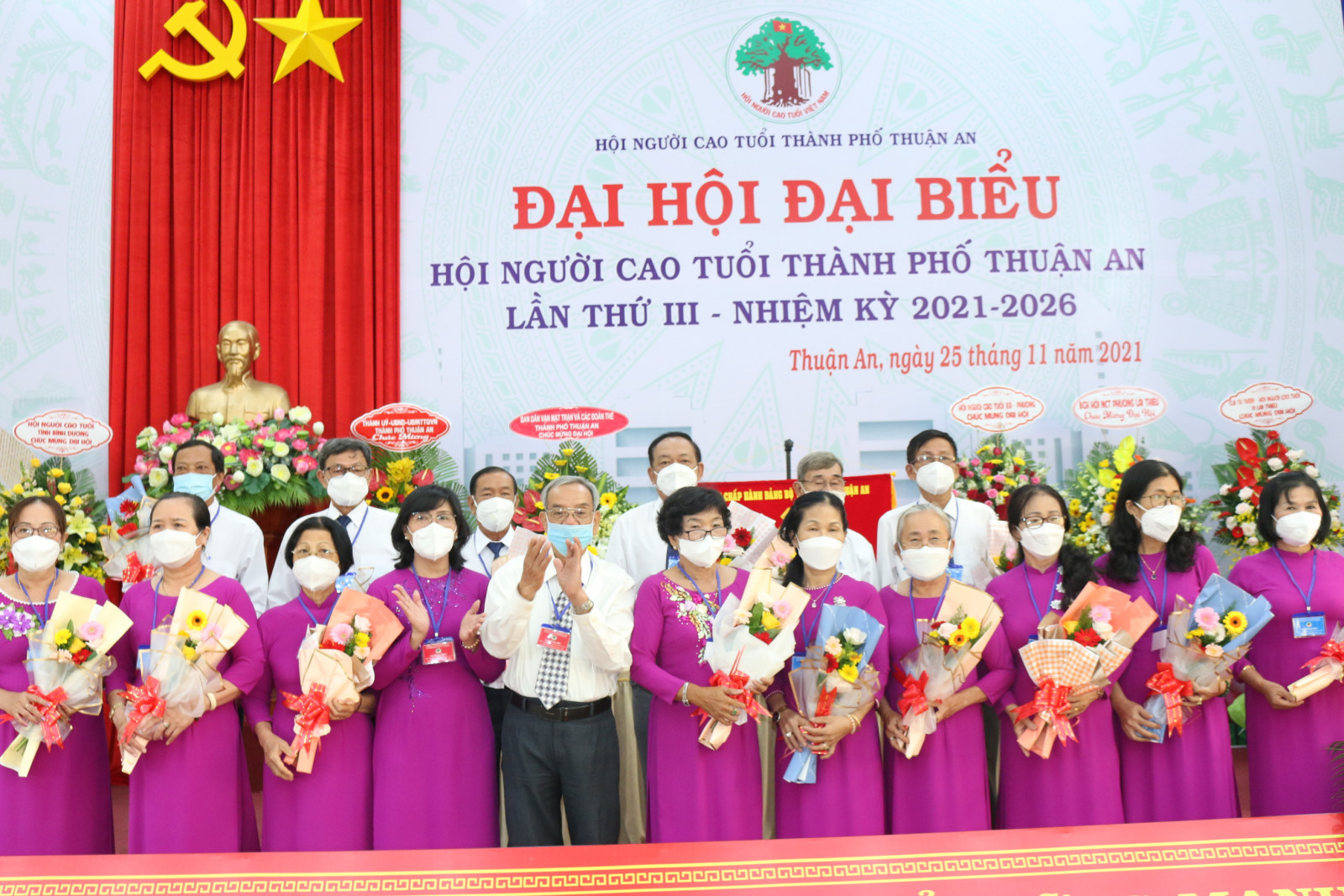 The executives of Thuan An city Association of the Elderly of 2021-2026 tenure are introduced at the congress
During the 2016-2021 term, the Association of the Elderly in Thuan An City has continued to pay attention to and take care of material and spiritual life to promote the role of the elderly. In the past 5 years, more than 6,100 turns of elderly people have received social protection. Longevity celebration has been held for 8,420 elderly people and more than 1,750 elderly people beyond the prescribed age also enjoyed longevity celebration; more than 13,300 gifts were given to the elderly at a total amount of nearly VND 3 billion. In addition, funds are maintained to care for and promote the role of the elderly in 10 facilities; the intergenerational self-help clubs of 10 communes and wards have supported 140 members with interest-free loans. The association also established and maintained 72 cultural, art, and sport clubs to attract a large number of members, contributing to provision of a meaningful playground to help the elderly lead happy and healthy life.
The Congress elected a 19-member Executive Committee for the new term, and a 17-member delegation to attend the higher-level congress. Ms. Huynh Ngoc Suong was elected Chairwoman of the Elderly Association of Thuan An city. On the occasion, People's Committee of Thuan An city awarded certificates of merit to 21 collectives and 30 individuals with achievements in the elderly movements in the 2016-2021 tenure.
Reported by Van Tien – Translated by Vi Bao