In the morning of November 22, the 5th Delegation Congress of the Vietnam Red Cross in Di An of 2021-2026 tenure took place successfully. Attending and directing the Congress were Ms. Nguyen Thi Le Trinh, Chairwoman of the provincial Red Cross, the representatives of Di An city leaders along with 100 official delegates.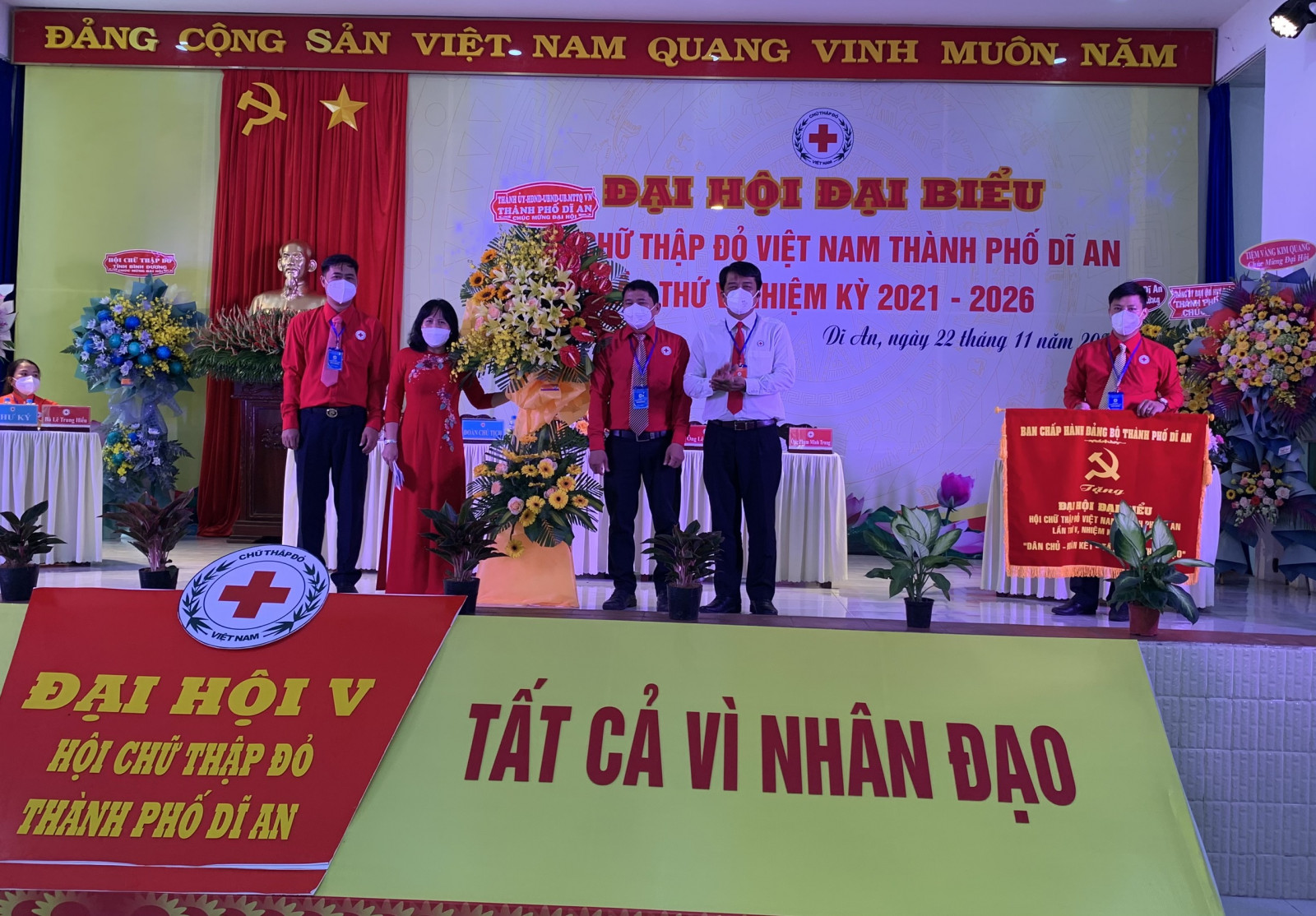 Di An city leaders present the banner congratulating on the Congress
During the last term, the Di An city Red Cross has made efforts to achieve many important results in the movements and activities including the movement of "Tet for the poor and victims of Agent Orange", by which the Red Cross has campaigned to give 37,786 Tet gifts worth over VND 13 billion to disadvantaged people. For the campaign of "Each organization, each individual attaches to a humanitarian address", 1,471 humanitarian addresses have been helped at totally VND 5.4 billion. Other supporting activities also achieved high results including 10,536 gifts to the needy and scholarships to poor studious students at more than VND 5.6 billion. 18 new houses have been built and 3 red cross houses have been repaiired at total value of VND 952 million. Unexpected support for 69,955 cases has been accounted for an amount of over VND 10 billion.
Addressing the Congress, Ms. Nguyen Thi Le Trinh suggested that in the coming time, the Red Cross at all levels and each officer, member, volunteer, and youth of Di An city would promote the tradition, benevolent, and taking advantage of the potentials, advantages and achievements to build the stronger organization of Red Cross to become a core organization in humanitarian activities.
The Congress elected a new Executive Committee consisting of 23 members. 16 official delegates and 2 alternate delegates were elected to attend the 8th provincial Congress of Red Cross in 2021-2026 tenure. Mr. Le Phu Tam was re-elected as Chairman of the Red Cross of 2021-2026 tenure.
On the occasion, Binh Duong provincial Red Cross offered VND 140 million of charitable works and VND 40 million in cash to finance the Congress.
Reported by Hong Thuan – Translated by Vi Bao