Since its first in 2016, the Tokyu Group Japan Festival has become an expected annual event of Binh Duong people and visitors. With an increasingly large scale, the organization is also more and more methodical as the Tokyu Group Japan Festival has attracted a large number of people.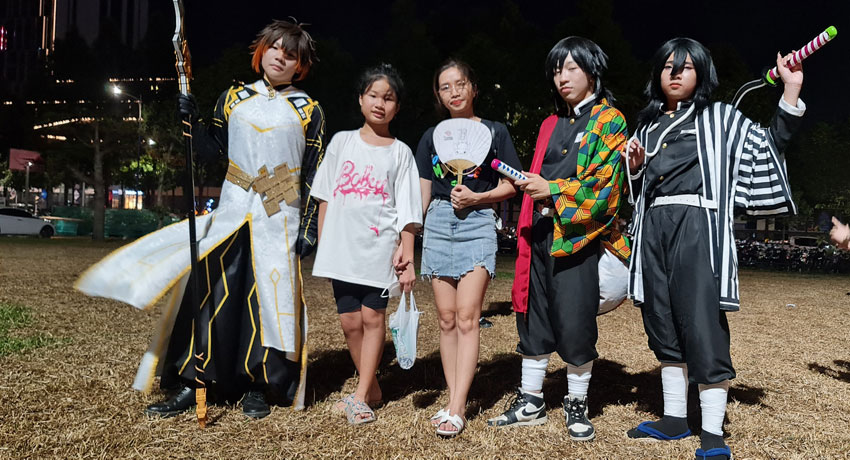 The youths in cosplay stand for photo at the festival
Rich culture of land of the rising sun
Appearing at the festival very early, Nguyen Khanh Dang, a student at Ngo Thoi Nhiem School, joined a group of friends with the same hobby of dressing up as Japanese characters in cosplay. "I really liked Obanai Iguro's Serpent Pillar in the movie "Demon Slayer", so I cosplayed as the character and received many compliments, take souvenir photos of visitors to the Japanese festival in the new city of Binh Duong," Dang said cheerfully.
As for Pham Thi Hoa from Ho Chi Minh city, these days, information about an event is expected by many residents of the 4th industrial revolution all over the social networking sites. Therefore, Hoa joined her husband and 2 young children to participate in the festival so that the whole family could enjoy street barbecue from Uncle! Grill – the unique sushi dishes from Taiyo or interesting beer flavors from 7 Bridges Brewing and experience cultural activities of the land of the rising sun.
With the "Feel Japan" message, the 6th Tokyu Group Japan Festival 2023 takes place in 2 days of March 25 and 26 at Hikari Commercial Area of Binh Duong New City. This year's festival is held on a larger scale than every year including many cultural exchange activities between Vietnam and Japan, between schools in the province and Japanese music groups. Besides, interesting experience activities at food stalls with a variety of attractive Japanese and international dishes, festivals in Japanese traditional yukata costumes, paper fan decoration workshop corner, shaping and decorating ceramic among others.
Add more sentiment to Binh Duong
Pictures of families gathering together to enjoy Japanese food, experience pottery decoration, paper fans and fun games in Binh Duong New City, the image of young people enjoying yukata costumes and cosplay making beautiful pottery by their own hands, participating in traditional Japanese dances Bon Odori at the festival have added cultural colors to adorn the picture of Binh Duong New City to be more sparkling, warmer with fun.
The Japanese Festival at Binh Duong New City is an annual activity organized by Tokyu Corporation and Becamex Tokyu Co. Ltd. and other units in order to spread Japanese culture closer to the people of Binh Duong as well as connecting communities with local residents through cultural festival events.
Oh Dongkun - General Director of Becamex Tokyu Co. Ltd., said: "By turning the event into a festival with the large participation of both locals and multinational communities, we wish people could feel they are part of this city, fostering feelings for the city; thereby, contributing to the community and development in Binh Duong New City in particular and Binh Duong province in general".
Reported by Minh Hieu – Translated by Vi Bao