Although with a simple stage, the 2nd Street Music program attracted a large audience at Bach Dang pedestrian street (Thu Dau Mot City). The youth band includes Thanh Dat (bass guitar), Nhat Huy (drums), Tan Phat (keyboard 1), Thanh Long (keyboard 2), Thien Bao (guitar solo) and Phuc Hung (MC), with singers Thao Nguyen, Hoang Chau, Thuy Linh and Thuy Giang, have contributed to increasing the dynamism and youthfulness of the cool and beautiful street of Thu Dau Mot City.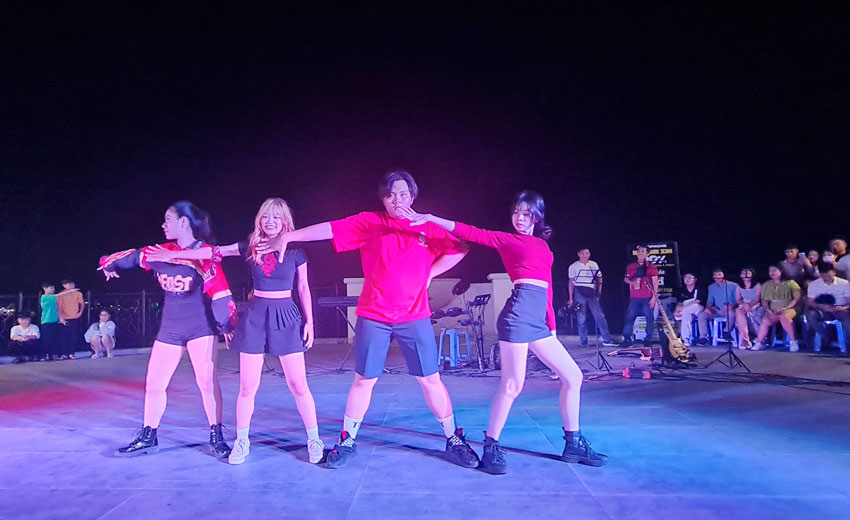 Modern dance performance by Faculty of Cultural Industry, Thu Dau Mot University
Exciting, fascinating
From very early, the audience surrounded the area where the 2nd Street Music show was held, making the singers and bands extremely eager to burn out in the long-awaited weekend evening. Opening with energetic dances of youth with stylish costumes, the group "TDMU" of Thu Dau Mot University stirred up the atmosphere of enjoying music. Followed by performances by singers who are students of the Faculty of Industry and Culture of Thu Dau Mot University and some guest singers from localities in the province.
Ngo Truong An, a TikTok content creator living in Di An City who participated in the program as a guest singer, said that performing on this stage himself could stand close to the audience, easily feel and capture the mood to interact with people in a very spontaneous and natural way. Truong An had a sense of joy and wanted to devote himself to the audience.
As for Vu Hoang Nhat Linh (Arts Club, Center for Culture, Information and Sports of Thu Dau Mot City), he really likes the outdoor music stage because it helps people easily connect with each other. "Not only can I listen to singing, but I can also participate in singing and exchanging with bands, making both performers and audiences gather together very close," Nhat Linh said.
Meaningful playground
Also with familiar popular songs today, such as: "Giọt sương trên mi mắt", "Tình yêu màu nắng", "Ngày chưa giông bão", "Dẫu có lỗi lầm", "Mãi yêu"… this program had an interaction part with the audience through songs for the youth, such as: "Tự nguyện", "Vào hạ"... and modern dance performances, international folk dances, ensembles increased the attractiveness, received big applause from the audience.
Nguyen Van Phuong, Director of Culture, Information and Sports Center of Thu Dau Mot City, said that after its launch in February 2023, the center continues to coordinate with the Faculty of Culture Industry (Thu Dau Mot University) to host the 2nd Street Music program. This playground aims to contribute to the well implementation of the campaign "Building a cultural - civilized urban lifestyle"; propagating, introducing and promoting landscape works along Bach Dang Street, combining pedestrian streets, night markets, cultural spaces, and art enjoyment to people and visitors.
Street music is a very meaningful and attractive playground, suitable for the needs of local people and tourists to enjoy the culture when coming to Bach Dang pedestrian street. However, if this is a fixed program or a regular venue for cultural and art programs, it is necessary to invest more methodically on the topic of each program and facilities, such as: Fixed lighting system, speaker installation... Then the quality of the stage is still bright, the audio equipment, the electrical system connected to the sound system will be safer for both performers and viewers.
According to Dr. Nguyen Thi Luu An, Music Department Director, Faculty of Cultural Industry, Thu Dau Mot University, street art has been practiced in almost all countries around the world and countries with developed economies, such as Hungary, Japan, the US, the Netherlands... Vietnam is also one of the countries that is spreading street music in many places and different cultural spaces. Although the spread is not strong, it has been enjoyed and responded by many classes of the people, considering it as one of the cultural and spiritual values of the entire community in society; especially high school students and students in universities, colleges…
Reported by Minh Hieu - Translated by Ngoc Huynh