Literary - art composition helps women become younger, love people, love life more, and feel pure humanity. That is the sharing of female writers and artists in Binh Duong. For them, the Covid-19 pandemic has turned everyone's life upside-down, but it is also the time when their compositions about homeland became more emotional than ever.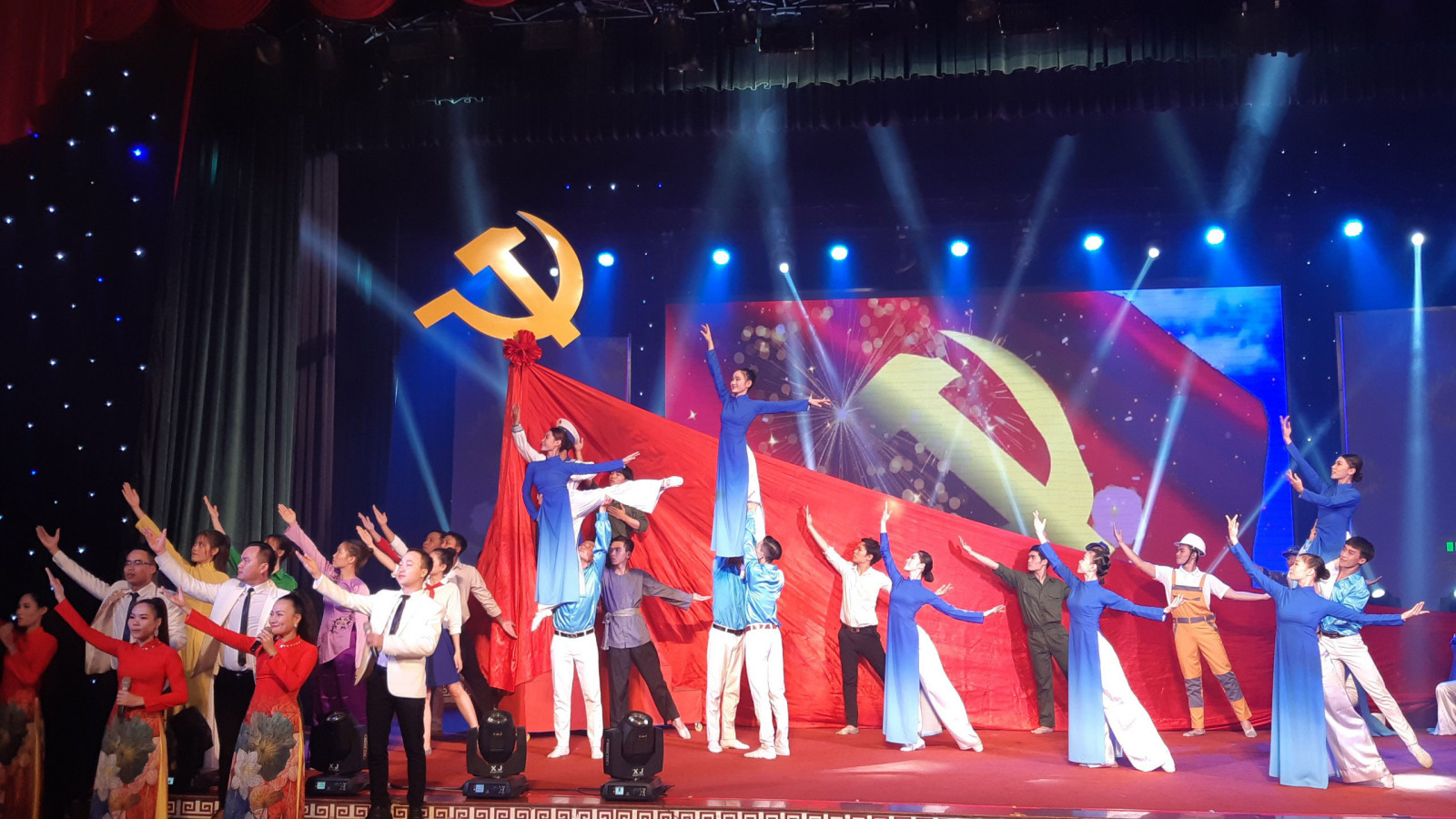 The image of women always shines in literary and artistic works of Binh Duong.
Be younger, more loving life in art compositions
Binh Duong has a large number of female artists and writers and has made contributions to the development of literature and art of the province. Most of branches and clubs have women membership. Many people have made great contributions to preserving and promoting the unique values of Vietnamese traditional art and culture.
During the resistance wars, Vietnamese women endured, sacrificed and dedicated their lives to the common cause of the Fatherland. There are mothers who lost their children, there are wives who lost their husbands… Therefore, this is also a topic chosen by many artists and writers to express their feelings of pride and gratitude. "…"Áo sờn, khăn bạc gió sương/ Dép quai mòn gót dặm trường gian nan/ Giặc về đốt phá xóm làng/ Mẹ tôi kiên quyết không hàng giặc đâu…" (Worn shirts, faded scarves / worn-out sandals because of long arduous miles / The enemy returned to burn down the village / My mother was determined not to surrender to the enemy…). Vo Thi Nhan's proud verses in a song named "Bâng khuâng bông tím lục bình" (Purple hyacinth flower) depict the image of a heroic Vietnamese mother in the past.
In modern life, women have proved their roles in many fields. They contribute to the education of children, who are the future owners of the country. They devote and work to build and develop socio-economic fields, enrich the homeland. Therefore, many works written about women in modern life have been presented by various artists in various literary and artistic genres.
In Phan Hai's short stories, readers can easily feel the author's feelings for women. His notable works are: "Có một tình yêu" (Having a love), "Mưa đêm" (Night rain), "Sóng ngầm" (Roaring of the sea), "Cơn dông" (Thunderstorm)... In the poem "Đóa hoa mãi xinh" (The flower is forever beautiful) by Le Hong, how beautiful is the image of Excellent Teacher Nguyen Ngoc Van dedicated to her teaching profession, inspires generations of teachers with her devotion to the career of cultivating people: "Từ thuở về mái trường quê/ Quyết tâm phấn đấu yêu nghề đắm say/ Dìu dắt thế hệ ngày ngày/ Lớn lên tiếp bước theo thầy vinh quang" (From I returned to school in the countryside / Determined to strive and love the profession passionately / Lead the generations day by day / Grow up to follow in footsteps of glorious teachers".
Author Le Hong confided, today's women have to take care of the housework, but many women still try to overcome difficulties to write and make life happy. In the process of experiencing life, the female members listened to different circumstances and promptly updated their information, helping to make their writing more vivid about real people. Therefore, the number of works of female members winning high prizes of contests held by the province and Provincial Literature and Arts Association is also increasing. Many works were also set to music by musicians to have more meaningful songs for life.
Beautiful images during the pandemic
In addition to literary works praising Vietnamese women in the past, in labor, production and homeland construction, writers and artists also save much emotions for depicting life, praising and paying tribute to "female warriors" in the fight against the Covid-19 pandemic.
According to author Le Thi Bach Hue, a retired teacher, poems during the pandemic period have helped her express the worries about her hometown and the country, to feel more proud and happier to see so many kind hearts during the difficult time. ""Những ngày dầu sôi lửa bỏng/ Dịch lan mạnh khắp phố phường/ Trái tim như đang rướm máu/ Làm gì đây để cứu quê hương…?" (In the fire-and-sword days/ The pandemic spread throughout all streets/ The heart was bleeding/ What should I do to save the homeland…?) (poem "Tấm lòng Bình Dương" (Binh Duong's heart).
In this war, many "angels in white" set aside their own feelings to rush into the struggle against the . They diligently stayed up all night taking care of patients being not afraid of difficulties and dangers. For author Le Hong, in addition to the white-shirted warriors, many army groups have contributed greatly and helped the people in this war. In the poem "Yêu màu áo xanh" (Love the color of blue shirt), Le Hong has made readers so touched with words of love about the frontline force. "Yêu sao hình bóng của anh/ Áo xanh người lính… thương dân hết lòng/ Tuyến đầu anh lại xung phong/ Toàn dân ủng hộ… một lòng chung tay… (I love silhouette/ The soldier's blue shirt… loves the people wholeheartedly/ They volunteered on the front line/ The whole people supported… one heart…). "Đẩy lùi dịch bệnh hôm nay/ An yên đất nước tương lai đẹp giàu/ Yêu anh bộ đội ngọt ngào/ Vì dân phục vụ… đẹp màu áo xanh!" (Push back the pandemic today / Peace in the country in the future/ Love the soldiers / For the people to serve... beautiful blue shirt!").
Many places have organized writing contests that set examples of individuals and groups making great contributions to the Covid-19 prevention and control. Many participants of these contests were women, who have vividly shown many perspectives on female beauty during the pandemic. Accordingly, many examples of women everywhere joining hands, helping and supporting people in difficulty have spread love in the community, creating more positive energy to help people overcome the pandemic.
Reported by Thuc Van - Translated by Ngoc Huynh