The 4th outbreak of the Covid-19 pandemic has caused a lot of economic damage and traumatic losses. Together with the whole nation, Binh Duong has been resilient and fiercely mobilized the strength of the political system and the people to overcome the past difficult time together. The places that used to be the epidemic centers of the province until now everything have seemed to have returned to a normal trajectory as everyone is busy preparing to welcome the 2022 Lunar New Year with joy endeavour.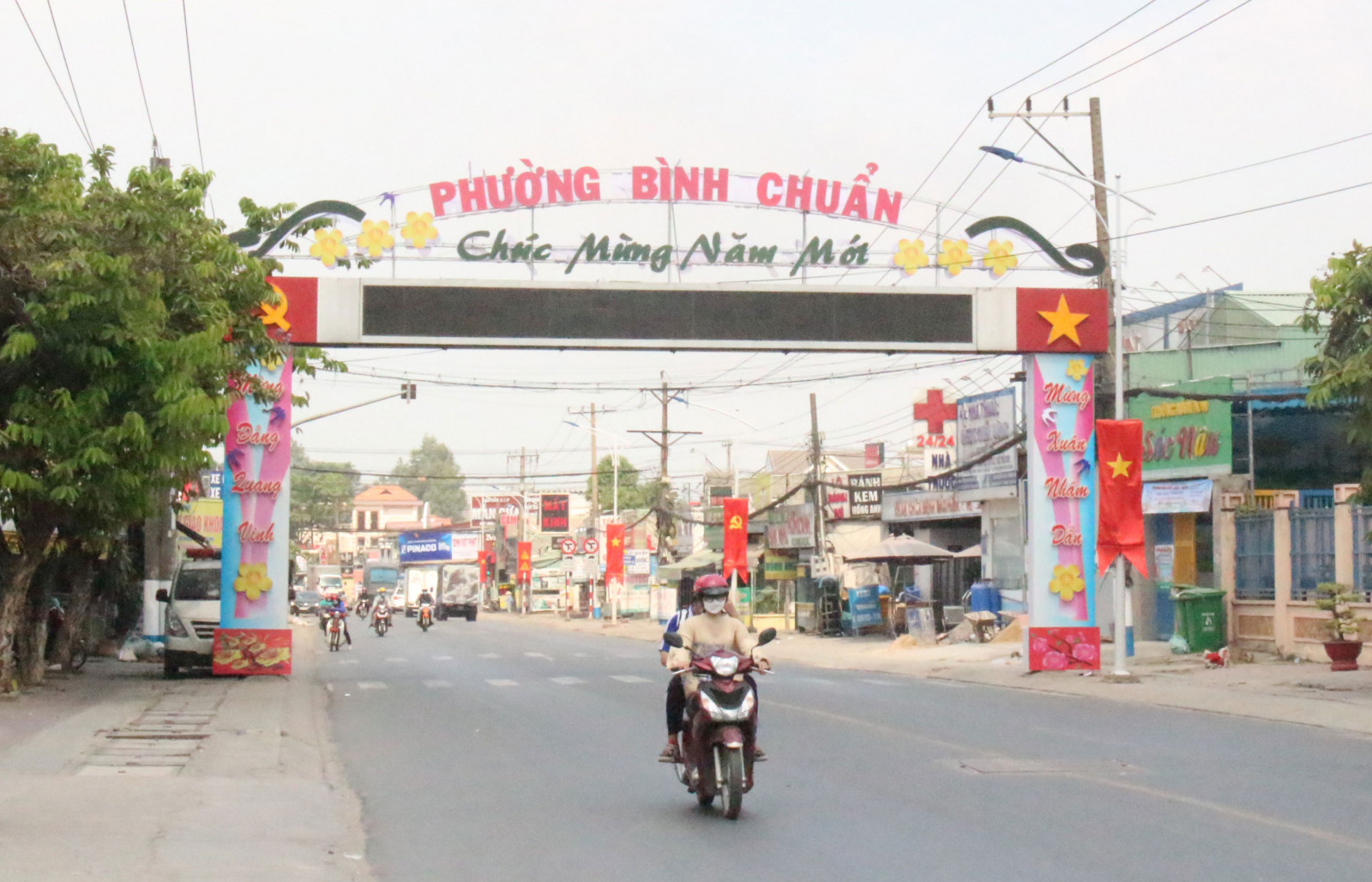 The jubilant spring at Binh Chuan ward in Thuan An city is once the place of freezing and lockdown
The immense spring colors
In the days approaching Tet, we had the opportunity to return to Tan Uyen town, one of the localities that was once the epidemic center of the province. Looking at the bustling life, the traffic, the hustle and bustle of people, it is hard to imagine that the local people have had to go through a fierce COVID-19 epidemic in mid-2021 when the whole town had 7 communes and wards called as the "densely red zone" that must be administered "lockdown and freezing" according to the principle of people staying put. These days, all the roads in Tan Uyen town seem to put on new appearance with colorful flags, flowers, and flashing lights.
The roads and markets in Tan Uyen town at this time are filled with colorful flowers; the shopping atmosphere to prepare for Tet of the people is bustling. Coming to Thai Hoa ward, we could see flowers always in full because the Tan Ba traditional flower garden is in its season. Mr. Phan Huu Nghia, a flower cultivater, said: "This year, due to the impact of the epidemic, being fear of more difficult sales, we decided to reduce the quantity of flowers compared to every other year. But for Tet, every house cannot be without flowers, so we also hope to be able to bring the most beautiful flowers to the people during this New Year after a year full of difficulties and losses."
During these days, meaningful gifts are continuously delivered by Party committees, authorities, branches and unions of Tan Uyen town to people including many families affected by the COVID-19 epidemic. Tet gift packages contain a lot of affection and responsibility of the whole society for families in difficult circumstances. Receiving a local Tet gift, Mr. Huynh Tan Sang from Khanh Loc neighborhood of Tan Phuoc Khanh ward, said with emotion: "Our family are thankful to the local authority for their constant care for us at each New Year. For this year, although we have a small Tet holiday due to the impact of the epidemic, it means a lot to our family."
Mr. Doan Hong Tuoi, Chairman of the People's Committee of Tan Uyen town, said that after many efforts and determination of the whole political system at all levels, so far, Tan Uyen has basically controlled the COVID-19 epidemic, and people have gradually adapted to life in the new normal. Local authorities have also tried their best to take care of the best Tet for everyone, especially the disadvantaged in localities that used to be "densely red areas". Besides, the town will try to organize meaningful spring activities for people to welcome the most joyful and warm Tet.
Expectation for a new peaceful year
Like Tan Uyen Town, Thuan An city is also a locality heavily affected by COVID-19 as 4 wards were located in the "densely red zone" including Binh Chuan, Binh Hoa, Thuan Giao, and An Phu. Despite many difficulties in 2021 due to the COVID-19 epidemic, Thuan An is still a locality that is making great progress. Closing the old year with a lot of emotions, each person in what used to be a "densely red area" has reserved for themselves a moment of silence to reflect on what they had done. On the eve of the new year, everyone is full of thoughts and hopes for the new year of 2022.
A year of the COVID-19 epidemic with many difficulties, the learning and activities of Tran Thi Hoa's family members in Binh Hoa ward were also greatly disturbed. However, during the time, Hoa realized what she needed. Ms. Hoa confided: "Up to now, when the epidemic is basically over, I realize that the most important thing right now is health; being healthy we can do anything. Entering the new year, we think that we should love and care more for family members to appreciate what we have. In the new year, I just want everyone to be safe and healthy."
As for Mr. Ho Ngoc Anh, a worker staying at an accommodation in An Phu ward, said that the outbreak of the COVID-19 epidemic had forced many of his friends to leave the city and return to their hometown. Personally, he still chose to stay in Binh Duong to continue working. "Despite many difficulties, I believe that Binh Duong in general and Thuan An city in particular will develop even more strongly. I expect that the authorities at all levels would pay more attention to investing in infrastructure to promptly meet demand in the coming time; at the same time, they are taking measures to control land prices and implementing housing support projects for low-income people like us workers. For me, Binh Duong is still the most worth living land."
Like many other traders, Ms. Hoang Thi Lan, a small trader at Binh Phuoc B market of Binh Chuan ward is also busy preparing everything to serve the people's shopping needs during Tet. Although the shopping demand of people may not be as high as every other year, Ms. Lan is always optimistic as saying: "This year the general trend is like that, big or small, we just want to have a warm and happy Tet with relatives and family. In the new year, I just hope that the epidemic situation will be more stable so that children can go to school; adults can go to work; and everyone's life is more stable."
No matter what industry or field they are operating in or doing business in, in the last days of 2021, people in the areas that used to be the epicenter of the COVID-19 epidemic share the same expectation that entering the new year will offer more luck and prosperity. than. They all hope the epidemic will pass quickly and life and work will quickly return to normal and stable. Many people also wish to reunite with their families after a tumultuous year and also cherish many projects in a new year with many expectations.
Reported by Hong Phuong – Translated by Vi Bao