Over the past years, the loan entrustment program between the Transaction Office of the Bank for Social Policies in Ben Cat town and the town Farmers' Union has brought about practical results, contributing to poverty reduction and solving problems in the process of improving the material and spiritual life of the people.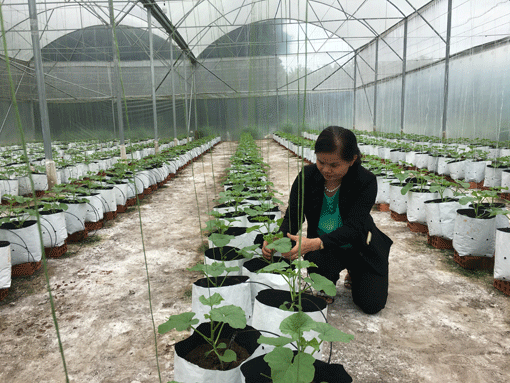 f
Cantaloupe model of Pham Thi Tinh, a resident at An Dien commune of Ben Cat town yields high economic returns
Farmers helped
The preferential capital from the Bank for Social Policies has contributed to create jobs for its members, helping them to develop economic conditions, increase incomes, and to stabilize their lives to overcome difficulties and reduce poverty. Thanks to the effective use of capital, Do Van Lap's family at An Tay commune has risen out of poverty and got rich righteously. With a small initial capital and depending mainly on rice transplanting and duck raising, by the preferential loan program for poor households of the Social Policy Bank of Ben Cat Town, he has more conditions to invest into breeding pigs, cows, ducks, etc. Along with that, by local support in husbandry techniques, vaccination against diseases, and environmental sanitation, his pigs and cows developed well and his sales revenue increased to about VND 300 million per year.
Pham Thi Tinh, a resident at Tan Lap hamlet of An Dien commune, said that by the support of preferential loans from the program for poor households of VND 50 million plus the accumulated amount of her family, she initially experimented with growing melons in a net greenhouse area of 500 square meters, costing an investment of VND 200 million. After more than 2 months of caring, her melon garden has been harvested with about 2 tons; minus all costs, a profit of more than VND 40 million was made. Seeing high efficiency, in the coming time, Tinh will expand the melon growing area to 3,500 square meters.
Huynh Do Ai Tri's household is a poor household in Phu An commune and in 2006 was granted a loan of VND 10 million to raise pigs. Through time, his family paid off the above amount and continued to be loaned nearly VND 60 million to take care of rubber plantation. Along with that, his family was also facilitated by the locality to attend free mushroom growing vocational classes and built a mushroom farm. Since then, Tri's family has escaped poverty; the family's economic life has changed markedly as their children are well educated and have stable jobs. In addition, many members who were previously poor households are now recognized as being out of poverty. In addition to striving for economic development, these members are also typical examples in building a cultural lifestyle in the locality and are leading members in the association's work.
Conditions continually offered
Since the first years of implementing the loan entrustment program, the outstanding loans entrusted by the town Farmers' Union have increased rapidly. In 2015-2020, in the province, 403 savings and loan groups have been established with 16,285 borrowers, the total outstanding balance is nearly VND 463 billion. As of the end of April 2021, the association manages 61 savings and loan groups with 2,695 households borrowing; the debt balance is nearly VND 132 billion.
In the past time, socio-political organizations that receive entrustment from the town to grassroots have raised their spirit and responsibility to actively participate in implementing the entrusted task. In addition, these organizations also coordinate with local authorities and functional agencies to guide business practices to transfer science and technology that are applied to agricultural and fishery extension programs in a bid to improve economic efficiency. The loan entrustment method has created favorable conditions for mass organizations to regularly interact with members and help them develop their family economy; and, at the same time, a large number of people is gathered to participate into the association.
Pham Hong Nguyet, Director of the Transaction Office of Bank for Social Policies in Ben Cat town, said the trust program has brought practical effects to members, creating conditions for taking care of the material and spiritual lives of the poor members, thereby, attracting more members to join. Besides, in order to help households use the loan capital effectively, associations at all levels have also cooperated with the Transaction Office of Ben Cat Town and local authorities to organize training on husbandry and cultivation techniques along with loans to 100% of households. The synchronous coordination between the two branches on well performing the task of entrusting loans to poor households and other policy beneficiaries has helped members of the Farmers' Union develop their family economy and stabilize their lives.
Reported by Thoai Phuong – Translated by Vi Bao