By creativity and innovation with appropriate policies and solutions, the province's industry, commerce and services have made positive changes to create a solid foundation for the future and long-term direction.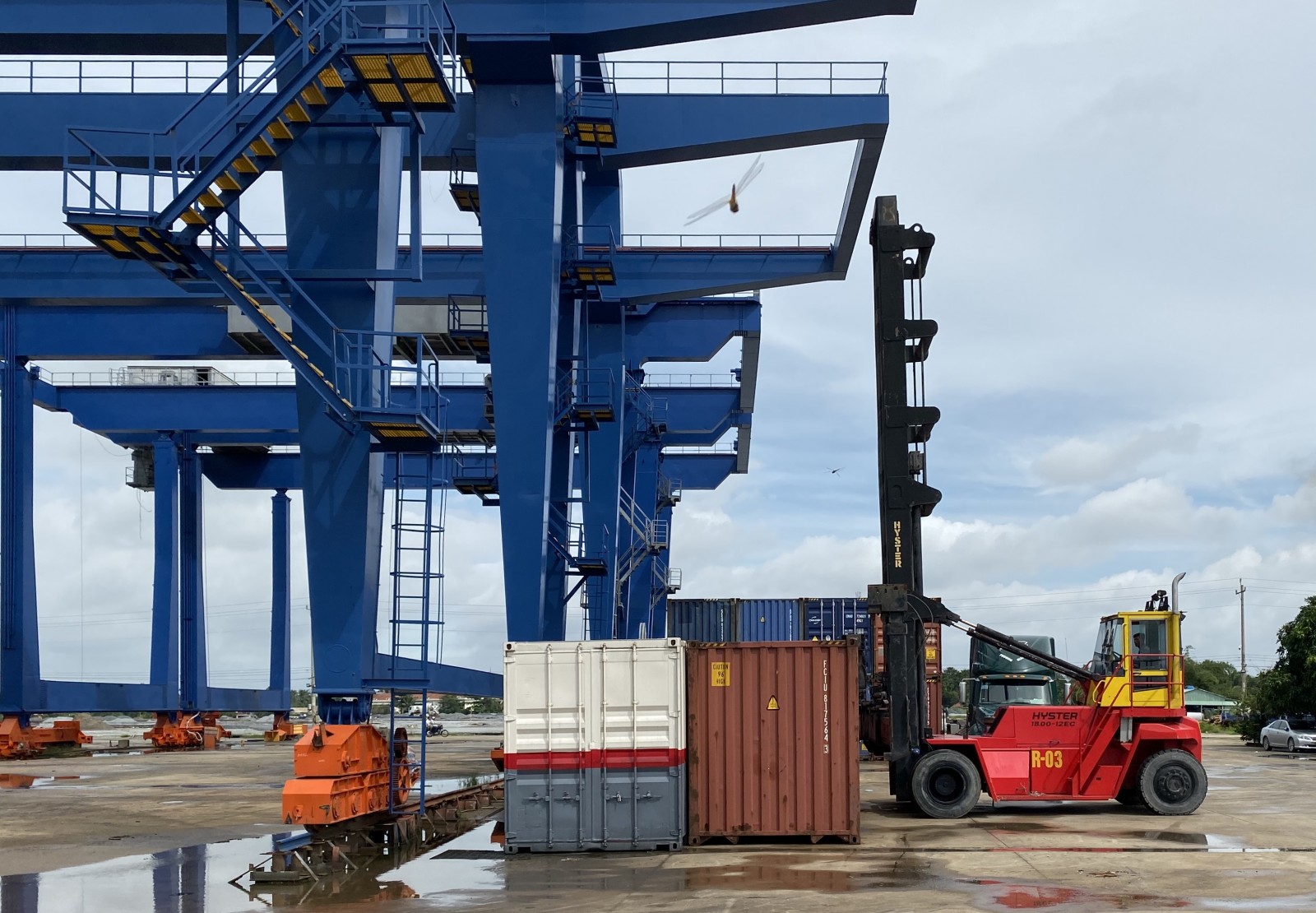 Goods circulation is facilitated by the developed infrastructure. In this photo: Cargo loading at An Son Port in Thuan An city
Drastic transformation
By the orientation of sustainable development, Binh Duong not only prioritizes to attract high technology and advanced production but also focuses on economic restructuring towards the development of high-quality trade and services. In 2016-2020, high-quality service industries have been formed and effectively operated to actively support industrial and urban development of the province. In addition, thanks to the reasonable concentration of investment resources, the core technical infrastructure works have exerted a spillover effect to meet the needs of investors in new fields in industrial development and high quality services. The consistency of innovative methods in attracting investment along with the advantage of modern and basically complete infrastructure have helped Binh Duong become a convergence of many leading businesses and retail groups from all over the world.
In the past 5 years, total retail sales of consumer goods and services increased by an average of 17.95% a year, of which, total retail sales of goods increased by an average of 15.81% a year. Trade and service infrastructure system is invested into and upgraded. Many types of distribution with the participation of major domestic and foreign brands have been developed. Exports increased by an average of 9.31% a year; export markets were constantly expanding.
According to the business community's assessment, the promotion of investment attraction in the trade and service sector not only creates a new face for the province but also is an important highlight contributing to the development of the southern key economic region to be developed in the direction of linking industry - urban - service and attracting investors and high-quality human resources. Most importantly, international trade activities are increasingly focused by the province, creating favorable conditions for businesses to trade. The opening of the World Trade Center of Binh Duong New City (WTC BDNC) has made Binh Duong a service center integrating global trade, attracting partners, investors, intellectuals, and human resources by creating favorable conditions for the formation of an international trade ecosystem and connecting trade across the regions. Especially, WTC BDNC will be an important driving force to create momentum for Binh Duong to develop e-commerce, an increasingly explosive trend of trading.
Currently, three cities under the province - Thu Dau Mot, Di An and Thuan An, have a lot of potentials for breakthrough development in high-quality trade and services, in which the new city will continue to play the core role. WTC BDNC formation will be the bright achievements. From the new city along the My Phuoc - Tan Van - Bau Bang route connecting to the north is the Science - Technology Industrial Park, a key project in the future to create a breakthrough in high-tech production by promoting innovation, connecting institutes and schools, and maintaining great motivation for high-quality trade and services to develop strongly.
The integration of industry, services and urbanity
According to experts, Binh Duong has achieved remarkable achievements in creating a highlight of development in the direction of linking industry - urban - service components; thereon, creating new breakthroughs to become one of the dynamic and sustainable development localities. In order to meet the development needs in the new period, Binh Duong has soon invested in the construction of the Industrial - Service - Urban Complex Project (referred to as the complex). This is a highlight to create a breakthrough in urban development and social stability. This is the model that according to economic expert, Associate Professor and Dr. Tran Dinh Thien, is an "outstanding bright spot" in the early days when other localities were still confused about the development models.
Thien said that Binh Duong provincial authority knew how to accurately identify strategic breakthroughs in both terms and stages. Infrastructure development is the focus, especially, on transport infrastructure and, at the same time, on building a master plan for socio-economic development and infrastructure in a methodical, scientific and modern way and operating in accordance with the proposed plans.
In the development plan, Binh Duong aims to create new added value and focus on training to improve the quality of human resources to supplement high-class service programs and boost supplying chains, logistics, and infrastructure, and diversified transportation development. In the immediate future, it is necessary to speed up the connection of Vanh Dai 3 and 4 and arterial roads connecting inter-regions such as Chon Thanh - Thu Dau Mot - Ho Chi Minh city, seaports and international airports to be duplicated in the neighborhood.
Reported by Tieu My - Translated by Vi Bao