Pottery or ceramic workmanship appeared in Tan Phuoc Khanh of Tan Uyen town by the middle of the 17th century, marking by the event that a Chinese merchant accidentially visited Tan Uyen town to discover the precious milky clay as materials for ceramic products. That Chinese merchant settled down and took many more to set up ceramic production workshop along Ho Dai Spring. In the beginning of 1930s, about 10 ceramic kilns were available for production of bowls, dishes, pots, stands, vases, statues, elephant-shaped seats, and shapes of various things in all sizes. The ceramic color assembling eel skin or green peas was then particularly produced; however, as today, the ceramic colors diversed by the demands of buyers.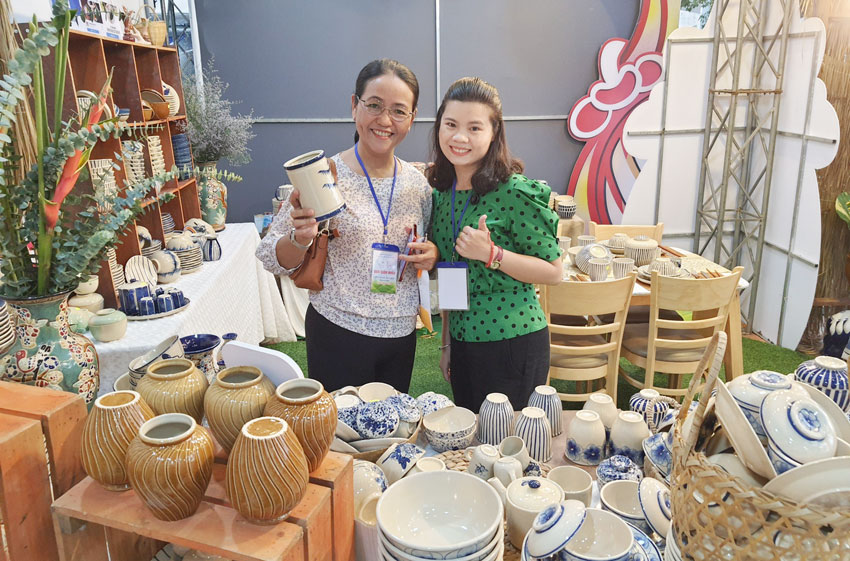 The simple ceramic product lines of Tuyen Phat are favored by many. Photo: Hong Thuan
To survive and develop in the midst of the hardest economic times and strong competition between countries is an extremely challenging showdown for the long-standing ceramic villages of Tan Phuoc Khanh. Today, the ceramic village still retains the tradition of handmade ceramics. Not only that, the ceramic craftmen always carry with them a passion, which is not afraid of drawbacks and challenges and ready to bear the weather to preserve the traditional village. However, the yield of traditional handmade pottery is often lower than that of modern production methods. So by now, a number of ceramic establishments in Tan Phuoc Khanh have also converted to and developed automatic machines, helping to increase productivity.
Tan Phuoc Khanh ceramics production facilities currently produce ceramics under two product lines of ceramics for daily life and fine art ceramics. In addition to the local and domestic consumption markets, Tan Phuoc Khanh ceramic products are also exported to other countries. Therefore, the products of the craft village have long been a blend of Vietnamese, Asian and Western traditions to suit the tastes of customers.
Van Phu ceramics export facility located at Binh Hoa 1 neighborhood is one of the oldest ceramic manufacturing enterprises ever established in 1990. Van Phu ceramics facility mainly uses manual methods to produce ceramic products of fine art. The kiln used at this facility is a gas furnace whose firing time for ceramic products is only 10-17 hours – a much shorter time span than a wood-burning kiln to limit environmental pollution. Meanwhile, Thanh Phat Ceramic Factory, which is also located in Binh Hoa 1 neighborhood, was established in 1983 as one of the few pottery kilns still operating in Tan Uyen to be using traditional production methods and kilns with firewood materials. The ceramic products of this establishment are mainly used in daily life such as cups, plates, bowls, etc., which are quite affordable and are mainly consumed in the country mostly in the Southwest region. Ceramic products use monochromatic glaze (a white or ivory color) and have simple decorative motifs.
The owner of Tuyen Phat ancient pottery factory is Vuong Thi Nguyet, who specializes in manufacturing pots, bowls, cups, plates, bowls etc. by manual method, supplies to eateries, restaurants, cafes, sales establishments as souvenirs and decorations in many provinces and cities across the nation. Thereon, ancient ceramic products began to come closer and closer to customers. In many fairs and tourism festivals, the workers of the facility also participate in introducing the production process and guiding visitors to experience the pottery making.
Tan Phuoc Khanh ceramics, whether popular ceramics or high-class fine art ceramics, have been affirming the brand with beautiful and quality products, containing valuable material and spiritual cultural values. As a child of the land of Tan Phuoc Khanh, I am always proud of my hometown, which has had a profession to meet people's consumption needs for many years.
Reported by Ho Tuong – Translated by Vi Bao