It is expected that in mid-December, the industry - trade authority and the Federation of Telangana Chambers of Commerce (India) will hold a trade promotion conference to help 20 Indian businesses connect and work directly with Binh Duong enterprises.
Goodwill from both sides
During a recent visit to India of Binh Duong provincial leaders, the Vietnamese Embassy in India coordinated with Binh Duong province and the Chamber of Commerce and Industry, Indian importers (IICCI), and CEO Clubs to organize trade and investment promotion sessions to exchange, seek investment opportunities, and expand bilateral business activities.
In his opening speech at the business forum, Nguyen Hoang Thao, said: "Binh Duong is a province located in the Southern Key Economic Region, with a favorable geographical position adjacent to Ho Chi Minh City, near airports and international seaports. To utilize its geographical advantage as a trade gateway between provinces in the Southern Key Economic Zone, Binh Duong has actively invested in modern and synchronous infrastructure, building a connected intra-regional, inter-regional transport system.
Binh Duong has always been evaluated as one of the leading provinces and cities in the country and in socio-economic development, is strongly developing in terms of attracting foreign direct investment capital, with 30 industrial parks with a total area of about 12,700 ha.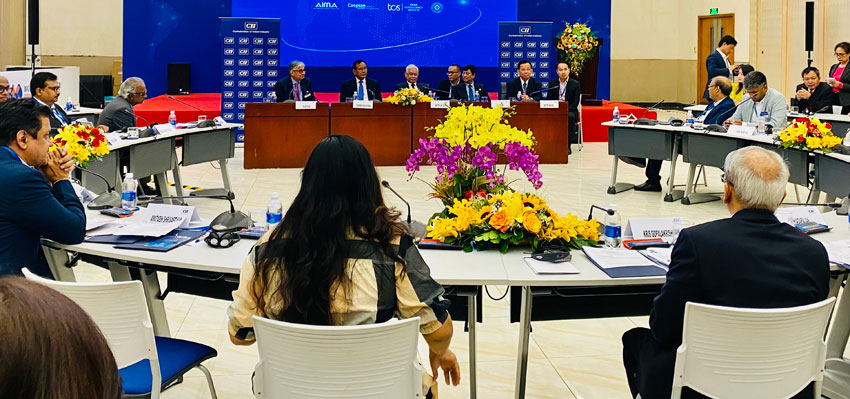 Many commercial cooperation opportunities open up for Binh Duong enterprises after Horasis India 2022
Talking about business cooperation opportunities with India, Nguyen Thanh Toan, Director of Binh Duong Provincial Department of Industry and Trade, emphasized that the total import-export turnover between Binh Duong and India reached US$806 million, accounting for about 7% of Vietnam's total export turnover to India, of which Binh Duong exports US$263 million and imports US$543 million.
The main import and export items are iron and steel of all kinds, animal feed and raw materials, chemicals, machinery and equipment, textile raw materials, footwear, fibers, plastic raw materials...
After Horasis India 2022, commenting on cooperation opportunities with Indian businesses, Nguyen Van Hung, Chairman of Becamex IDC, said that Binh Duong province always creates favorable conditions to exchange information about investment cooperation between Becamex and Indian enterprises, especially partners and industries that are in line with the building a new-style ecosystem for the province to develop industrial 4.0 in the future.
At the same time, he hopes that, after the bilateral dialogue, between Becamex and the Federation of Indian Enterprises would soon sign a memorandum of understanding so that the two sides could lay the foundation for cooperation and exploit the strengths of the parties in the next period, in order to implement specific cooperation to jointly seize opportunities for enterprises globally.
To take advantage of these opportunities, Becamex makes effort to improve the conditions to meet the requirements of enterprises.
The Indian businesses wish to cooperate with Binh Duong province on construction and development of furniture products; infrastructure development and construction of industrial parks - factories; cooperation in the development of renewable energy; wastewater treatment and water circulation; cooperation in developing supporting industries, auto parts - motorcycles...
Many industries are expecting
The structure of industries in the two countries' trade and exchange relations has changed markedly. Before this, raw materials for agriculture, livestock, pharmaceutical and chemical industries accounted for a large proportion of the total value of trade, but now the structure of industries is very diverse, spreads from agricultural products to mechanical-manufacturing goods, machinery and equipment to high-value items, such as electronic products, mobile phones.
In addition, labor-intensive goods, such as raw materials for textile garment industry, footwear and handicrafts, also began to be traded more. India is currently ranked 23rd out of 65 countries and territories investing in Binh Duong, with 10 projects and a total investment capital of more than US$116 million.
Main investment sectors of Indian enterprises are medical instruments, processing industry, manufacturing, pasteurization of agricultural products and food...
According to enterprises in textile garment and footwear industries, both these industries are advantages of India. Currently, the total size of Indian textile garment industry is about US$140 billion with a domestic market of US$100 billion and exports worth US$40 billion, which will bring many opportunities to Vietnam's textile garment industry.
Meanwhile, the overall scale of Vietnam's textile garment industry is about 45 billion USD, which also opens up many opportunities for Vietnamese enterprises to import textile raw materials and accessories such as cotton, yarn, ready-made garments and fabric.
Footwear is an industry with stable growth and is one of the significant foreign exchange earners for this South Asian country. In particular, India has abundant raw materials, skilled workers, advanced technology...
Binh Duong enterprises want to further develop the production and export of textiles and footwear to India because this is an attractive market. In addition, the country has a stable supply of high-quality fabrics, yarns and raw materials for footwear. Thereby, helping to narrow the gap and even improve Vietnam's competitiveness in the international market.
Bui Trung Thuong, Vietnamese Trade Counselor in India, said that when the world market is saturated, or heavily affected by the Covid-19 pandemic, India is a market of interest and needs to be expanded for cooperation.
In recent years, the Trade Office has supported many Vietnamese enterprises to survey and open representative offices, establish companies in India, but the results are incommensurate.
In order to quickly enter the Indian market, the Trade Office recommends that Vietnamese enterprises boldly increase their presence by urgently establishing a company or opening a representative office in India.
Reported by T.My, T.My - Translated by Ngoc Huynh