On July 17, a provincial leadership delegation led by Nguyen Van Loi, Member of the Party Central Committee, Secretary of Binh Duong Provincial Party Committee, had a meeting with Party Committee of Ben Cat Town on the situation of socio-economic development, national defense and social security, building a political system and preventing combating the Covid-19 over the first 6 months of 2021. Attending the meeting were also Truong Thi Bich Hanh, Member of Provincial Party Standing Committee, Head of Provincial Party Propagation and Education Committee; and leaders of a number of departments and branches.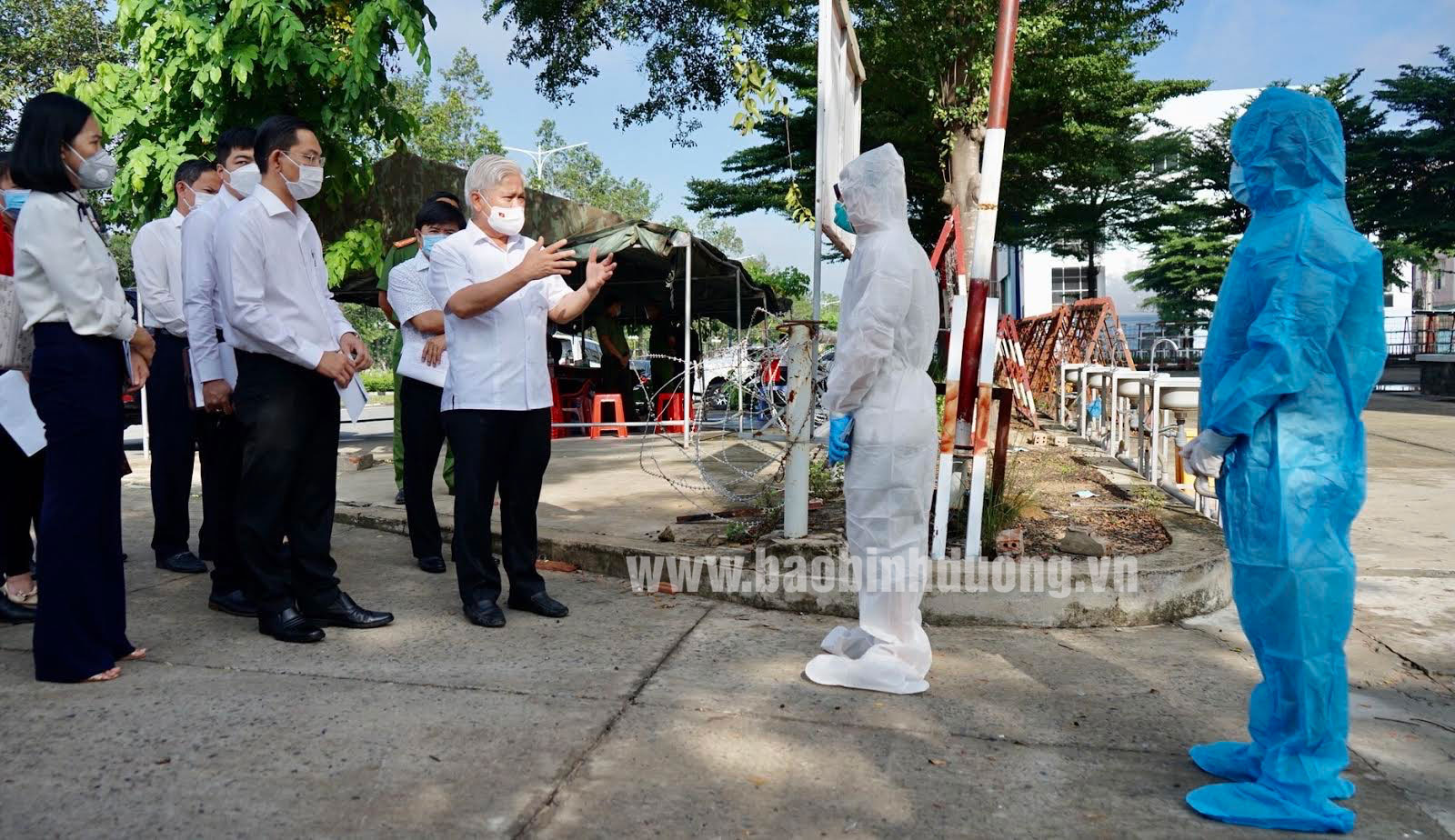 Nguyen Van Loi and leaders of a number of provincial departments and branches visit and check the care and treatment of patients in isolation and treatment areas in Thoi Hoa ward, Ben Cat town.
At the meeting, Bui Duy Hien, Secretary of Ben Cat Town Party Committee, said that over the first 6 months of this year, the town's socio-economic situation continued to grow, develop stably, most indicators of economic development met and exceeded targets set. In addition, the town continued to pay attention to fields of health, education, culture, taking care of policy beneficiaries, improved people's lives, political security situation, social order and safety of the whole society was maintained and stable. Ben Cat Town mobilized the entire political system for the prevention and control of the Covid-19.
Speaking at the meeting, Nguyen Van Loi acknowledged and appreciated the efforts of Ben Cat Town in terms of socio-economic development results over the first 6 months. The direction and leadership in the Covid-19 prevention and control work also had good results and proved the sense of responsibility of local government, ensured the implementation of the "dual goal". Mr. Nguyen also noted that in disease prevention and control, the town needed to implement more drastic measures in contact tracing and testing to separate F0 cases from the community, manufacturing factories, and sent to isolation and treatment areas. The town must actively mobilize the whole political system, departments, branches, social organizations, youth union members, and volunteer students to cooperate and participate in anti-epidemic work.
As for the organization of production in the current period to ensure the Covid-19 prevention and control, Mr. Nguyen asked Ben Cat Town's leadership to encourage businesses to coordinate with local authorities to organize production safely, avoid disruptions to the production and supply chain of goods. To encourage businesses and workers to implement three on-site things (eat, stay, work at factories), and also resolutely force the shutdown of businesses that do not ensure safety.
On the same day, the provincial delegation also visited and checked a treatment and isolation area of Thoi Hoa ward, Ben Cat town. According to the report, the isolation treatment area in Thoi Hoa ward was formerly the receiving area for F1 cases; from July 1, it has became an area to receive mild F0 cases for treatment. Currently, the area has 28 staff members, including 5 doctors, who are receiving and treating 250 infections, of which 6 severe cases were transferred for emergency treatment at Provincial General Hospital. The remaining patients are in stable health conditions without any unusual disease development. The medical team, doctors, nurses as well as on-duty forces here are still doing their best day and night to actively care and treat the patients.
On behalf of Party Committee, government and people of the province, Nguyen Van Loi acknowledged the contributions and efforts in the treatment and care of patients, thanked the dedication and sacrifice of the medical force, doctors, nurses and other forces to ensure security and order at the treatment area. He also sent greetings to all patients being treated, and pledged that the Party Committee, authorities and medical team would do their best to protect people's health and safety.
Reported by Minh Duy - Translated by Ngoc Huynh