After the 2023 Lunar New Year holidays, businesses boosted production amidst many difficulties due to the impact of the global economic recession. Good news is that the business community still believes in new business opportunities with the full and effective support of local authorities.
High effort
Entering the new year, many enterprises in the province have built up production plans and made efforts to achieve their goals. Cao Van Dong, Director of Kettle Interiors Co., Ltd. (Tan Uyen Town), said: "Timber industry are trying to build our own ecosystem from raw material trading, furniture production to participate more deeply in the product value chain. We also look forward to having cooperation opportunities with partners with the same vision to develop together, bring more value to customers, contribute to the construction and development of Vietnam's timber industry and Binh Duong timber enterprises after the common tough time of the world".
As an exporter of high-quality timber products, in 2022 DAFI Co., Ltd (Tan Uyen Town) overcame difficulties, maintained production, and ensured stable income for their workers. Dao Xuan Tung, Production Director of the company, shared: "In 2022, despite difficulties, businesses kept trying to overcome, retain jobs for employees, and affirm our position. It is respectable that businesses receive the companionship from employees, especially during the most difficult time. Therefore, in 2023, the company will continue to make efforts to better implement the care regimes for employees and have a business strategy in line with the developments of the global economy. The company also hopes that difficulties would pass quickly and partner's orders will return to the same amount as before."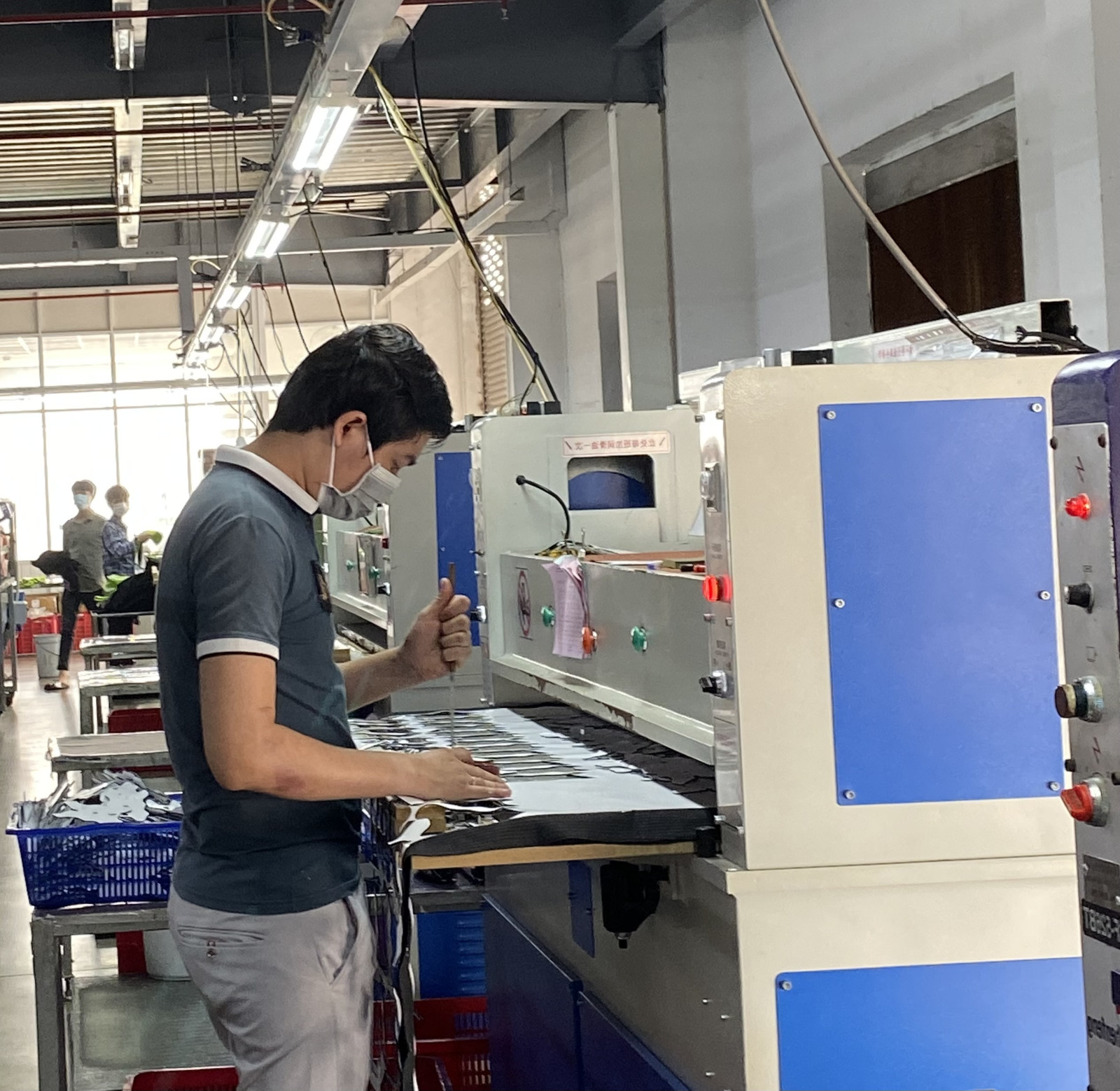 Production activities at Phien Nhien Vietnam Company (Phu Chanh Industrial Complex, Tan Uyen Town).
Le Thi Truc Ha, Human Resources Manager of Phien Nhien Co., Ltd (Phu Chanh Industrial Complex), said that up to now, workers have returned to the factory, accounting for 90% of their total employees. This is a good sign of the company right from the beginning of the year. In 2023, the company will do its best to implement business plans, open more production lines. It is expected that with these efforts of the directors' board and employees, in 2023, the set plan would be achieved.
Businesses are prepared to surmount "the storm" because it is predicted that 2023 would still have difficulties Therefore, the business community wishes to continue receiving support to solve obstacles and sustain stable operations. Some solutions that can be implemented are to help businesses develop strongly and favorably in the domestic market, expand e-commerce, search for new markets instead of traditional markets. In addition, businesses also wish all administration levels and branches to presents proposals so that the Government continues to have aiding policies on interest rates for production business loans...
To improve competitiveness
In order to accelerate the industrial production growth in 2023, Deputy Minister of Industry and Trade Do Thang Hai said that based on the available foundations and resources, Binh Duong needs to develop industrial production in depth to gradually form national brand names and competitiveness in regional and global markets, make deeper participation in the global value chain; focus on industrial restructuring in the direction of increasing the proportion of processing and manufacturing industries and reducing the processing and assembling for industrial products manufactured in Binh Duong.
At the same time, the province needs to review mechanisms and policies affecting industrial production in each industry and product, submit proposals to Ministry of Industry and Trade to step by step remove difficulties for enterprises to increase competitiveness and increase the localization rate for "made-in-Binh-Duong" products.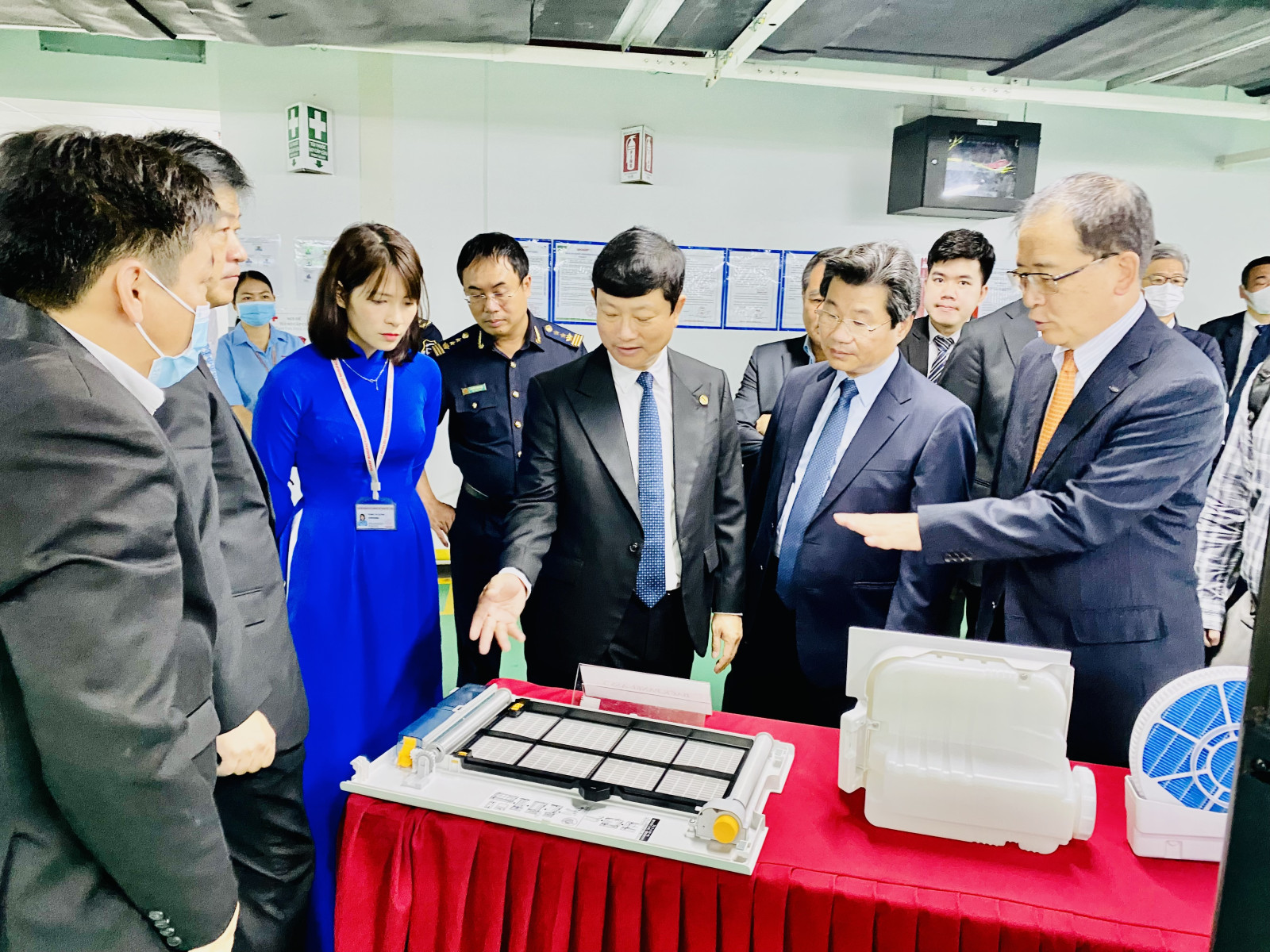 Binh Duong creates favorable conditions for businesses to connect, develop supply chains, and elevate local products. Chairman of Provincial People's Committee Vo Van Minh visits the factory of Sharp Manufacturing Vietnam Co., Ltd.
In fact, Binh Duong has continuously helped enterprises to develop a complete industrial production system in the country through upgrading and developing supply chains and value chains of industries. Vo Van Minh, Chairman of Binh Duong Provincial People's Committee, affirmed: "The province aims to gradually form a clean industry chain coupled with environmental protection, encourages businesses to focus on stages of creating high added value associated with intelligent, automated production, increase productivity, creating a premise to overcome the middle-income trap".
Prospects have opened up when businesses focus on improving production processes and applying technology. "Up to now, businesses have paid more attention to localizing the supply chains of industries to reduce dependence on imported machinery, equipment, and raw materials, improving the competitiveness of products and the position of Vietnamese enterprises in the global value chain", said Le Duy Nhat Luan, Technical Director of Takako Vietnam Company (VSIP 1).
The Provincial People's Committee directed to continue to remove difficulties for production and business enterprises, support to find export and import markets for raw materials, fuels, spare parts and components for production. At the same time, to implement solutions to develop industries according to established priorities, develop internationally competitive foundation industries, and deeply participate in global value chains.
Nguyen Thanh Toan, Director of Department of Industry and Trade: The industry and trade branch continues to make connections so that businesses can actively reduce costs, actively find domestic sources of raw materials to replace imported sources, enterprises can both reduce input costs and are more active in production; continue to inform and propagate about trade agreements to help enterprises make the most of advantages and seize opportunities to expand investment, and diversify import and export markets. The branch will closely monitor changes in the international situation, proactively assess the impact of each event on production, import and export activities, strengthen information, and support industry associations, enterprises.
Reported by Tieu My - Translated by Ngoc Huynh