If synchronous technology holds the human factor as the core in digital transformation, propaganda and guidance are considered as the most active support solution for people and businesses to join hands in successful digital transformation in the province. Clearly identifying this, many localities have implemented propaganda plans, mobilizing people for digital transformation, and implementing online profiles in the network environment.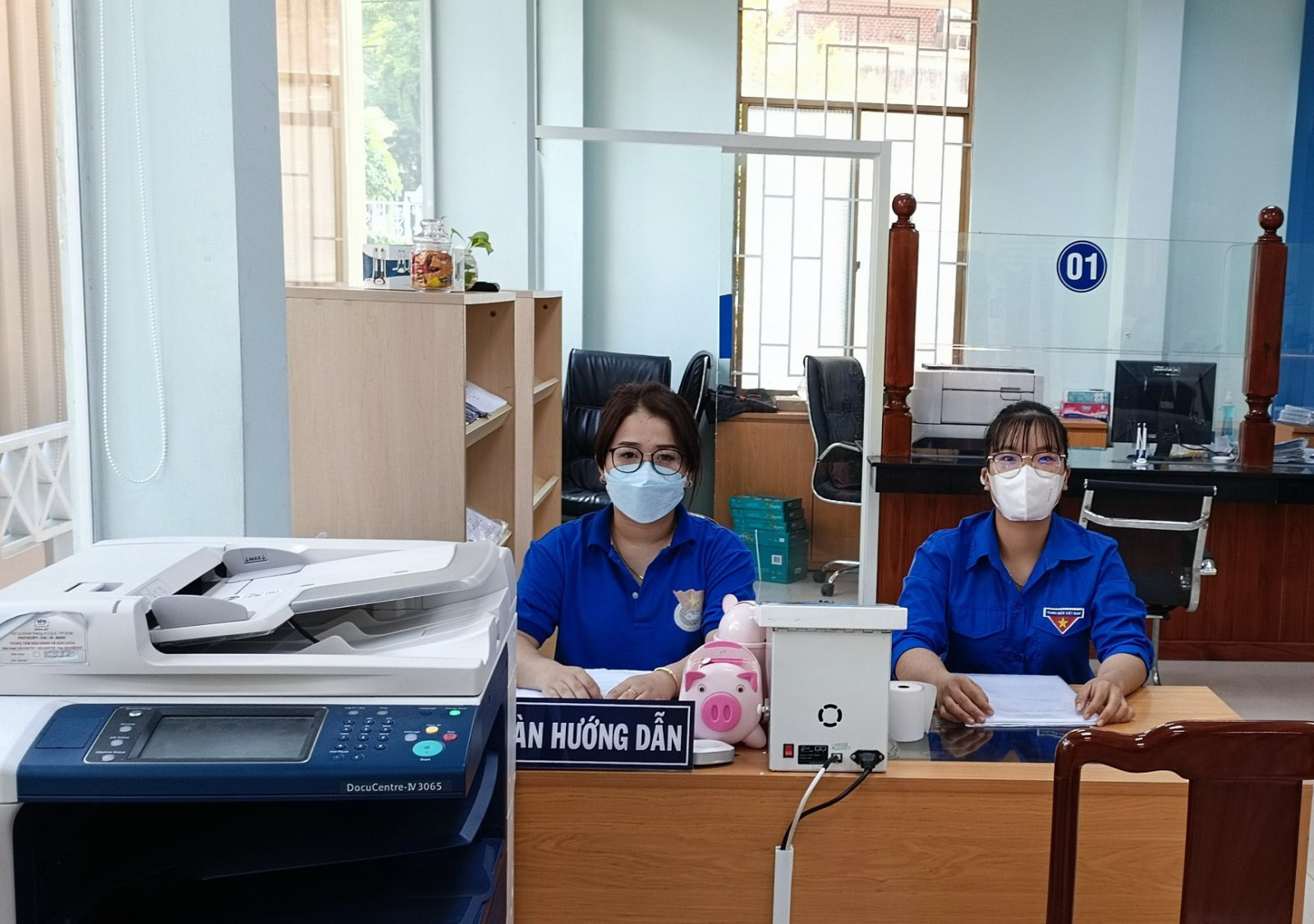 Volunteers from Thu Dau Mot city Public Administration Service Center are ready to support people in digital transformation and online application submission
People need help
In the last days of March 2023, when we went to the Public Administration Service Center of Thu Dau Mot city, we came across images of officials and volunteers supporting people to actively make documents on the online environment, especially creating personal accounts, scanning profiles. Le Thi My Tien, living in Phu Tho ward of Thu Dau Mot city, said: "I went here to do the procedures to apply for a construction permit, after looking at the documents, the volunteers guided and helped me complete the online application and get the license result at home. To date, I have received a permit to build an individual house. The staff of the Center for Public Administration Service of Thu Dau Mot city are very active and enthusiastic in supporting the people."
The general record shows that the localities such as Phu My, Hoa Phu, Phu Tan, Phu Hoa wards in Thu Dau Mot city, Binh Hoa, Binh Nham, Hung Dinh, An Phu, Vinh Phu in Thuan An city, Binh Thang, Tan Dong Hiep, Di An in Di An city had their teams of volunteers who are service officers to assist people to carry out administrative procedures in the network environment for businesses eligible for online application processing.
Ngo Tien Dat, Secretary of the Party Committee and Chairman of the People's Committee of Hung Dinh ward in Thuan An city shared that the ward has established community digital technology groups to each neighborhood to carry out propaganda and guidance for people to create accounts, introduce public services of levels 3 and 4, to use Viettel money, VNPT money, Voso e-commerce platform, Postmart, digital address, Coc Coc browser, and instructions on how to operate in a network environment.
In the stage of digital transformation, especially when dealing with administrative procedures in the network environment, people are still less knowledgeable about digital transformation, application software, etc. Therefore, propaganda is a task that the current general service of each locality, from the Party committee, government to the front and mass organizations should conduct to help people understand the utility and actively carry out administrative procedures in the network environment. According to Pham Trong Nhan, Director of the Department of Planning and Investment, digital transformation is to serve people. Therefore, the implementation of propaganda and support for people to become digital citizens will be decisive to the success of digital transformation. People are the target and also the most important driving force, decisive for success in digital transformation according to the plan of the province and the government.
People not left behind
Only by going can we see all the joys and difficulties of people in accessing digital transformation information. The common difficulties in the early stages of digital transformation can be seen by everyone, from the mandatory general regulations to the set targets such as the percentage of online settlement records, the target of establishing organizations and individuals, community digital technology, the synchronization of data, records, difficulties in transmission lines on the system; many businesses in the area have not yet accepted electronic authentication; many officials also asked people to confirm their residence and copy documents. A series of common difficulties that localities are facing have been proposed by functional sectors to the Ministry of Public Security, the Ministry of Information and Communications for consultation to advise the government to find suitable solutions.
Nguyen Phu Tien, Deputy Director of the National Digital Transformation Department under Ministry of Information and Communications on returning to Binh Duong to survey also noted difficulties and obstacles in digital transformation. "It is hard, but we must still be determined to do it. All officials in charge must help people understand and implement, join hands with authorities at all levels in digital transformation," Tien said and emphasized not to leave people behind. In digital transformation, it must be done step by step with a clear roadmap. No matter how difficult it is, it is recommended to head for the indispensable in accordance with the development trend. Each cadre and Party member must join hands before obstacles which are recommended to find solutions, especially the handling of administrative procedures in the network environment.
Reported by Ho Van – Translated by Vi Bao