When the match between U19 Vietnam and U19 Thailand ended with a 1-0 victory for the host, many spectators exclaimed that only young football is so pure of heart and carefree. Such comment dispels all previous doubts that U19 Vietnam and U19 Thailand have indirectly eliminated Indonesia U19 to participate in the semi-finals of the U19 Southeast Asia tournament.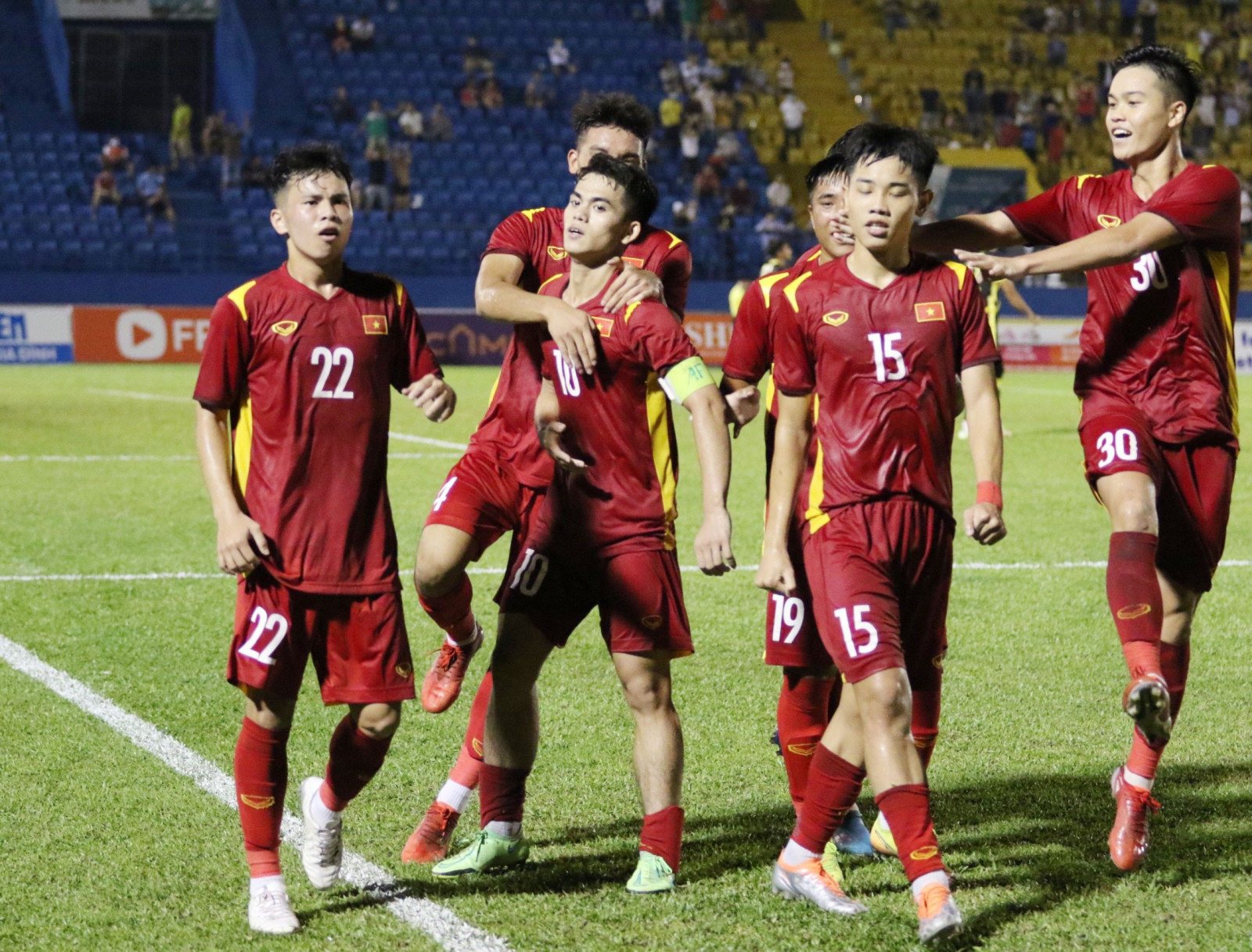 U19 Vietnam is showing an impressive performance at the International U19 tournament - Thanh Nien Newspaper 2022. Photo: Viet Dinh
In the last match of the group stage of the Southeast Asian U19 tournament, U19 Vietnam and U19 Thailand held a 1-1 draw, which caused the host U19 Indonesia to be eliminated from the group stage. Soon after, the Indonesian Football Federation made a strong move asking to leave Southeast Asia for a new playing field. But in the end, they have to stay in the ASEAN region.
In the afternoon of August 9, at the U19 International Tournament - Thanh Nien Newspaper 2022, U19 Vietnam and Thailand faced in the final match of the group stage; and the same scenario replayed. As long as the match ends in a draw, the two teams will play the final. But, the results on the field were completely different from all previous predictions. Coach Dinh The Nam inspired his squad to play energeticly to win the final score of 1-0. Not only that, if the players could finish better, the scores could have been doubled for U19 Vietnam. Even captain midfielder Van Truong was burned out, injured and missed the final match of August 11.
Gaining the scores, U19 Vietnam will face U19 Malaysia in the final match of the tournament. This made fans on Go Dau stadium comment that only young football players could show such pure of heart. All will be confirmed as U19 Malaysia is said to be a tough rival to U19 Vietnam. If they had a calculated mind, they only need to hold U19 Thailand in a draw to compete the same easier opponent in the final.
The national pride and desire to win have prompted U19 Vietnam to show the 19-year-old pure heart -the most beautiful age of a player's life where if you perform well and have high performance, the chance for being in the U23 squad and then the Vietnamese national team will be open to those who know how to invest in their career. Talents like Khuat Van Khang, Van Truong or Quoc Viet understand that and know what to do to affirm their positions.
To become the new champion, U19 Vietnam must defeat all opponents. The championship of the tournament is only 90 minutes away. The old captain of the U19 squad, said: "We will find a way to win the final". The affirmation of the head coach, the determination of the players and even luck will help U19 Vietnam become the new champion as a confirmation that youth couples with the pure of heart.
Reported by Thai Hai – Translated by Vi Bao