As spring approaches, by the spirit of sharing and the heart that is always directed to the poor and disadvantaged people in the society, many individuals and units have been ready to share with those less fortunate. Such contribution of many meaningful gifts contain the value of sharing delivered to the hands of many poor, disadvantaged and disadvantaged people in society. The Tet gifts are like to adorn the new spring and nationally traditional Tet of more meaningful and warmer features in everyone's heart.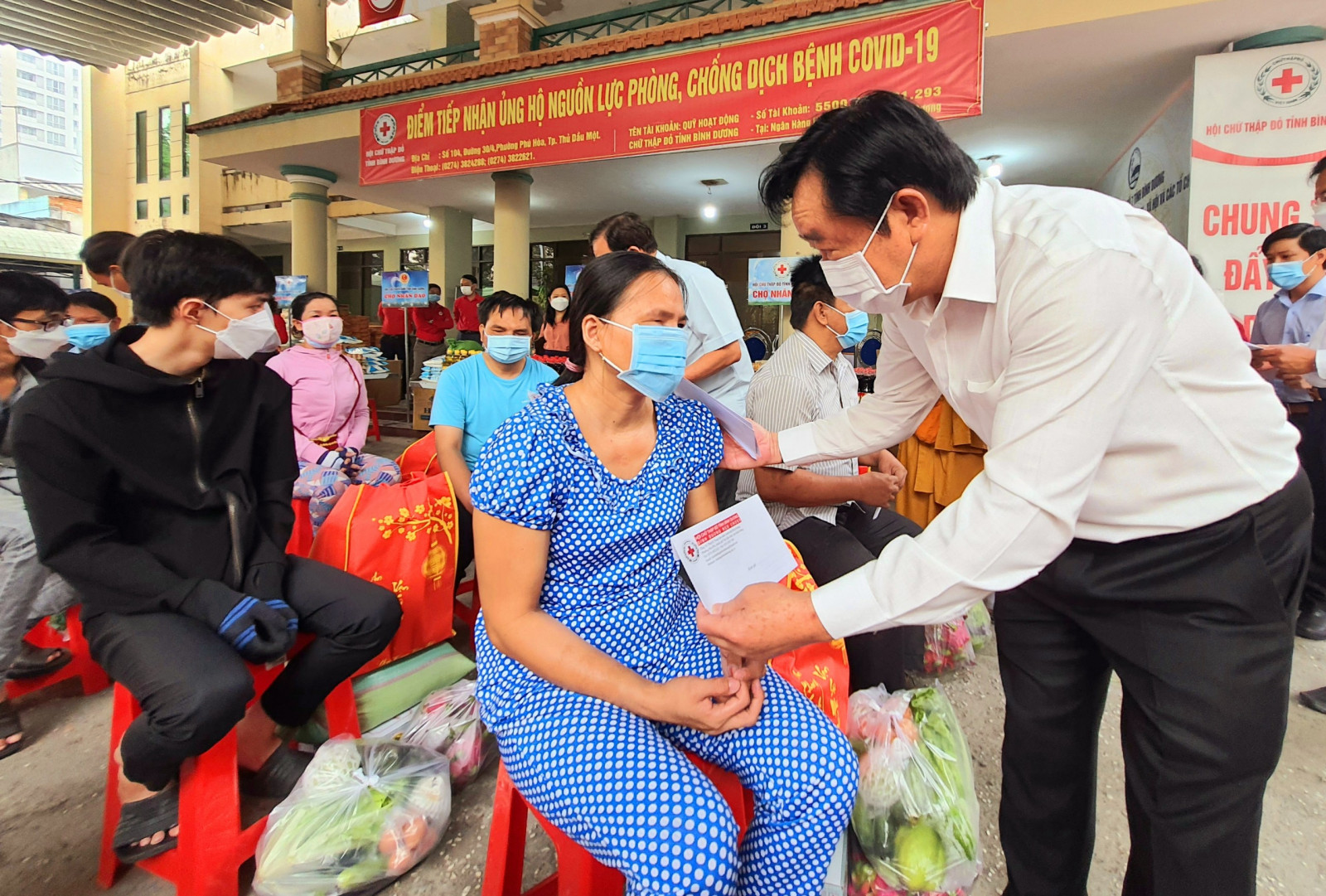 Mr. Nguyen Hoang Thao, permanent Deputy Secretary of Binh Duong provincial People's Committee presents Tet gifts to blind people at a charitable market session under recent coordination of Binh Duong provincial Red Cross
A warm spring
Accompanying provincial delegations and associations to visit and give Tet gifts to people on the days leading up to the 2022 Lunar New Year, we have the opportunity to meet families in very harsh circumstances. Although daily family life is still difficult, everyone wants a few days of Tet in their family to be more to warmly and fully celebrate Tet.
Hearing that a delegation of provincial leaders came to visit and give Tet gifts, Ms. Le Thi Thu and her husband in Binh Hoa neighborhood of Lai Thieu ward in Thuan An city were very happy and spent the whole afternoon at home waiting for the delegation to arrive. Ms. Thu said that they are workers having a small child who was unfortunately ill and has to undergo regular treatment, so family life has been very hard.
In the middle of the small family room, Ms. Thu prepared a small table with plastic chairs and fruit plates to welcome the visiting delegation. That was the first time her family had0 been visited and given Tet gifts by the provincial leaders, so the couple were very happy and felt warmer. Concerned by the provincial leaders, visiting, encouraging and giving gifts to the family to have more to welcome Tet, Ms. Thu touchedly said: "Thank you for the concern and encouragement to my family. Tet gifts and the support from the province and the locality this year offered my family more to celebrate Tet in more warmly and fully manner."
For the poor with extremely difficult circumstances, every sharing and support is very precious. For many families, having a home to live in and settling down is a dream come true to them. Mr. Nguyen Van Sang, from Hamlet 1 of Hung Hoa commune in Bau Bang district is one of such cases. Mr. Sang's family situation is very difficult as he haddegenerative spine, so he can't do heavy work while his wife was in a traffic accident, so he has not been healthy enough to work for several years by now. His children are unable to work at schooling age. The living of the whole family only depends on the income from Mr. Sang's hired work, but it is not always available because he can only do light jobs. For a long time, the whole family have lived in a damaged shack with no money to repair.
In this spring, the couple's dream of a warm house "out of their reach" has come true. By the construction funding support of the provincial Red Cross and the Management Board of Tan Binh Industrial Park, Mr. Sang had a solid, spacious, clean and beautiful house to move in right before Tet. On the day he received the handover of the new house, Mr. Sang was overjoyed wiht tears. "I feel very happy," he said. Thank you everyone who brought my family this dream home that is clean, beautiful and very warm."
Tet of sharing
The closer to the Lunar New Year is, the warmer the spring atmosphere is. It is warm not only because the new spring weather is approaching, but also because people's hearts are always open reaching out to protect and share in life. About half a month ago, Red Cross at all levels have organized many programs and activities to give Tet gifts to the poor and disadvantaged people in society in the province. Each gift sent to the recipient was the joint contribution of businesses, organizations, units and benefactors to share with people who still have many difficulties. At the "VND 0 " spring markets organized by the Red Crossat all levels in the locality, the atmosphere of celebrating Tet seems to be closer to those in difficult circumstances.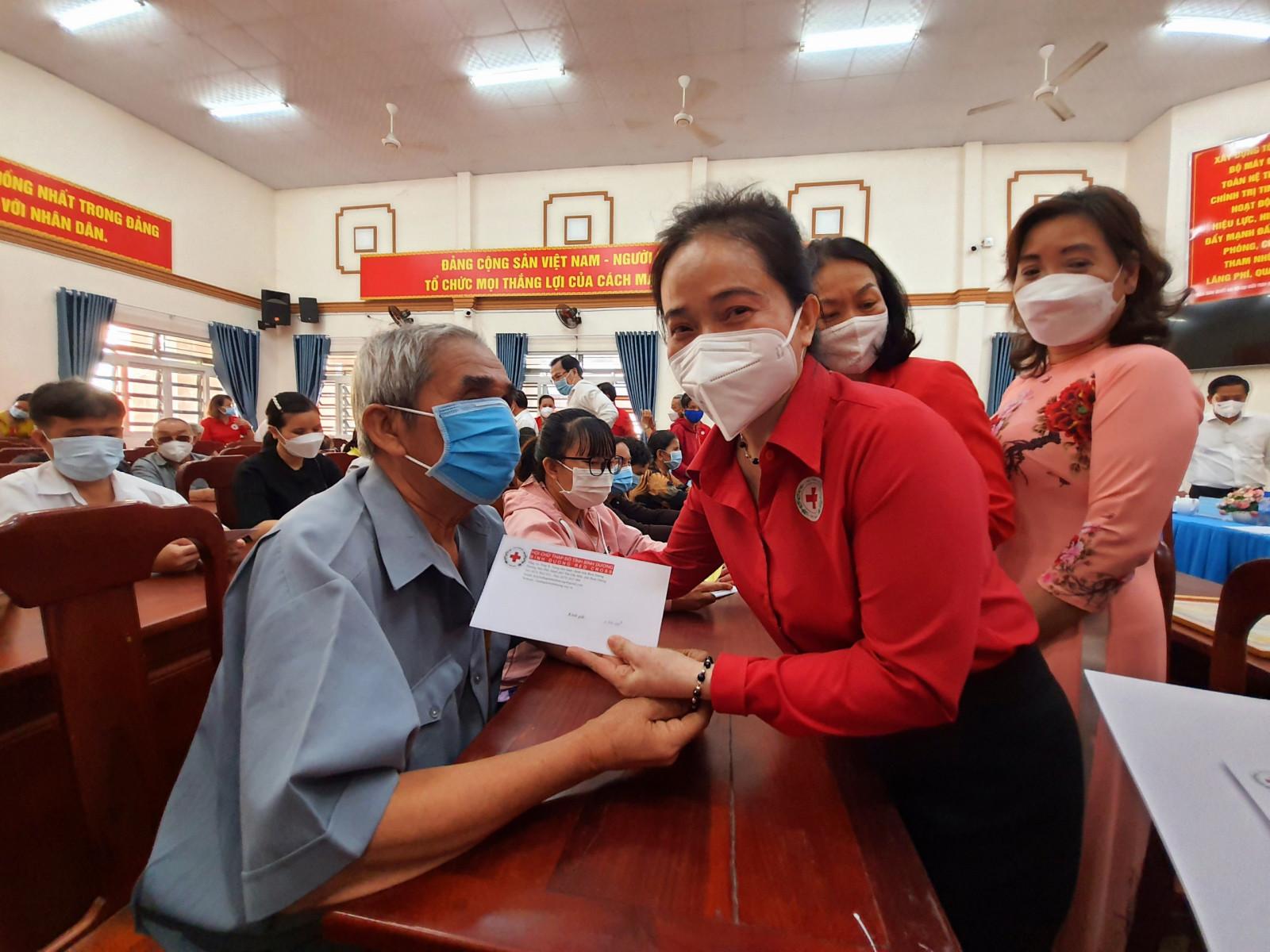 Various portions of meaningful and heart-warming gifts have been to people of hardship in the province
Looking at the people holding and carrying gifts and essential goods after going to the humanitarian market fairs organized by the provincial Red Cross on 30-4 Street of Phu Hoa ward in Thu Dau Mot city, we can feel the excitement and warmth of heart of the people. Mr. Nguyen Van Anh, a visually impaired person who lives by making brooms in Phu Loi ward of Thu Dau Mot city, said: "I work as a broom maker, but selling is too slowly and then had to stop working due to the COVID-19 epidemic; I have also encountered many drawbacks in life. Now that Tet is coming, the family still has not prepared anything to welcome Tet. Being invited by the Red Cross to receive gifts of daily necessities and even cash for Tet shopping, I am very happy. Thank you for helping the blind have a more prosperous Tet."
Following the Red Cross delegation to visit and give gifts for the 2022 Lunar New Year to Agent Orange victims in Bau Bang district recently, we have felt the Tet atmosphere was coming closer to the victims of Agent Orange. The months of the COVID-19 epidemic have made people's lives difficult, so when receiving Tet gifts, everyone was so excited. Holding a gift that was recently received in bright red color, Mr. Le Hung Dung, a refugee victim in Long Hung hamlet of Long Nguyen commune, said: "We are very happy to receive the attention of the provincial Association of Victims of Agent Orange or dioxins, the provincial Red Cross visited and gave Tet gifts as the spiritual encouragement. This is a great consolation and encouragement for the victims like us during the Tet to come."
This New Year, orphans at social protection centers and facilities in the province will also be cared for. Huynh Nguyen Minh Tu, a 10th grader, currently living at Huong Duong Social Protection Facility in Ben Cat town, said: "Despite our lack of family love, here we are also taken care of, I can go to school properly, so I am always grateful to the people who have helped and raised me. The aunts and uncles also came to visit, give gifts, and help us more. This New Year, in addition to Tet gifts, I have also received a scholarship of VND 1 million from the Association for the Protection of People with Disabilities, Orphans and Poor Patients of the province, I am very happy and will try harder in my studies for the future to be better."
Another new spring has returned to the beloved homeland of Binh Duong. Open hearts, Tet gifts containing sharing, and love continue to come to people with difficult situations in the province to contribute more warmth and spread warm humanity in the new spring.
Reported by Hong Thuan – Translated by Vi Bao