They are all over 70 years old but some had gone through the forest days and nights, and waded through the streams to find their comrades lying dead on the old battlefields. Others also crept into alleys and hostels to help the poor and needy households. Veterans who had once bravely gotten along Truong Son to save the country are now quietly doing helpful things for their homeland.
In the last days of July, when all localities organized gratitude for people with meritorious services, Mr. Tran Doan Linh, a veteran living at Binh An ward of Di An city set out to find his teammates. Mrs. Nguyen Thi Phuc, Mr. Linh's wife, said: "For many years now, regardless of holidays when someone informed him about the martyr's remains of his former comrades, he left immediately. Sometimes he went away for a month or even more, when he had done with work, he would come back. 17 years ago, my grandfather spent more time looking for teammates than staying at home. This was his wish when he was young, so his family was very supportive."
Mr. Tran Doan Linh, from Nghe An province, at the age of 18, he crossed Truong Son to the South for the resistance war, then, he was assigned to Battalion 4 of Regiment 271 under the Eastern Command. During 1973-1974, his 4th Battalion was combined with the 25th Battalion to participate in many fierce battles in Dak Nong battlefields as a springboard to liberate Buon Ma Thuot. In particular, at the battle at Chia Doi Hill (village 8, Quang Tan commune, Tuy Duc district, Dak Nong province), his comrades sacrificed a lot. Here, he himself buried 3 comrades after being seriously injured and died. Before that, when participating in a big battle in Binh Long district of Binh Phuoc province, he also directly buried two of his comrades.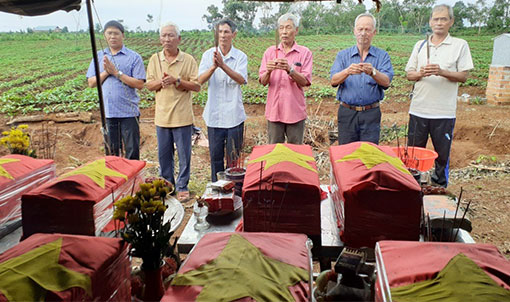 For the past 17 years, Mr. Tran Doan Linh (far right) is still looking for teammates in the battlefield of Dak Nong
After the liberation of the country, he continued to fight in the Cambodian battlefield for many years. Veteran Tran Doan Linh confided: "The day I returned to my homeland, I had intended to return to the old battlefield to find teammates, but I was not able to do it. By 2005, when my children grew up and had a little money in my pocket, I dared to fulfill my wish." When he returned to the old battlefield at Chia Doi Hill, everything changed. The old forests were turned into orchards and coffee hills. It took him a month to determine the location of the three comrades who were buried by himself, and then reported to the local government to organize an excavation and bring their remains back to their motherland. He also went to Binh Long town of Binh Phuoc province many times to re-determine the location of two former teammates, but now that area had become a city, and houses are crowded, so it is difficult to find, which he reported to the local authority for a plan.
Linh's journey to find comrades in the early days was very difficult walking alone through the forest and wading streams day after day. Later, he got some more teammates in provinces and cities with the same aspirations. His team sometimes numbered more than 10 fallen comrades and found a total of 39 remains of martyrs in Dak Nong. War wounds are still deeply imprinted on the body, causing veteran Tran Doan Linh to suffer pains on weather changes. But there was still a lot of work to do as somewhere in the woods, streams, and orchards, his comrades were still lying there, so he did not allow himself to rest not even for a day.
Not directly participating in fierce battles with the enemy in the days of national liberation like the senior generation but Mr. Bui Van Nho, living in Tan Binh ward of Di An city also had many years of fighting in the battlefield of Cambodia. When he returned to his hometown, he became interested in doing business of soft drinks, ice, and grocery stores. When he had a sum of money in hand, he went back to Tan Uyen town to buy land to grow fruit trees. Later, he opened a funeral service for people in the area.
Over 70 years old, but every day Mr. Nho still rides his motorbike around the alleys and neighborhoods to help anyone who is poor. Depending on the situation, he would offer more or less. Only during the last COVID-19 epidemic, when the locality broke out with isolated street, seeing any family in difficulty, he helped out. When the epidemic broke out, many people died from the disease, and many families could not afford to cremate their loved ones, he took the part and helped with the funding.
In Di An city alone, during the COVID-19 epidemic in 2021, Mr. Nho help 162 in difficult circumstances at the cost of VND 1 billion 434 million. During the time, many units received the cremation of the dead due to the COVID-19 epidemic for VND 15-20 million a case, but Mr. Nho received them only by VND 10 million a case. At such price, he accepted to compensate for losses from 30 - 50% a case, depending on the time.
Talking about his good deeds, Mr. Bui Van Nho said: "At that time, there were people who sold their faith and were skeptical, thinking that I took advantage of the epidemic to mobilize benefactors and make a profit. But I have not called on anyone for a dime, which was the source of money that I deduct a part of the money from the sales of the land that I bought in Tan Uyen town before. In recent months, I have been doing this for really difficult people who are staying in hostels."
Although they are carrying many injuries from wars, veterans like Mr. Bui Van Nho and Tran Doan Linh have not yet allowed themselves to rest but continue to devote and do useful things for their teammates, poor people, and families in hardship. Their golden hearts deserve great respect and gratitude.
Reported by Quang Dien – Translated by Vi Bao