On contacting for information of the article, we met many women of An Phu ward Association of Women in Thuan An city and were told about the order of home for health consideration of officers and medical staff. It was to say that they had been at risk of Covid-19 infection on their various contacts with people under quarantine.
"It is not to our mood for not working and supplying on daily basis," said a true voice of a woman over the phone to us.
The joy of busy time
Ms. Le Thi Thuy Kieu, Chairwoman of the Women's Union of An Phu ward, said that although she was self-isolating at home, she was still managing the activities closely on the association's Zalo group. "The association has assigned us to be on duty in the quarantine area. We have helped the forces on duty and people with necessities; all focus was for the prevention and control of Covid-19 epidemic. The association continuously propagates and mobilizes to implement the "5K" message of Ministry of Health and distributes leaflets at companies located in the area along with donation of medical masks to places. There are many more things that women have done to help people in need like their family members," said Ms. Kieu.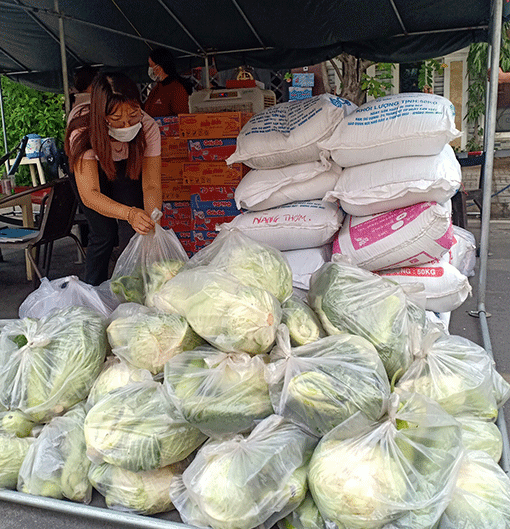 An Phu ward Women's Association is preparing necessities to be supplied to quarantine areas
As we arrived at Quarter 1B of An Phu ward in Thuan An city, 12 shops and 39 people were under lock-down for temporary medical quarantine. The doors were quietly opened and people from inside the store just received the gifts including instant noodles, drinking water, vegetables, and so on. Each essential package was worth VND 750,000. More importantly, people in the temporary quarantine area also kindly asked the association members to help them buy necessary things or perform some transactions that they could not go out to exercise on their own.
The number of officers of the Women's Union, branches, and group leaders is relatively low, so the women flexibly coordinate with mass organizations and benefactors to carry out many meaningful programs that the association has set out. Some women are very active in volunteering movements including Ms. Pham Thi Lanh, Head of the "Starlight", Ms. Thai Thi Ha, the head of Quarter 1A and Ms. Vo Thi Hong Hanh, a representative of the local charity cooking team. These are the familiar figures of the association as they are present almost everywhere for the movements without minding hardship.
The sub-lining sentiments
Making use of socialization sources in the Covid-19 epidemic prevention and control movement, the Women's Union of An Phu ward has presented 230 gifts to lottery ticket sellers and temporarily unemployed workers, each worth VND 150,000. During the recent epidemic, the association has also campaigned to give more than 450 gifts to the quarantine areas and hostel workers including necessities such as rice, instant noodles, drinking water, vegetables and fruits at totally VND 92 million. Simultaneously, it has mobilized the hostel owners to offer gifts and reduce the rent from 20 to 40% at 30 hostel branches with total reduction of VND 150 million. On implementing the model of giving 250 gifts to the poor, nearly poor households and workers in difficulty with the amount of VND 75 million.
Not only doing charity work in the locality, Ms. Kieu said that the association has organized 3 volunteer cooking sessions and distributed 1,510 meals and cash to critically ill pediatric patients at hospitals in Ho Chi Minh City at the amount of VND 45 million and had mobilized 145 people to participate in voluntary blood donation. Two cases of poor female householders and children of workers suffering from serious diseases have been offered VND 45 million from organizations and individuals. As for the plan to save at least VND 5,000 a member for the Covid-19 Vaccine Fund launched by the provincial Women's Association, the branches have simultaneously deployed and will summarize by the end of June 2021.
In these June days, Women's Associations at all levels have many activities to respond to Vietnamese Family Day on June 28. However, the women's cadres and members have determined that they would accompany the medical, military, government and local people to be stronger in the battle of Covid-19 epidemic prevention and control. That's what the association cares about and prioritizes actions. Ms. Kieu said: "I personally feel very important to spend time with my relatives and family and wish that all citizens and members should strictly implement Directives 15 and 16 of the Prime Minister to well implement the "5K" message of Ministry of Health; and, at the same time, they join hands to contribute to the Party and State in supporting the prevention and control of the epidemic and unite to do well under the direction of the local government so that we will overcome this epidemic." Saying goodbye to these noble people and parting with the neighborhood, we hope that life will return to peace and bustle as before.
Reported by Quynh Nhu – Translated by Vi Bao