The Youth Volunteer Campaign in summer 2022 has been spreading everywhere in these June days. Youth Unions of districts, towns and cities in the province are ready with volunteer teams to participate in meaningful and practical activities.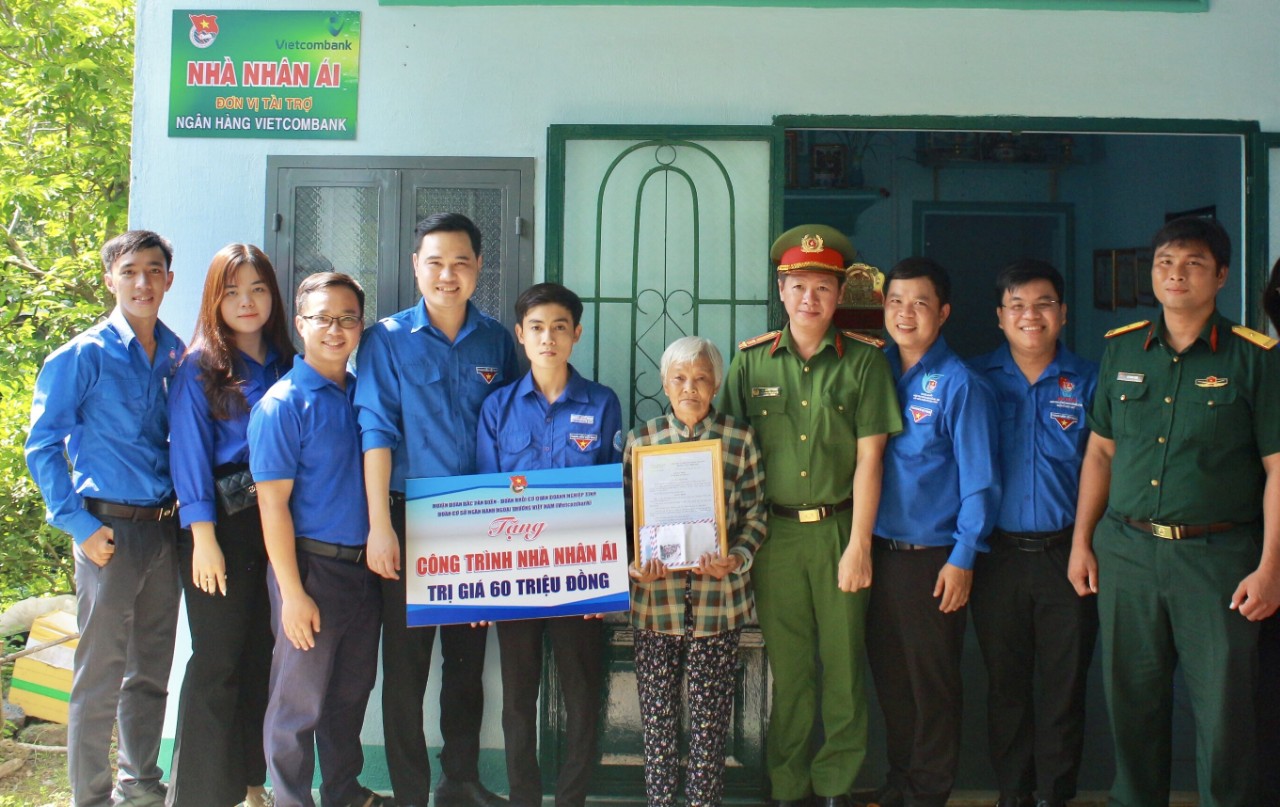 North Tan Uyen District Youth Union offer compassionate houses to disadvantaged young persons.
For the new countryside
At the launching ceremony of the 2022 Summer Youth Volunteer Campaign, North Tan Uyen District Youth Union introduced youth volunteer teams to take part in summer activities and volunteer campaigns. These teams were the support forces for summer activities at the district and grassroots levels. These teams included: "Relaying the exam season", "Protecting the environment", "Traffic safety", "For public health", "Reforming administrative procedures".
After the launch, the District Youth Union in collaboration with Vietcombank offered a new house worth VND 60 million to a disadvantaged young person. In the spirit of good implementation of the campaign, 10 communes and towns in the district organized activities, in which youth union members planted flowers, collected garbage, cleared wild bushes on roads.
Do Ngoc Loi, Secretary of North Tan Uyen District Youth Union, said: "The Summer Youth Volunteer Campaign was implemented by the District Youth Union and union branches to uphold the volunteer spirit of young people in the performance of works and projects, contributing to the completion of political and professional tasks; participate in socio-economic development, building new rural areas and civilized cities. In particular, local youth focus on renovating the organization of volunteer activities, increase regular volunteer activities through the implementation of youth works for rural roads; "For dear children" project; planted new trees; built new houses, repaired houses for the poor, built playgrounds for children ..."
To join hands and contribute to the Summer Youth Volunteer Campaign, union branches also carried out works and tasks in rural areas of the province. In the summer 2022, Thu Dau Mot City Youth Union holds a program named "Thu Dau Mot Youth join hands to build new rural areas" and direct 100% Youth Union branches of wards to have and perform youth works to contribute to the implementation of new rural construction criteria in rural communes in the province.
To build civilized cities
In Thu Dau Mot City, Youth Union established youth squads of " Relaying the exam season", "Summer flower", "Pink Holiday", "Three-shirt-color allied teams", "Young doctors for community", young clubs - teams - groups to disseminate the law.
Nguyen Minh Tam, Secretary of Thu Dau Mot City Youth Union, said that 100% Youth Union of wards in the area carried out youth works in civilized roads and alleys with the motto of being "bright - green - clean - beautiful - civilized - safe"; 100% Youth Union branches organized activities to solve social security issues, to express gratitude, visited heroic Vietnamese mothers, and activities to celebrate the 75th anniversary of the War Invalids and Martyrs' Day. Youth Union of wards will continue to register and set up "Residential areas without youths suffering from social evils"; maintain and establish 14 youth model lodging houses combined with green lodging houses - youth flower gardens as uncle Ho's teachings.
Thu Dau Mot City Youth Union also directed ward-level union branches to build new or upgrade at least one playground for children in residential areas, lodging houses; to call for donations and build two benevolent houses or red-scarf houses; to organize trips offering free health examination, consultation, and free medicines distribution to people and workers having difficult circumstances.
District-level Youth Unions have different team formations of activities in this campaign but still ensure the requirements, and volunteer activities are integrated with political tasks and meet actual needs of each locality. Di An City Youth Union established a steering committee for the summer campaign, and established 8 teams, including: For urban civilization, traffic safety, quick response, for the environment, my summer day, for my dear juniors, social security, summer flower, and assistance in resolving administrative procedures.
Lam Hoang Thuy Trang, Secretary of Di An City Youth Union, said that to carry out the Summer Youth Volunteer Campaign, the city Youth Union guarantees that there was one full program of "Relaying the exam season", 4 campaigns for each group of people. The city Youth Union will develop 11 roads of "Clean sidewalks - Beautiful street corners"; provide free medical examination, consultation, treatment and free distribution of medicines to 350 people; build a new house, repair a benevolent house, a house of gratitude, a red scarf house, offer 2 dream rooms, build new and maintain 2 playgrounds for children... On the other hand, seven union branches of wards perform well programs, peak activities throughout the campaign to achieve practical effects."
Reported by K.Tuyen – Translated by Ngoc Huynh