To develop Thu Dau Mot city in line with the smart direction, in 2020-2025 period and following years, the City People's Committee has enhanced the application of information technology, implemented digital transformation in many fields, meeting the actual needs of units, businesses and people.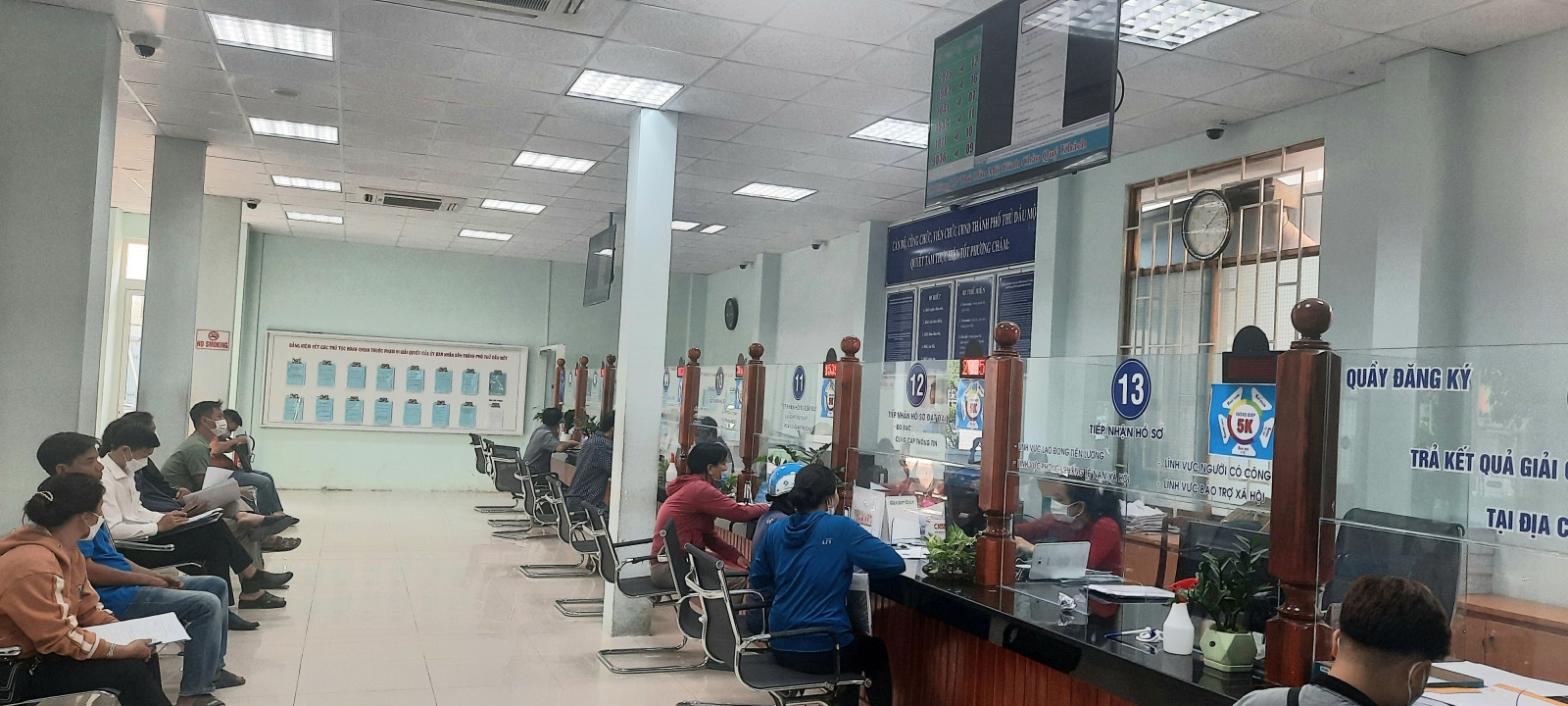 Single-window Public Administration Service Center of Thu Dau Mot City People's Committee
Effective application of information technology
Technical infrastructure in service of information technology application at the city's administrative agencies and wards has been synchronously and completely upgraded to guarantee information security. The online TV system of 16 endpoints, including 2 points at the city level and 14 points at People's Committees of wards, connects 4 levels to meet the requirements of online meetings and video conferences.
Regarding public administration, the city has applied an electronic single-window software to manage and track dossiers to meet functional requirements for managing all operations of Public Administration Center. This system provides tools for directing, operating professional tasks of agencies, allowing public workers to update progress and results of administrative procedures thoroughly, synchronously, but still ensuring publicity and transparency in the Internet environment.
Additionally, the city has implemented 43 administrative procedures at level 3 and 157 administrative procedures at level 4 out of a total of 278 administrative procedures under its jurisdiction. The city also applies software to evaluate service attitude of staff who receive dossiers and return settlement results; specialized software of handling administrative procedures for issuing house numbers, construction permits, civil status records, business registration certificates.
To accelerate digital transformation
To accelerate digital transformation, the city's document management and work management software system has been deployed at four levels, with 30 administrative agencies and ward-level People's Committees. Most documents issued through management software use digital signatures of agencies or individuals.
The city has issued 120 personal digital certificates for leaders and accountants, 30 digital certificates for agencies. The city web portal has been gradually improved in terms of technique, content and appearance.
Besides, the public service portal and electronic single-window system are continuously upgraded by the province with new features to meet the requirements of people and businesses, such as appointment registration, ChatBot, digitally sign on eForm, Pdf file, make payment on national DVC platform, pay land tax obligations, pay online to district and commune levels, and review, standardize procedures according to regulations ISO process and reporting system.
Currently, the city is piloting the merger between the online DVC portal with the provincial electronic single-window information system into a provincial administrative dossier settlement system. In the year 2021-2022, the city received about 5,749 request forms, the information processing rate reached 98%.
In field of urban management, the city is currently surveying and setting up plans for installing smart lighting systems on urban main roads and regional roads. In addition, provincial Department of Construction is planning steps for GIS implementation to issue house number certificates and construction permits.
The city implements the online issuance of house number certificates and construction permits; builds a database of houses, offices, housing projects, a database of construction planning, digitizes planning projects for management and publishing on the city web portal.
In addition, the city leases an intelligent surveillance and operating system, including basic data collection and creation applications; application of data integration between components, fields...
Nguyen Thu Cuc, Chairwoman of Thu Dau Mot City People's Committee: "In 2023, the city will continue to train and update knowledge on smart city construction and information technology application level for public workers of the city and wards. To coordinate with related units to upgrade and supplement functions, operate stably, and effectively exploit software.
To continue researching and perfecting solutions to e-government; coordinate with Department of Information and Communications on upgrading information technology infrastructure of ward-level People's Committees and departments of the City People's Committee. The city has strengthened coordination with departments and branches in training and fostering employee skills, meeting the demand for IT human resources to prepare for applications that will be completed and operated in the future.
Reported by Phuong Le - Translated by Ngoc Huynh