In peak months of the Covid-19 pandemic in 2021, Thuan An city was a lockdown, pandemic-hit area with hundreds of infection cases per day. There are no longer quiet towns, instead, all households are preparing to welcome the new Spring 2022.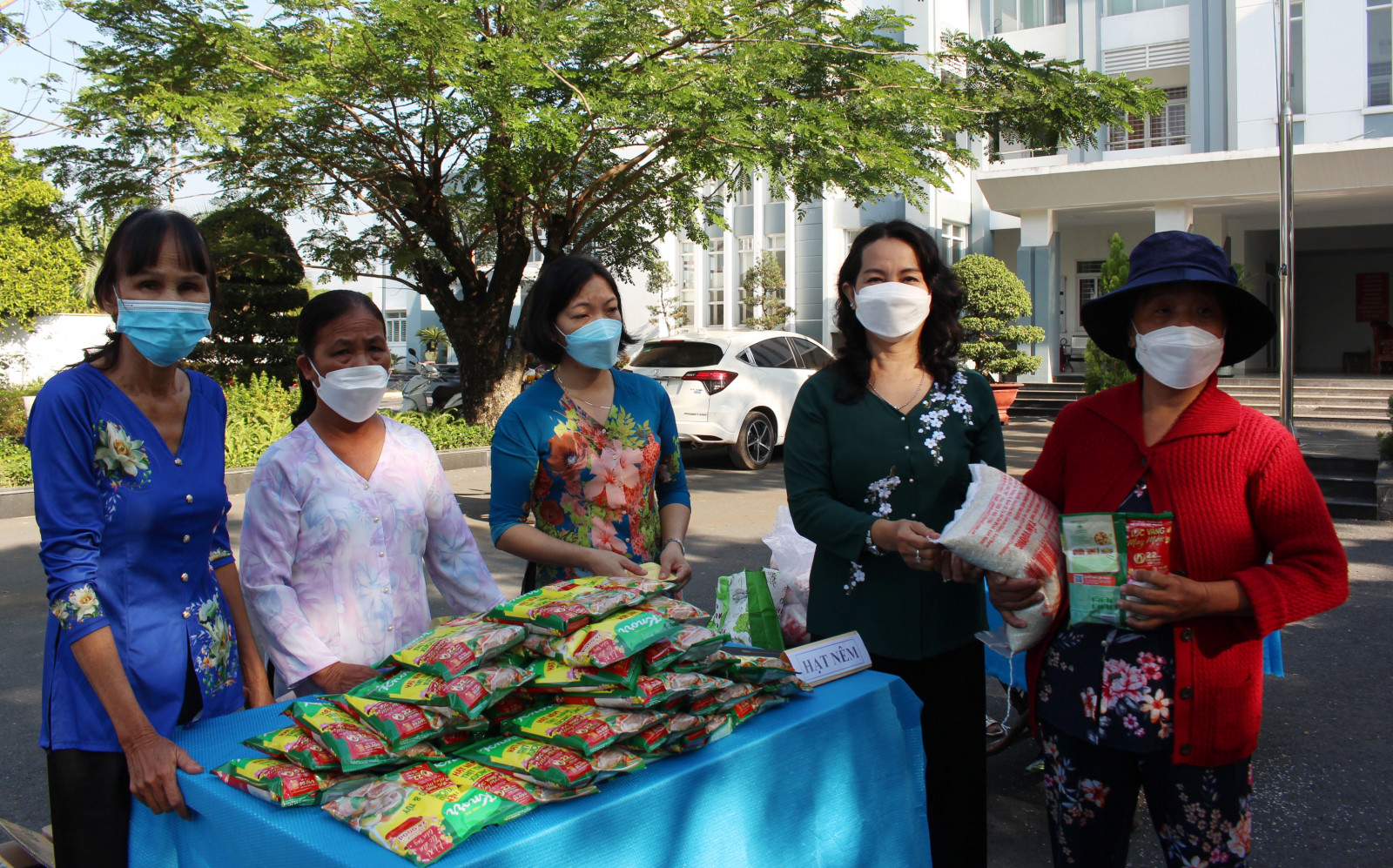 Gifts are given at "VND0 spring market".
The first spring market…
Meanwhile, the beginning of Sep 2021, relief delegations came to Thuan An city to give gifts to needy people in red areas. On the way, the truck carrying relief goods met a lock, thus it had to find another way or transfer the goods to motorbikes and gradually go to disease control checkpoints, then distribute them to each household in lockdown areas.
Now that image no longer exists, people are busy preparing for the upcoming Tet. In particular, "VND0 spring market" is one of the very meaningful activities in these days. Locals coming to the market said that this was the first spring market and people felt very happy, because the pandemic outbreak is over, but love and compassion between people is still warm. Binh Duong people's spirit of mutual affection is always high, people always help each other in all circumstances to make this life more beautiful.
The market was held at the office of People's Committee of Hung Dinh ward (Thuan An city). This was an activity organized by Fatherland Front, Women's Union and Red Cross of Hung Dinh ward.
According to organizers of the market, the Covid-19 has made people's lives very difficult. The market helped taking care of the material and spiritual life so that people can enjoy spring, welcome Lunar New Year 2022 more warmly. Dang Tran Trung Hau, Chairman of Hung Dinh ward People's Committee, said that the market consisted of seven stalls that supported more than 200 gifts, worth about 300,000 VND/part including necessities, clothes, etc. for needy people affected by the Covid-19. This is one of the activities to provide help for people, especially migrant workers far from home, to enjoy springtime and overcome difficulties caused by the pandemic.
Vo Thi Bao, over 60 years old, said she was still haunted by peak days of the pandemic outbreak. She said: "In those days, I was fortunate to receive help from many people to overcame difficulties. At this market, I received vouchers to buy rice, cooking oil, seasoning powder, ceramics, etc., I was very happy because these are the things my family really needs."
At the market, Nguyen Thi Lieu (73 years old) cheerfully said that she was not only happy to receive free necessities but also able to meet her neighborhood, this was very precious. Those who are still healthy and able to talk to each other after the pandemic will find how precious these peaceful days are. This was also the first time she went to a free market, hence she felt even happier. There were many people coming to this market on behalf of the elderly, the weak and disabled people, who cannot come by themselves. Spring gifts were also brought to the door for those who had tickets for the market but could not come.
Let everyone have happy Tet
In order for the "VND0 spring market" to take place, the silent contributions of benevolent people, which were private enterprises Minh Long I, Cuong Phat and many SMEs, to the market was important. Le Thanh Thao, who lives in Binh Nham (Thuan An city), is currently working in Ho Chi Minh City, donated 2 million VND to buy goods for this spring market of Hung Dinh ward. She said that in addition to this activity, she also contributed to charity clubs in Ho Chi Minh City, Binh Duong to organize spring markets in remote areas to help disadvantaged people have necessary Tet goods.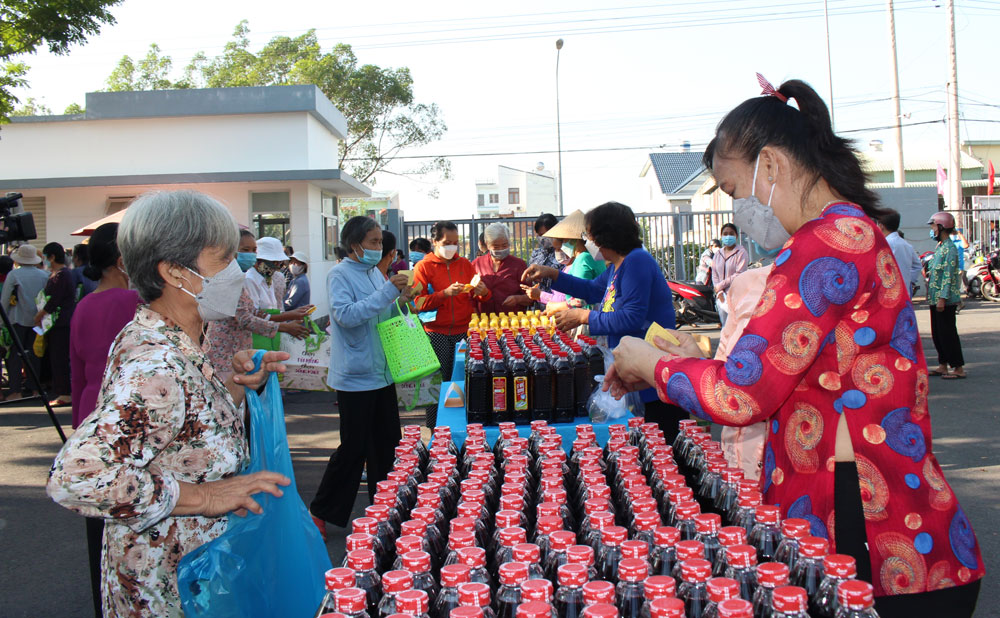 One respectable thing about these fairs that bring Tet to the poor in Thuan An city is the solidarity and coordination between the government, businesses and religions. Vo Ngoc Yen, Head of Red Cross of Hung Phuoc Quarter (Hung Dinh Ward), said that she also engaged in volunteer activities held by Bung Church Charity Association (Thuan An City). Every year, the Charity Association cooks more than 1,000 Vietnamese rice cakes for poor people in the local neighborhoods. In addition, the association also received the support of benefactors in Ho Chi Minh City, Binh Duong, who donated clothes, gifts and cakes to "0VND Spring Market" fairs in highland provinces, such as Gia Lai, Dak Nong, Dak Lak… Every month, Charity Association of Bung Church also donates rice to poor households.
In activities to take care disadvantaged people on Tet holiday, nuns Thich Nu Dieu Tam, Thich Nu Dieu Thanh (Buu Minh Temple) Thich Nu Dieu Doan (Ngoc Thuan Monastery) in Thuan An City are also very active volunteers at spring markets and charity programs.
Nguyen Ngoc Phuong, Chairman of Thuan An city Fatherland Front Committee, said these markets were just one of the activities held across the city on every Tet holiday. Fatherland Front Committee of Thuan An city is preparing gifts to give three times, more than 300 parts worth 400,000 VND each will be given to frontline forces fighting the disease at Medical Center of Thuan An city and disadvantaged people in the city. According to Phuong, mass organizations do very well, each with its own program and working together through the Fatherland Front. "Supermarket with 0VND", "Spring market with 0VND", Spring Festival for the needy... are activities of wards as well as mass organizations. All for one common goal, which is let no one is left behind; no one has no Tet holiday; working together to take care of the poor...
Mobilizing benefactors and businesses to join hands with the government to take care of the poor on Lunar New Year is also a noble and honorable gesture that shows our nation's long-standing mutual affection and goodwill.
Nguyen Ngoc Phuong, Chairman of Thuan An city Fatherland Front Committee, said that on occasion of the 2022 Lunar New Year, in order for the poor have new homes to welcome the New Year, Fatherland Front Committee of Thuan An city presented four houses to poor people. Namely, there were three houses donated by Vietcombank and one house by Binh Duong Electricity.
Reported by Quynh Nhu - Translated by Ngoc Huynh