With the attention of provincial Party committees and authorities at all levels, Thuan An city has formed an increasingly civilized and modern urban appearance in recent years. Localities have actively implemented the project "Building a cultural - civilized lifestyle" to contribute to this urban facelift.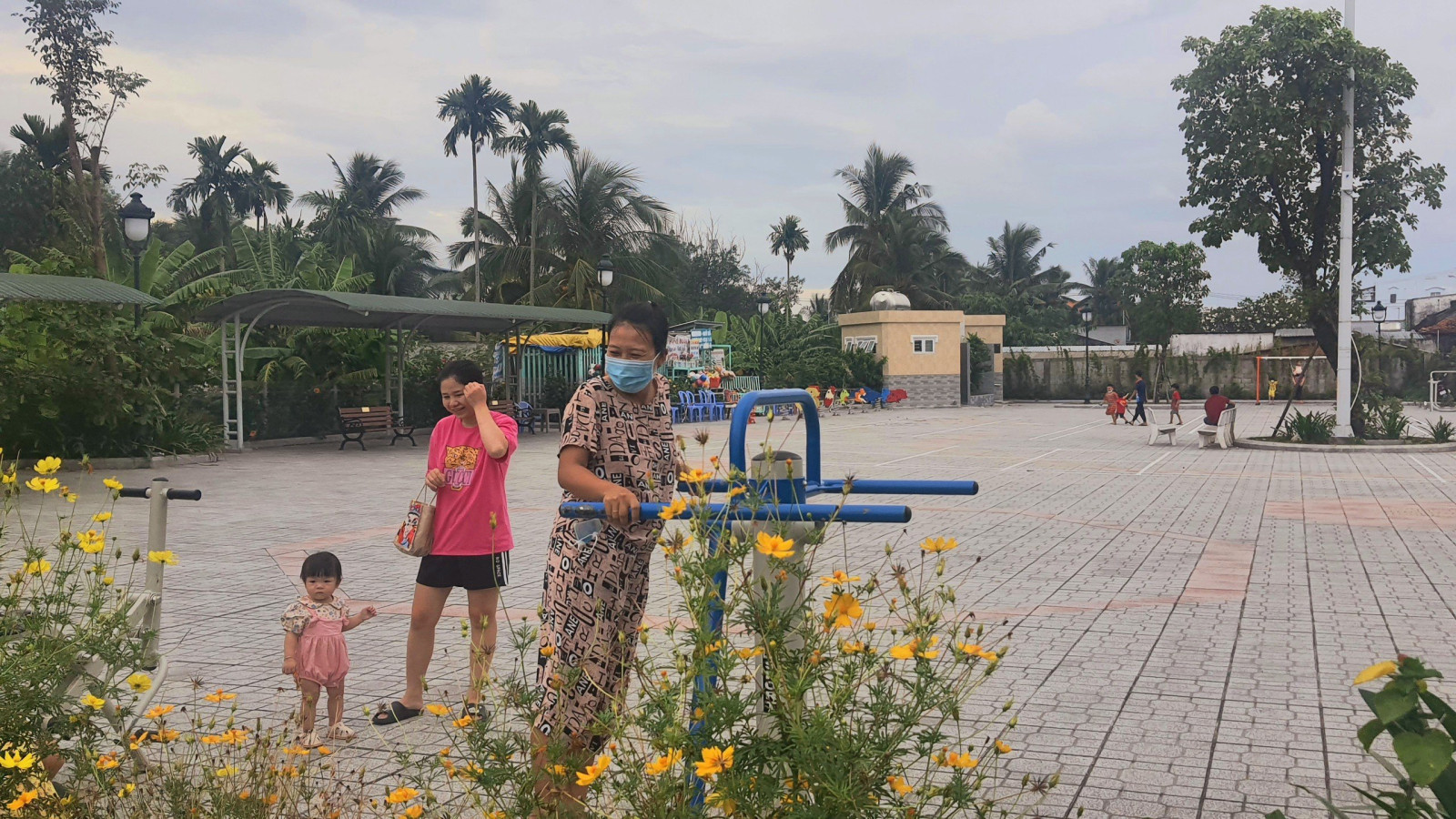 Locals come to Binh Nham Park to relax and do exercise.
To enhance effectiveness
Since 2017, Thuan An City People's Committee has implemented the "Building of cultural and civilized lifestyle" for 2017-2020 period. Communes and wards have included the content of building a civilized urban lifestyle in movements. 100% of wards and communes organized the launch and registration for implementation. This project is to make a good change in the perception of people and government.
Thuan An city has focused on forming a civilized urban lifestyle with three specific models, which are "Quarters and hamlets with no garbage"; "Urban civilized roads", "Civilized markets". By this implementation, meaning and real benefits, these models have received the agreement and support of communes and wards, and the participation of citizens. Up to now, the whole city has 11/56 quarters and hamlets without garbage; 3 wards (Vinh Phu, Hung Dinh and Binh Chuan) met criteria of urban civilization; An Son commune was recognized as "Commune meeting new rural standards"; Binh Chuan market met criteria of "Civilized market". The city recognized 4 quarters as quarters and hamlets without garbage for three consecutive years, including Tay, Hoa Long Quarters (Vinh Phu Ward), Hung Tho Quarter (Hung Dinh Ward), and An My Hamlet (An Son Commune).
Nguyen Tu Hai, Head of Thuan An City Culture and Information Office, said that in order to encourage quarters and hamlets to develop the attained results, the city rewarded each quarter and hamlet meeting standards in three consecutive years with VND24 million. The results of the project in general, and the above three models in particular have positive impacts on many areas of socio-cultural life, contributing to economic development of the city. "After four years, the urban face of Thuan An city has developed well and comprehensively. Many renovation works were invested and executed to change the face of the city. People's consciousness is clearly raised by the active participation in improving the living environment, building a cultural and civilized urban lifestyle in each locality and unit", said Nguyen Tu Hai.
To continue improving the quality
Binh Nham Park now is beautiful, spacious, and equipped with outdoor exercise equipment. Vo Huynh Ngoc Thuy, Party Secretary, People's Committee Chairwoman of Binh Nham Ward, said local folks have been pleased with this park because it is a place for them to relax and do exercise. The park is crowded every early morning and evening because many residents come here to exercise and have fun. "The project not only meets the need of the public for healthy entertainment and recreation, but also contributes to the improvement of the overall urban face of the ward," said Thuy.
Other localities of Thuan An City in recent years have also invested in and built parks to create green - clean - beautiful spaces, to meet entertainment need of the people. Benefits from these works have pleased citizens, thus the agreement and contribution have been made to build a cultural and civilized urban lifestyle.
To realize the 12th Party Resolution of Thuan An City, tenure 2020-2025, about developing a properous, beautiful and civilized Thuan An city, meeting criteria of class-two urban areas by 2025, the Chairman of Thuan An City People's Committee recently signed a decision to launch the project "Building a cultural - civilized lifestyle" in the city 2022-2025 period. This project has mobilized the effort of the whole political system into building an urban cultural - civilized lifestyle in the city.
Compared to the previous phase, this project has many new things. Thuan An city sets more targets to raise awareness of officials, party members, people, and mobilize the participation of the whole political system in the building of a civilized, prosperous and beautiful city. Keynote of the project is maintaining 3 effective models of the previous period, these are "Quarters and hamlets with no garbage"; "Urban civilized roads", "Civilized markets". However, in this period, the city will synchronize development solutions to technical infrastructure to create urban green areas for the city.
"The goal is that Thuan An city meets standards of urban culture and civilization, is a clean, beautiful, airy, safe locality with many green spaces; basically solves the problem of littering indiscriminately, there are no spontaneous garbage gathering points, illegal advertising flyers and leaflets, roadside encroachment; ensures good fire prevention and fighting, traffic order and safety. The city also strives not to have hot spots of drugs, prostitution, gambling, superstition; ensure civilization in weddings, funerals, and festivals; definitively solve street begging... All citizens join hands for building a civilized, green - clean - beautiful, compassionate Thuan An city", said Nguyen Tu Hai.
Reported by Hong Thuan - Translated by Ngoc Huynh