The deputy election day for the 15th National Assembly and People's Councils at all levels 2021-2026 is getting closer. Together with other localities in the province, Thuan An city has been actively taking steps for the election to follow the correct order, ensure democracy and strictness. With thoughtful preparation, the election will be really an extensive political event, become a big festival for officials, party members and all people in the area.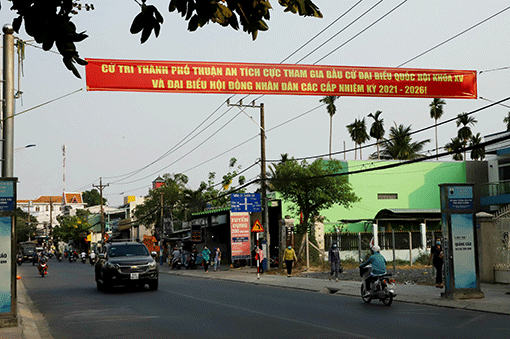 Information and propaganda about the election have been carried out in a diversified manner by Thuan An City.
To basically complete the preparation
Up to this point, the preparation for the election in Thuan An City is essentially completed and ensures the correct process and time as prescribed. Specifically, the City Election Commission listed 62 candidates for 35 deputies of the city People's Council. At communes and wards, 475 candidates were listed for the election of 269 deputies of People's Councils.
According to the latest statistics of communes and wards, the city has 404,615 voters, including 128,206 voters as permanent residents, 271,533 voters as temporary residents, and 47,133 voters as permanent residents of less than 12 months. Administrators of communes and wards made voter lists according to each polling station and listing these at public places, such as: administrative offices of quarters, hamlets, people's committee's offices of communes, wards, voting stations in accordance with the prescribed time.
Currently, Fatherland Front Committee of Thuan An City has coordinated with local administrations to hold meetings between candidates and voters. The general view of the city is to create the best conditions for candidates to have a clear understanding of the socio-economic conditions of the city to reach voters and carry out effective election campaigns.
Promptness and responsibility
Despite being the most populous area in the province, Thuan An City has carefully prepared all stages for the election. Information and communication about the deputy election have been diversified in accordance with the actual situation and integrated with the COVID-19 prevention control, attracting people's attention, especially on the city's official web portal, Facebook page, radio broadcasts of the city, communes and wards. Propaganda Board also carried out some specific activities, such as: to open a propaganda section about the election on web portal and on electronic boards, led screens of the city; collaborated with Center for Culture, Information and Sports to install 10 road banners, 7 groups of panels, 27 propaganda panels with total length of 706m, 450 Party flags and national flags, and 300 slogans along main roads and public places. The City Center for Culture, Information and Sports collaborated with Radio Station to carry out roving propaganda at communes, wards and residential areas; held a roving propaganda contest in the city in May 2021; updated slogans on welcome gates and electronic boards of the city.
Nguyen Thanh Tam, Deputy Secretary of Party Committee, Chairman of People's Committee, Chairman of Election Commission of Thuan An City, said that Thuan An City has a natural area of 83.71 km2, a population of 618,984 residents, including 174,165 permanent residents, 444,819 temporary residents. The administrative structure includes 9 wards and 1 new rural commune with 56 quarters. The city has currently 3 industrial parks, 3 industrial clusters and many companies located in residential area with a labor force of about 326,000 people. The whole city has 6 religious organizations, including: Buddhism, Catholicism, Protestantism, Cao Dai, Islam, Hoa Hao Buddhism with 73 religious institutions, groups, 101 dignitaries, 148 monks, 42,777 religious followers. Religious activities in the city took place stably and basically complied with laws and regulations. Religious security attained stability. Despite being the most densely populated area of the province, the city has prepared the most carefully for the election, including options for extra vote boxes for election, especially in the current complicated situation of COVID-19.
Nguyen Thanh Tam said, Thuan An City always ensures the promptness and high responsibility, compliance with regulations, especially the election preparation among workers. Besides, the city continued to increase communication among residents and workers so that everyone could vote, especially mobilized sources to propagate the election. The City Election Commission directed 10 communes and wards to develop plans for COVID-19 prevention and control, food safety hygiene during the election...
Reported by Ho Van - Translated by Ngoc Huynh