Based on companion of Youth Union and associations, youth members in Phu Giao district has been enthusiastically engaging in emulations of economic development under good and creative models contributing to improving family live hood and local economic development.
In Tan Hiep commune, among the excellent starting up models of youths was Nguyen Trung Thanh's success of rearing chicken under canopies of rubber trees. Taking us around the chicken rearing model, Thanh said: "After years of seeking for opportunities, I had made my decision to start up with chicken rearing. Being helped by local youth union in their training sessions on chicken rearing and preferential loans, I made the preliminary success with the chicken rearing model."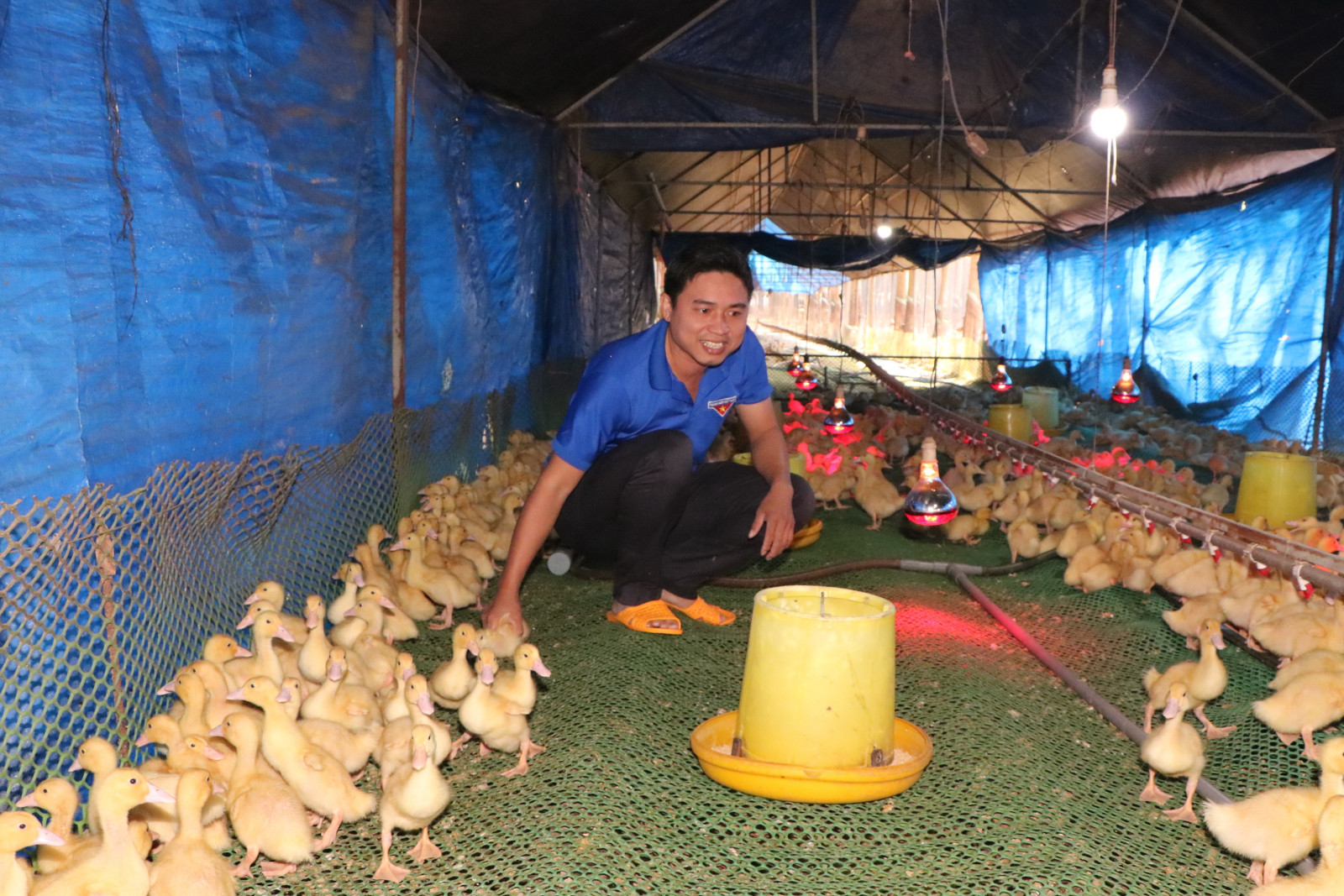 Vo Trung Thanh is beside his model of duck rearing under canopies of rubber trees, which has increased his family income
Thanh said that he initially raised 5,000 chickens in the garden, and invested in cages with a total capital of more than VND 300 million. Thanks to mastering husbandry techniques, chickens grow healthy to be sold at a good prices and yield income, so they continue to invest in expanding the breeding area with 5 farms, the number of over 13,000 chicken. He sold 3 times a year. At the time of good price, for every 1,000 chicken after deducting expenses, he made a profit of VND 30 million. In the process of raising chicken, Thanh had also experienced great challenges and hardships, but with his efforts and determination, he succeeded from raising chickens bringing high economic value for the family.
Similarly, Vo Thanh Trung, union member of Vinh Hoa commune also succeeded with the model of raising ducks on land under the canopy of rubber trees. Trung said that he is currently raising more than 1,000 ducks with a total initial investment cost of more than VND 200 million for breeding stock, making cages, and food. There are times when the cost of raising is suitable for families, he raised 4,000 - 5,000 ducks. In the first time raising ducks, due to his lack of technical knowledge, he also encountered many problems. In addition to participating in technical training sessions on husbandry organized by the Union and the Association, he also enlisted online to learn more effective duck farming techniques to apply to the farm. With the knowledge and practical experience, he can see with 'the naked eye' the symptoms of ducks of diseases that need to be treated and how to take medicine to recover quickly. His family is now growing well and creating stable income.
It can be said that the activities accompanying youths to start up and set up a business are interested and organized by the Youth Union in Phu Giao district with many specific solutions close to the needs of young people, especially the movement of "Rural youth emulating good production and business operations" promoted the impulsiveness and creativity of youth in the movements of family economic development, effectively contributing to the construction of new rural area.
Reported by Do Trong – Translated by Vi Bao