With the attention of all levels and branches, and support from the Blind Association at all levels, many women members have had the opportunity to access and participate in literacy and vocational training to be more confident. As a result, women have gradually overcome difficulties, illness, and improve their lives.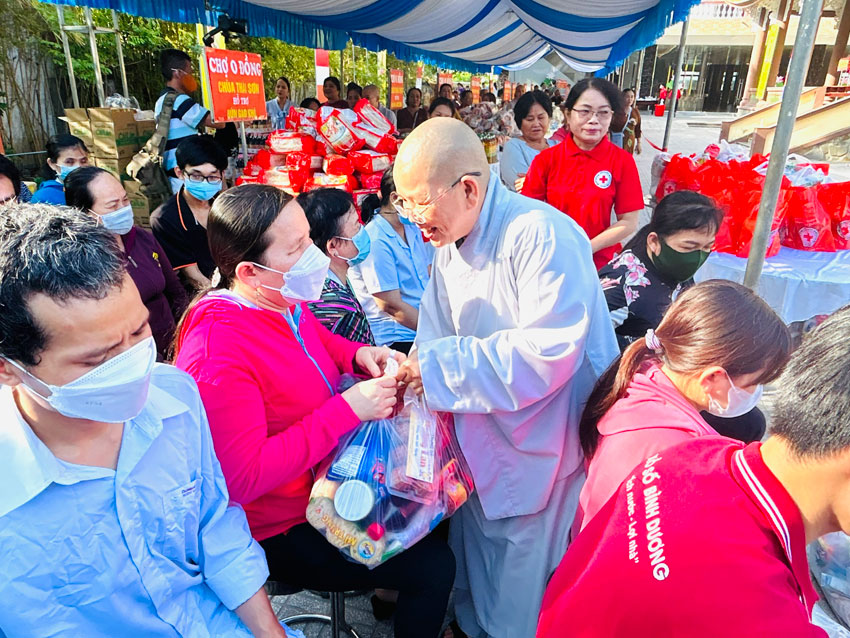 Many blind women receive care, gifts, and encouragement from organizations.
Effort to ascend
Even though they are not as complete as many others, thanks to the support from all levels of the association, with their own efforts, many blind people in the province have overcome their inferiority complex to have a happy life, be more economically stable.
Nguyen Thi Mong (born in 1980), living in Quarter 1 of My Phuoc Ward, Ben Cat Town, is one of the above cases. Previously, when she was still in Thua Thien - Hue province, Mong was encouraged to join the Blind Association, then learned braille, learned how to use computer, and received vocational training in massage techniques. Later, she moved to Binh Duong to live and applied to work at Rang Dong massage center under provincial Blind Association. In this second hometown, she got married and together with her husband opened a sauna and massage service at their home, boldly invested in equipment according to regulations.
In addition, Mong was also supported by Provincial Blind Association to borrow a loan from the National Employment Fund to develop her family's income. She learned more experience at other facilities inside and outside the province on management methods and massage therapy techniques to improve her as well as her staff 's skills. After more than 16 operation years, Mong's massage parlor has created stable jobs for many blind people with an average salary of more than VND5 million/person/month.
After visiting Tran Thanh Thuy's massage service in Hiep An ward, Thu Dau Mot city, listening to her story, it is easy to see that Blind Association at all levels have created conditions for members to learn reading writing and a trade; this is a support that brings very practical results to each blind member. Although it size is not large, Thuy's massage parlor currently creates jobs for 4 workers. Thuy said that since she was a child, she has been visually impaired, thus she often feels self-conscious about herself. When she was about 14 years old, she was encouraged to join the Blind Association, then the association helped her to learn reading writing, learn making broom, and then continued to learn massage techniques.
After graduating, she worked at Rang Dong massage facility in Provincial Blind Association, saved a little and then opened her own massage parlor. Having a good foundation, she and her husband gradually build a better life. The happiness multiplied in this small family is when their first daughter was admitted to college this year. Sharing about her life, Thuy said: "Thanks to the support of the blind association, I gradually overcame my initial self-consciousness and became more confident when I had a job so I could take care of my own life as well as my family. Even though we don't have much money, we are very happy to be able to take care of our family and pay for our children's schooling".
To support wholeheartedly
In addition to providing braille training and vocational training so that they can be independent in life, to support blind women to succeed, in recent times, Provincial Blind Association has also coordinated with Bank for Social Policies to help 455 blind women borrowing loans from the National Employment Fund through the Central Association and local channels. According to Provincial Blind Association, 100% borrowers do business effectively, are repaying capital and interest to the State on time, especially with no cases of late payment or overdue debt.
Members who have difficulty finding housing are also supported by Provincial Fatherland Front Committee, Association for the Support of People with Disabilities, Orphans and Poor Patients, Red Cross and philanthropists to build houses so they can have a home and more stable living conditions. 33 houses have been given to blind women with a total construction cost of more than 1.3 billion VND. Up to now, there are basically no more blind women having difficulty finding housing. The Association also helped 100% blind women receive regular benefits in the community according to the province's policy. In addition, children of blind women are also 100% exempted from tuition fees and contributions to school and classroom facilities; 100% of women received health insurance cards for free medical examination and tens of thousands of gifts were given...
Huynh Thi Khuyen, Vice President, Head of Provincial Blind Association's Women and Children Working Committee, said that in order to support women members of the association to rise up in life, the Working Committee has developed programs, plans, and organized activities to teach basic literacy, provide vocational training, create jobs, and take care of blind women's lives. The activities implemented over time is closely aligned with real life, so these have attracted the participation of many women, thereby bringing joy and happiness to blind women.
"With the attention and support of all levels, branches and associations, most women have overcome difficulties and illness and strive to ascend in life. The women did not expect or depend, but became independent and build a better life." (Huynh Thi Khuyen, Vice Chairwoman, Head of Women and Children Affairs Committee of Provincial Blind Association).
Reported by Hong Thuan - Translated by Ngoc Huynh