In this year, many workers choose to stay in Binh Duong to celebrate Tet. Even though they are far from their hometown, they still feel warm because they are cared for by the authorities at all levels and by the kind tenants who always consider them as family and are willing to share gifts and timely encourage them to be optimistic to get through the tough times.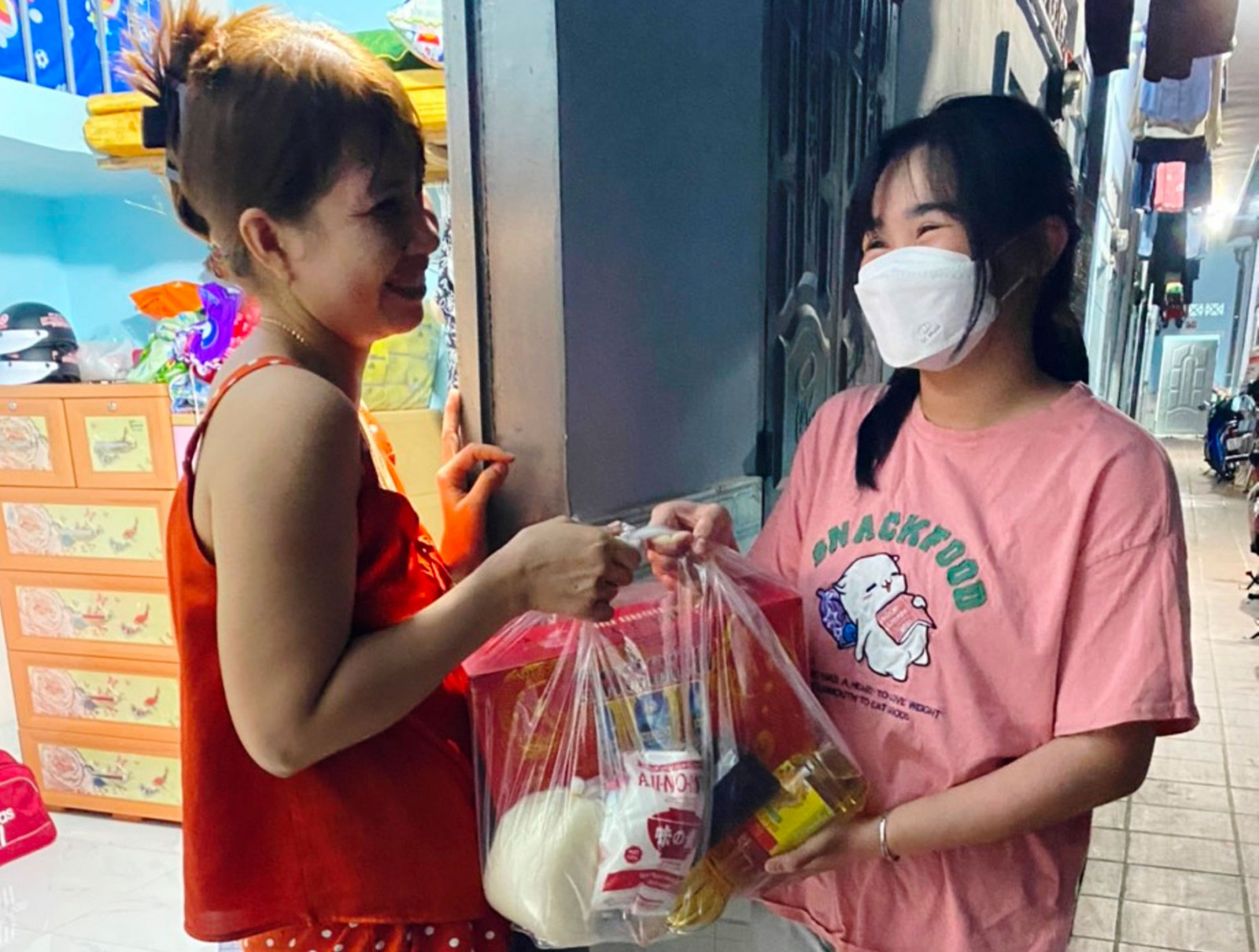 People residing in hostels feel farm and are delighted at the care of the tenant Pham Van Nam
Home is where we are closely attached
In the late afternoon, we went to Tam Nhu hostel at group 16 of quarter 1 in My Phuoc ward of Ben Cat town to meet people who chose to stay in Binh Duong to celebrate Tet. The atmosphere at the end of the year is very busy and spring music echoes, people talk and laugh happily asking one another about shopping for Tet.
Tam Nhu hostel has 70 cool and clean rooms equipped with security cameras and fire extinguishers for any bad incidents. The distance between the two rows is a corridor about 4 meters wide; in front of the hostel is a yard with stone benches for people to sit and relax on the days off. Ms. Nguyen Thi Thu Minh, the owner shared that in this year, the COVID-19 epidemic situation was complicated, so people choose to stay, and Tet would be very happy. To make everyone feel secure to stay and celebrate Tet, she gave each room 10kg of rice as a gift. Before that, due to the epidemic, she also actively reduced the rent for 3 months in a row.
"As an owner, I also had difficult times, so I sympathize and understand for the renters This year, everyone stayed and enjoyed themselves, I also regularly advised them on New Year's Days to stay healthy and strictly adhere to the "5K" messange of the Ministry of Health, not to drink too much, not to turn on loud speakers and sing late at night to affect many neighboring rooms; motorbikes must be kept in locked rooms to prevent theft," Ms. Minh said.
At Pham Van Nam's hostel of group 6 in Long Binh neighborhood of Khanh Binh ward in Tan Uyen town, the past few days have been busy with the atmosphere to welcome Tet. The owner Pham Van Nam is known for loving his fellow residents like his family. With 65 rooms for rent, each room is rented for VND 2 million a month, but Mr. Nam at hand exempted everyone from 4 months of room rent when the epidemic breaks out making their jobs interrupted without income.
Sharing about this, he confided, "I think the renters are like my relatives, so when I see them in difficulties, I offer help. We are a big family listening and willing to help to overcome difficulties during the COVID-19 epidemic." Currently, people go back to work, but he has lowered the room rents to VND 1.5 million so that people can reduce the pressure on money. On this New Year's Days, Mr. Nam offers each room a gift of essentials with all his sincere heart to everyone residing.
Security and order at hostels ensured
Talking about the work of ensuring security and order at the hostels, Lieutenant Colonel Nguyen Minh Tan, Chief of Police of My Phuoc Ward in Ben Cat Town, 8,477 households with 71,256 people, of which there are 6,150 permanent resident households with 25,951 people, are in My Phuoc Ward; 45,305 people, accounting for over 60% of the whole ward's population, are of temporary residence. The development of the accommodation business with more than 35,000 rooms has led to a thriving business and also potentially complicated factors, especially crimes, social evils, and hidden activities.
For this year, when many people stay to celebrate Tet and in order to ensure security and safety, the police force and the ward's military will strengthen armed patrols and administrative checks to prevent crimes. The police also maintains the activities of self-governing people's groups, hostel owner's clubs, and hostel management teams, which are the extended arm to help the local police in ensuring security and safety in the ward.
Meanwhile, Thuan Giao ward of Thuan An city is considered to have a large number of workers living and working making the work of ensuring security in the hostel also be strengthened. Captain Tran Van Thong, Head of the Ward Police, said that 123,000 people, of which are 18,000 permanent residents, are residing in the ward of more than 1,800 accommodation establishments with 50,000 rooms. This year, the number of people staying to celebrate Tet is quite large, so the work of ensuring security at the hostels is particularly focused. Ward police have established 2 patrol teams of 6-8 members each including mobile police, civil defense, militia, and ward military to coordinate patrols throughout the roads to grasp the situation and control the situation of oppressively disruptive objects.
According to Captain Thong, the ward police also mobilized the hostel owners to sign commitment to ensure security and be responsible for reminding and being with the owners to maintain security and property safety. In addition, the subjects under management are also regularly checked, deterred and reminded so that they would not re-offend.
Reported by Quynh Anh – Translated by Vi Bao