Binh Duong provincial Department of Industry and Trade requires businesses to implement "3 on the site" and "1 route, 2 destinations" measures and businesses that want to re-organize operations in industrial clusters should urgently synchronously implement the following measures of solutions to build a plan to organize safe production in the "new normal state".
Proactively urgent
According to Ms. Nguyen Thanh Ha, Deputy Director of Department of Industry and Trade, enterprises carrying out production in the "new normal state" must be 'green' enterprises with no more Covid-19 infections, no longer blocked and with first contacted people on quarantine. Enterprises that resume production must conduct thorough screening to ensure Covid-19 safety regarding the monitoring, supervision and conducted testing to be 'green' (free from Covid-19). Enterprises can only resume operations when a production plan has been approved by Department of Industry and Trade.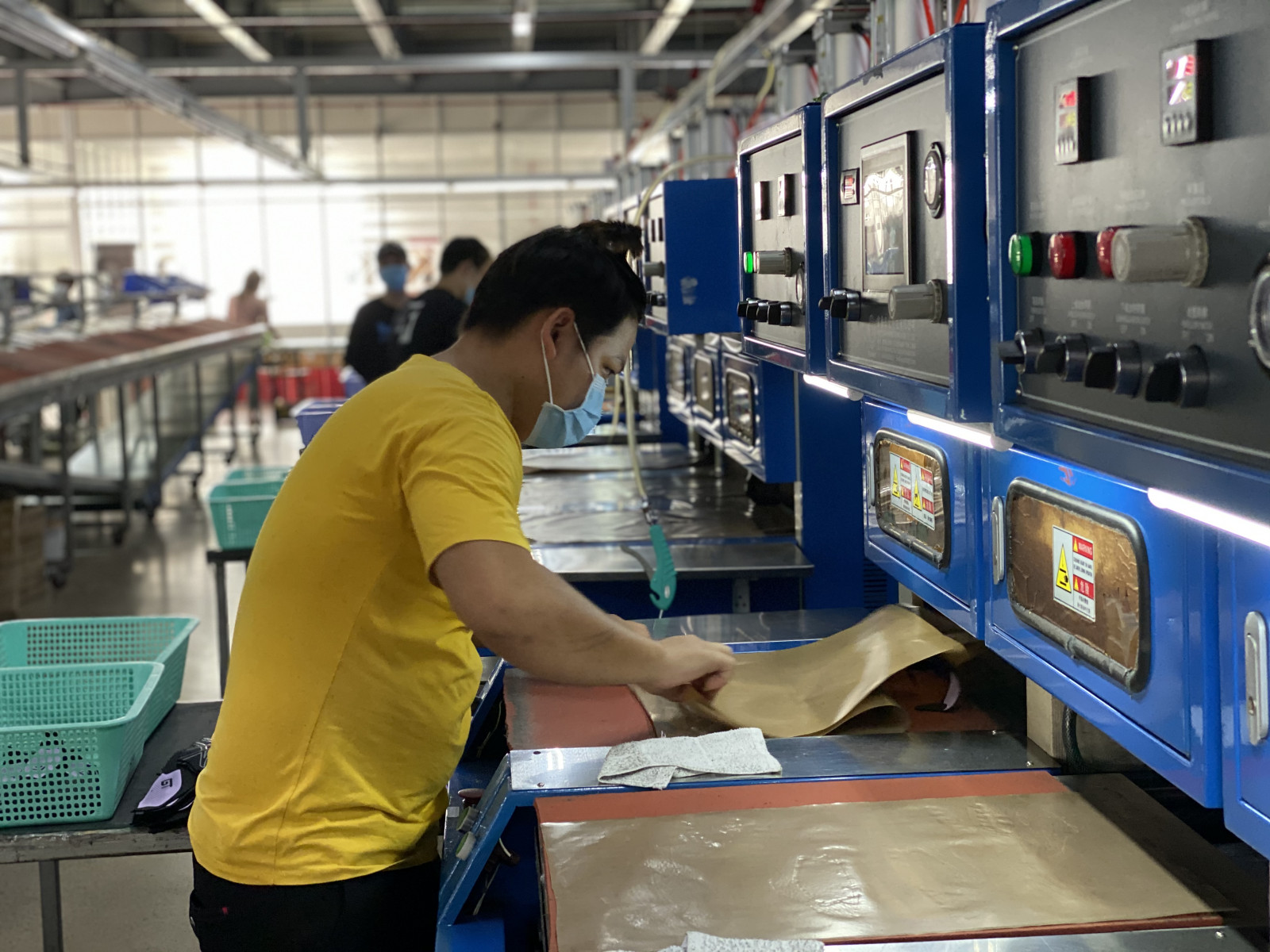 Production is carried out at Thien Thien Company in Phu Chanh Industrial Cluster of Tan Uyen town
According to the roadmap, enterprises should gradually increase their operating capacity at levels of 30% - 50% - 70% and higher. The increase in capacity and operation scale must be calculated on a scientific, synchronous and sustainable basis in accordance with the characteristics of enterprises and the evolution of the local Covid-19 epidemic prevention and control situation. In particular, priority is given to returning to work first for employees living in "green areas" or not under blockade, not arranging jobs for people with high risk of infection to well organize the implementation of "5K" message of the Ministry of Health at the factories, workplaces, and residence along with strengthening the effective and substantive role of the Covid Safety Team at enterprises and effective propagation on disease prevention to create proactiveness in prevention during the production process and have a strong mentality in all situations.
Enterprises are to conduct self-testing and screening (or hire a servicing unit) to control input and ensure that 100% of employees who pass the tests have negative results for SARS-CoV-2 and received the first dose of Covid-19 vaccine after 14 days or 2 injections. During the production process, tests are made every 3 days (collective samples or single samples can be performed depending on actual testing results) for high-risk subjects with a target of 20% of total labor, then test results are reported to Department of Industry and Trade and local authorities.
In addition, when detecting an infection, enterprises only temporarily suspend operations at the line/area where the case is directly related (it is to say that where there are F0, F1 to Covid-19) not the entire factory. Enterprises must arrange a quarantine area for F0 at the factory to ensure physical facilities to have a medical care team and a medicine cabinet to ensure the base to serve the initial treatments of self-quarantine and mild F0 patients.
Comprehensive procedures
Activities are strengthened to promote the leading role of the Covid Safety Team in enterprises including leaders and those who directly manage labor in workshops and stages in the production lines. The arrangement of concentrated accommodation for employees is carried out in the direction of arrangement of both inside and outside of the enterprise. Accordingly, for out-of-house accommodation, priority is to be given to arranging workers to stay at motels, hotels, and factories with functional conversions. The rearrangement of the residences of current workers should be conducted. Jobs in enterprises in the direction that all workers in an enterprise will be arranged to stay in one or several 'green' hostels so that enterprises are eligible to organize production according to the "1 route, 2 destinations" option and to comply with the social distancing regulations at the place of residence.
Enterprises must commit to properly, sufficiently and proactively organization of testing and contact the testing organization to issue test certificates to each employee of their enterprise. They should notify and send results to state management agencies and local authorities after each test to serve post-inspection activities. Enterprises are only allowed to organize production and business operations when they have tested and screened all employees and met the conditions to disinfect the entire factory area according to regulations. Simultaneously, they should conduct daily testing of people receiving, transporting goods, food, and meal providers.
In the process of moving, employees commit to only move between home and workplace. If factory conditions or local transportation system allow, the factory can arrange shuttle buses in clusters to ensure the number and distance while disinfecting and drive to ensure disease safety. In areas where bus service cannot meet demand or employees living too scatteredly, employees are allowed to travel by personal means while complying with the "5K" message of Ministry of Health. Businesses can consider "shopping on behalf" or arrange a temporary market right on the factory premises.
Reported by Tieu My – Translated by Vi Bao