Binh Duong aims to attract more than 9 billion USD of registered FDI capital in the 2021-2025 period, with priority given to high-tech, green technology, less labor-intensive and high-value-added projects. Internal strength is decisive, but foreign relations will help Binh Duong integrate, develop and realize its goals.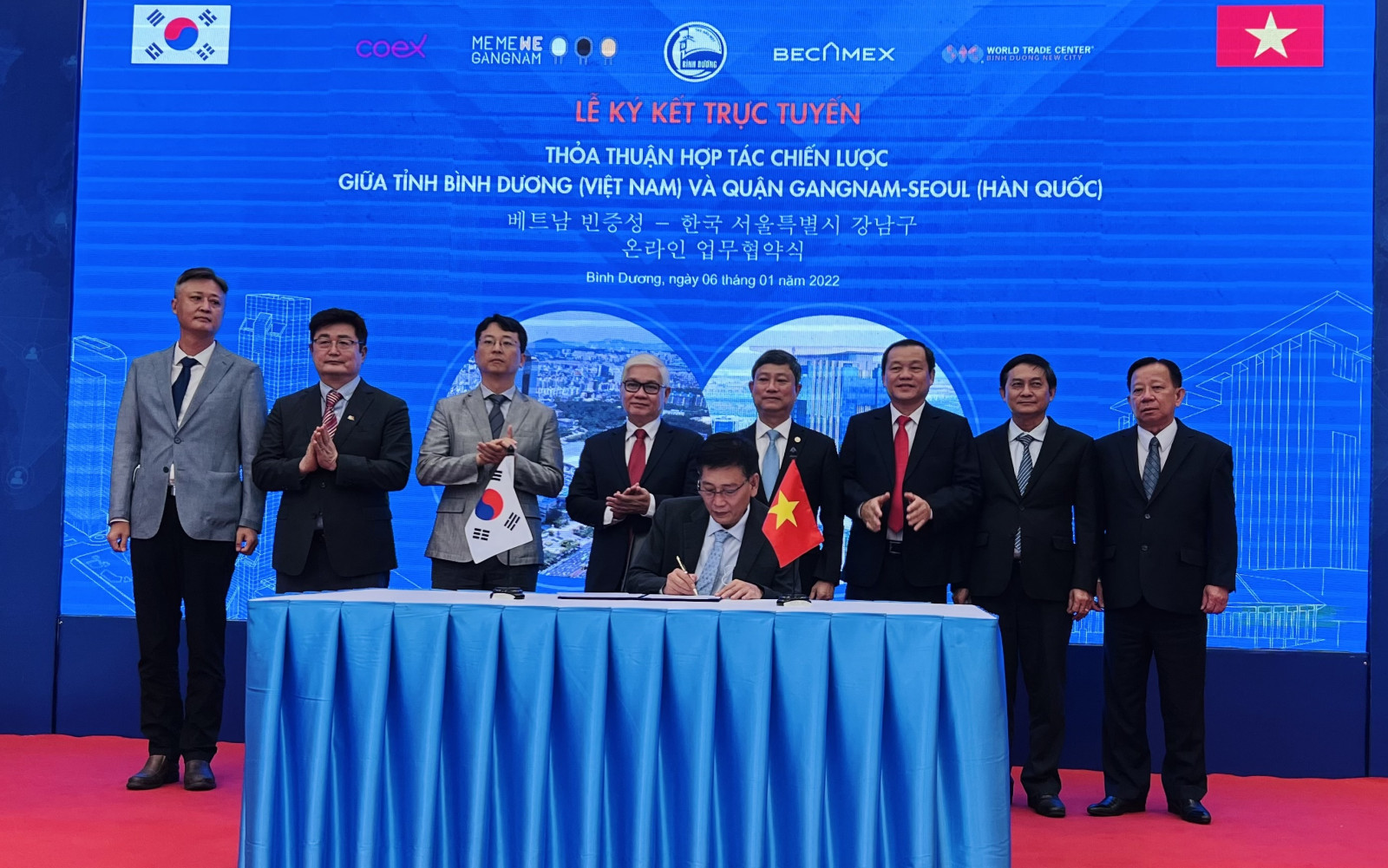 During the stressful time of the pandemic, Binh Duong actively stimulates investment through online forms. In photo: Leaders of the Provincial People's Committee signed a strategic cooperation agreement with a Korean partner.
To accompany businesses
During 2021 and the first half of 2022, within context of a sharp decline in global and national investment due to the impact of the Covid-19 pandemic, Binh Duong also suffered many impacts. However, many foreign investors still considered Binh Duong as a "good land" for long-term development. This is also the result of the whole province's efforts in being flexible in investment promotion by changing from face-to-face to online form very early. Seizing opportunities, stimulating investment capital from the potential European market, Binh Duong effectively exploited its relationship with intermediaries, especially the Danish, Australian, Dutch, Belgium markets received special attention.
Pham Ngoc Thuan, General Director of Becamex IDC Corporation, said that with the guidance of the provincial government, the province's leading state-owned enterprises have strengthened and formed many joint ventures with partners from various countries. VSIP Industrial Park Joint Venture has expanded production and business activities to 11 provinces and cities across the country; joint venture with Tokyu Corporation of Japan on developing high-quality, livable cities; joint venture with Japan's NTT corporation on telecommunications and information technology development; joint venture with Wapus Pincus Investment Fund of the US to build logistics and logistics infrastructure for e-commerce… These joint ventures have gradually become a steel fist in many fields, helping Binh Duong to gather resources and promote socio-economic development, at the same time spreading and sharing throughout the country the development model suitable for Vietnam.
Marketing network of enterprises is identified as marketing network of the province, and the most effective way to promote investment is to create favorable conditions for enterprises making investments in Binh Duong. They are the most persuasive communicators.
Recently, Pandora Group, a Danish jewelry brand, signed an agreement to build a new jewelry processing facility in VSIP 3 with a total investment of over 100 million USD and the aim to supply 60 million jewelry products each year and create jobs for more than 6,000 people. The project is expected to start construction in early 2023 and start production at the end of 2024. This is Pandora's third facility in the world, and the first production facility built outside of Thailand. According to Mikkel Lyndrup, Deputy Ambassador of Denmark to Vietnam, currently more than 140 Danish businesses have come to invest in Vietnam, including leading Danish corporations such as Lego, Pandora... have invested in Binh Duong.
Vo Van Minh, Deputy Secretary of the Provincial Party Committee, Chairman of the Provincial People's Committee, said that from the motto "Binh Duong always accompanies enterprises", to promptly solve difficulties and obstacles in production and business. In recent years, Binh Duong has actively coordinated with Vietnamese embassies in other countries and foreign business associations to organize many dialogue meetings with investment enterprises. These programs made a good impression on businesses. Based on openness, cooperation and mutual trust, many difficulties and obstacles were resolved, thereby helping enterprises to feel assured, and focus on production, business and investment cooperation.
To create "pushes" in investment cooperation
Focusing on investment promotion in the new situation, in addition to online meetings with investors from other countries, right after the Covid-19 was under control, Binh Duong held many conferences to meet and discuss with foreign investors, participated in events and seminars on investment promotion in other countries... Specifically, at the end of May 2022, a provincial delegation led by Chairman of the Provincial People's Committee Vo Van Minh attended a seminar on investment promotion in Australia. Recently, a delegation of Binh Duong province led by Secretary of the Provincial Party Committee Nguyen Van Loi has visited and worked in Tokyo of Japan.
In the context of unpredictable international trends, the province's leaders and businesses came to other countries, called for investment. This shows their initiative, pioneering spirit. Even in the first months of 2022, when the Covid-19 pandemic still had a significant influence on the province's socio-economic development, but with appropriate mechanisms, policies and solutions, Binh Duong still attracted many domestic and foreign investors.
Secretary of the Provincial Party Committee Nguyen Van Loi, affirmed that the above-mentioned dynamic and effective external economic activities have contributed to attracting more and more foreign investment projects to Binh Duong province, improving the competitiveness of Binh Duong province, heightening the province's position to become one of the leading industrial cities of the country. "With fairly comprehensive and diverse successes in external activities in recent years, in the coming time, Binh Duong is confident to continue take advantage of its internal resources, improve the business environment and investment cooperation; continue to synchronously invest in socio-economic infrastructure, give priority to industrial and service development combined with urban construction and development planning; actively integrate into the world's economy, strengthen bilateral and multilateral cooperation so that Binh Duong continues to be an attractive destination for domestic and foreign investors," emphasized Nguyen Van Loi.
YAMADA TAKIO - Ambassador of Japan to Vietnam: Binh Duong province is one of the fastest growing provinces and cities in Vietnam. Currently, there are more than 300 Japanese enterprises operating in Binh Duong, with a total investment capital of 5.77 billion USD. This is a remarkable growth. I think that, with an open and attractive investment environment, foreign investment in Binh Duong will continue to increase in the coming time.
JAYA RATNAM - Ambassador of Singapore to Vietnam: We are very proud of the achievements of Binh Duong province as well as the successes of Vietnam - Singapore Industrial Parks, a testament to the successful cooperation between Vietnam and Singapore. Over the years, Vietnam Government agencies as well as Singaporean partners have introduced and promoted many activities to help the Singapore business community better understand the values that Binh Duong province can bring to them as well as to Vietnam.
KIM JIN WOO, Vice President of KOCHAM Binh Duong: Up to now, there are about 800 Korean businesses in Binh Duong. In particular, during the fourth outbreak of Covid-19 in 2021, Korean businesses in particular and businesses in the province in general received the attention and support from the provincial government to quickly stabilize and resume their production.
By Ngoc Thanh - Translated by Ngoc Huynh