The Covid-19 pandemic poses changing challenges for businesses to survive and develop. In order to adapt, many enterprises gradually overcome difficulties, flexibly catch up with production, determined to realize growth targets.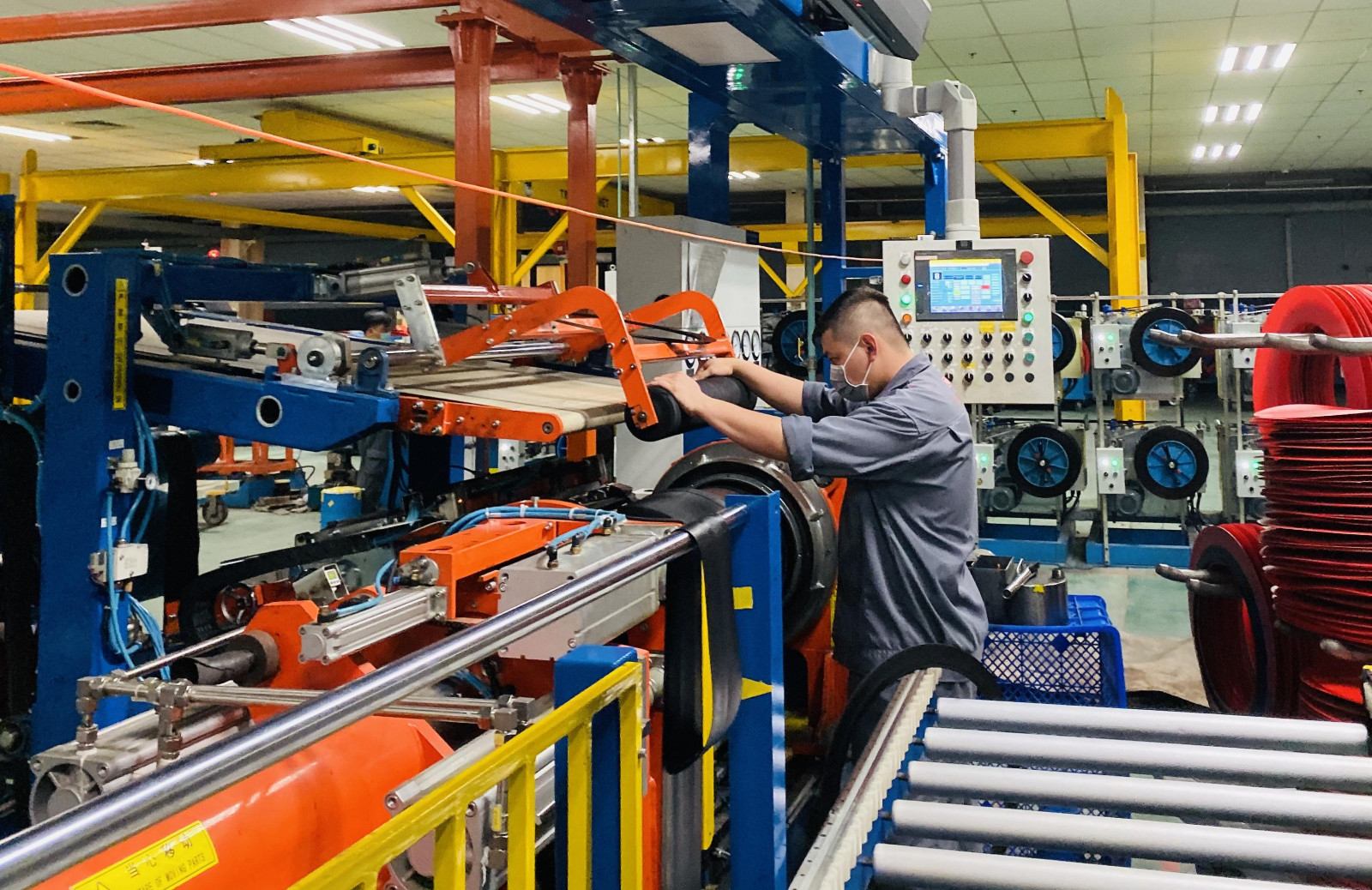 Many businesses in the province resume production in a "new normal" state. In photo: Produced at Hung Hai Thinh Company (Tam Lap Industrial Cluster, Phu Giáo District)
To recover
Currently, most enterprises are gradually moving from the "three-on-site" production model to the "three-green" model (green factories, green lodging houses, green workers) to suit the new situation. Workers are very happy to return to factories and work, have a stable income in the last days of the year. Lee Jaehong, CEO of Pungkook Sai Gon Company (Thuan An City), said that in fact, after a long period of social distancing, enterprises suffer many difficulties and problems of supply chain of goods, consumption market, labor force, costs incurred in disease prevention and control work... Although it is very urgent to recover production to keep orders, not to break the supply chain, businesses all agree on the policy of "safe to produce, production must be safe" to have the most suitable implementation solution.
Pham Hong Phuoc, Director of An Khang Furniture Company (Tan Uyen Town), said that customers agreed to postdate orders that have not been completed. Therefore, as operations are resumed, the company sprints to meet the orders. "Customers have sympathized with the manufacturer during the difficult time, we, the manufacturer, have a responsibility to fulfill the orders as soon as possible. This is also a way for businesses to retain customers, avoid losing orders to businesses in other countries in the world", said Phuoc.
In addition to efforts to retain customers and employees, digital transformation activities are also being drastically implemented by enterprises to help link traditional business models with digital platforms. Nguyen Quang Sang, Deputy Director of Phuong Nam Trading and Services Company (VSIP 1), said that in order to adapt to the new situation, the company enhanced their interaction and experience on the digital platform, digitized operation and business processes. On the other hand, it is required to restructure business model, focus on the reform strategy in a lean and effective way, bringing more value to customers.
In fact, there cannot be a general formula that suits all businesses due to different levels of influence and directions of impact. However, basically, businesses should base on priority solutions. Currently, many companies need to set up rapid response teams to handle abnormal problems arising in materials, personnel, supply, in order to restore production and business in the new situation.
To expand production
An optimistic sign is that at the present time, enterprises are not only stable, but also expand their production and business. Pham Minh Ha, Director of Hung Hai Thinh Joint Stock Company (Tam Lap Industrial Cluster, Phu Giáo District), said that due to proactive plans, well control of the disease, the company has maintained 100% of capacity production. It is a motivation to fulfill well export orders and take chances, prepare for production expansion.
Binh Duong Furniture Association (BIFA) has also focused on a number of specific solutions to support member businesses to develop, namely, optimal implementation of costs, rebuilding the process of production and business activities. BIFA holds regular video conferences to encourage businesses; accelerates the digital transformation process to increase opportunities of finding new customers, keeps in touch with partners in the pandemic context, expands markets, access more investment channels.
Trinh Thi Hong Chau, Vice Chairwoman of the Provincial Electromechanical Association, affirmed that in the current challenging context, the trend of digital transformation in enterprises to adapt to the new production and business situation is prioritized. Provincial business community has actively sought new directions by applying digital transformation in management. "With the initiative of enterprises and the support of the authorities, it is believed that digital transformation would contribute to sustainable development. Especially in the period of adaptation to the "new normal" state, businesses have more favorable conditions for rapid recovery", Chau said.
Reported by Tieu My – Translated by Ngoc Huynh