Thanks to the close attention and direction of all government levels, branches and localities, enterprises in the province have paid more attention to production technology, creating a safe working environment for employees; thereby contributing to reducing the risk of occupational accidents for workers.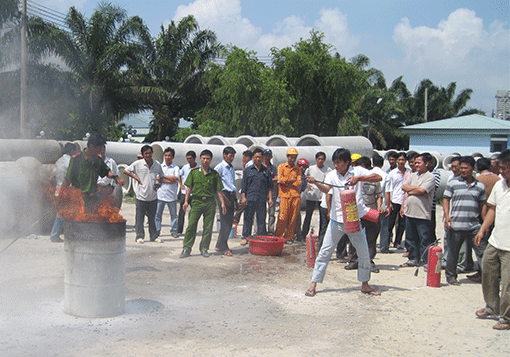 Fire prevention and fighting training for grassroots fire prevention fighting teams of Binh Duong Minerals and Construction Joint Stock Company.
To constantly improve working conditions
With the top concern about Occupational Safety and Health (OSH) and Fire prevention fighting (FPF), Binh Duong Minerals and Construction Joint Stock Company (BIMICO) has organized many practical activities to take care and improve working conditions, prevent occupational accidents and diseases, and take care of employees' health. Đặng Quang Thung, Deputy General Director of BIMICO, said that in order to improve the effectiveness of OSH and FPF, the company actively participated in developing and promulgating OSH regulations to balance interests of enterprises and employees. All manufacturing areas have signs and regulations on machine operation. Every month, the company perform industrial cleaning and maintenance of machinery and equipment in order to detect problems and overcome factors that pose unsafety risk; thereby, contributing to improving working conditions of workers, promoting production development for the benefits of employees and enterprises.
In addition, in order to perform well OSH and FPF, the company has done well in communication to raise workers' awareness of the implementation of OSH regulations, building a "green - clean - beautiful - safe" culture in company. Every year, the company organizes trainings of safety rules for 100% employees, provides regular health checkups, support regimes to protect employee's health.
The company invested billions of VND in electrical safety equipment, well-ventilated, noise-proof and dust-proof workshops, the company ensures meeting microclimate standards in production activities for workers. Besides, the company provides full and regular labor protection according to the type of work and requirements of personal protection to ensure the safety and health of employees in their work, thus there were no serious occupational accidents and diseases.
In 2021, despite the complicated developments of the COVID-19, BIMICO has actively implemented regulations of the Government and localities, has a specific plan for disease prevention control at each production unit, department, hence there were no infections affecting the company's operations; the company maintained stable production and gained positive results in production and business. The company established a welfare fund to support the COVID-19 prevention and control of Binh Duong province, namely provided 500 test kits worth 350 million VND and is ready to provide free COVID-19 vaccination for their employees.
To keep up activities
To develop OSH and FPF work, provincial Department of Labor - Invalids and Social Affairs has issued a plan to carry out and launch emulation movements in the area. The theme of this year's OSH Action Month is "To strengthen assessment and control of occupational safety and health risks, fire and explosion safety, and the participation of safety and hygiene officials". Phạm Văn Tuyên, Deputy Director of provincial Department of Labor, War Invalids and Social Affairs, said that while the COVID-19 is developing unpredictably, this year, Steering Committee for OSH Action Month did not hold a crowded launching ceremony, but an online conference. In addition, Provincial Steering Committee issued a document to aske enterprises not to hold crowded launching ceremonies but to replace it with other forms depending on their capabilities and actual conditions, such as: distribution of left-lets, posters, pictures, publications, books and newspapers, launching via electronic boards, loudspeakers...
In addition to the main activities taking place in May, before and after the action month, there were also many important activities to improve spirit and coordination between authorities and businesses. Occupational Safety Health and Fire Prevention Fighting (OSH-FPF) month of 2021 was organized with a focus on a number of contents: Renovating the dissemination of OSH, focusing on roving dissemination in central areas of districts, towns, cities, roads to industrial clusters; conducting inspection and examination of OSH in a number of professions and fields having high risk of occupational accidents and diseases; in using machines, equipment and materials with strict requirements on OSH; the implementation of regulations and policies according to the Law on OSH and guiding documents... thereby, enhancing activities to prevent occupational accidents and diseases and improve labor productivity.
In order to have a safe working environment for workers, enterprises in the province are interested in improving working conditions, production environment and focusing on implementing regulations on labor safety. With the efforts of all levels, branches, units and enterprises, tOSH-FPF work in the province gained good results. In 2020, the number of occupational accidents decreased compared to 2019. Specifically, the authority recorded 37 occupational accidents in the province.
Reported by Tuong Vy - Translated by Ngoc Huynh