To speed up vaccination, Binh Duong provincial authority has organized mobile injection points in the community and at companies and factories. When being vaccinated with 3 doses of COVID-19 vaccines, people and workers were very excited and said that they would not be subjective or negligent but continued to well implement the recommendations on COVID-19 prevention and control.
The delighted public and people
In the last days of 2021, workers in industrial parks in the province are excited to receive the third dose of COVID-19 vaccines right at the companies. For the time, at the mobile injection point of Panko Vina Company in My Phuoc I Industrial Park of Ben Cat town, about 600 employees were vaccinated with 3 vaccines against Covid-19 out of a total of 2,000 employees at the company. The remaining workers have not had enough time for injection and are expected to complete the 3rd dose by the end of this month.
Most of the employees when receiving the third doses of vaccines right at the company are very happy and excited. Ms. Nguyen Anh Luu, a sewing worker, expressed: "For this 3rd round of injections, I was fortunate enough to have enough time to be on the list of injections at the company. I was also a little nervous and worried about getting the 3rd injection, but with the attention of the company and the medical staff, I felt more secure. I hope that many employees will be vaccinated with the third doses of vaccines right at the company to have good health and peace of mind to work and most of all, they do not have to take time off to go to the clinic for injections."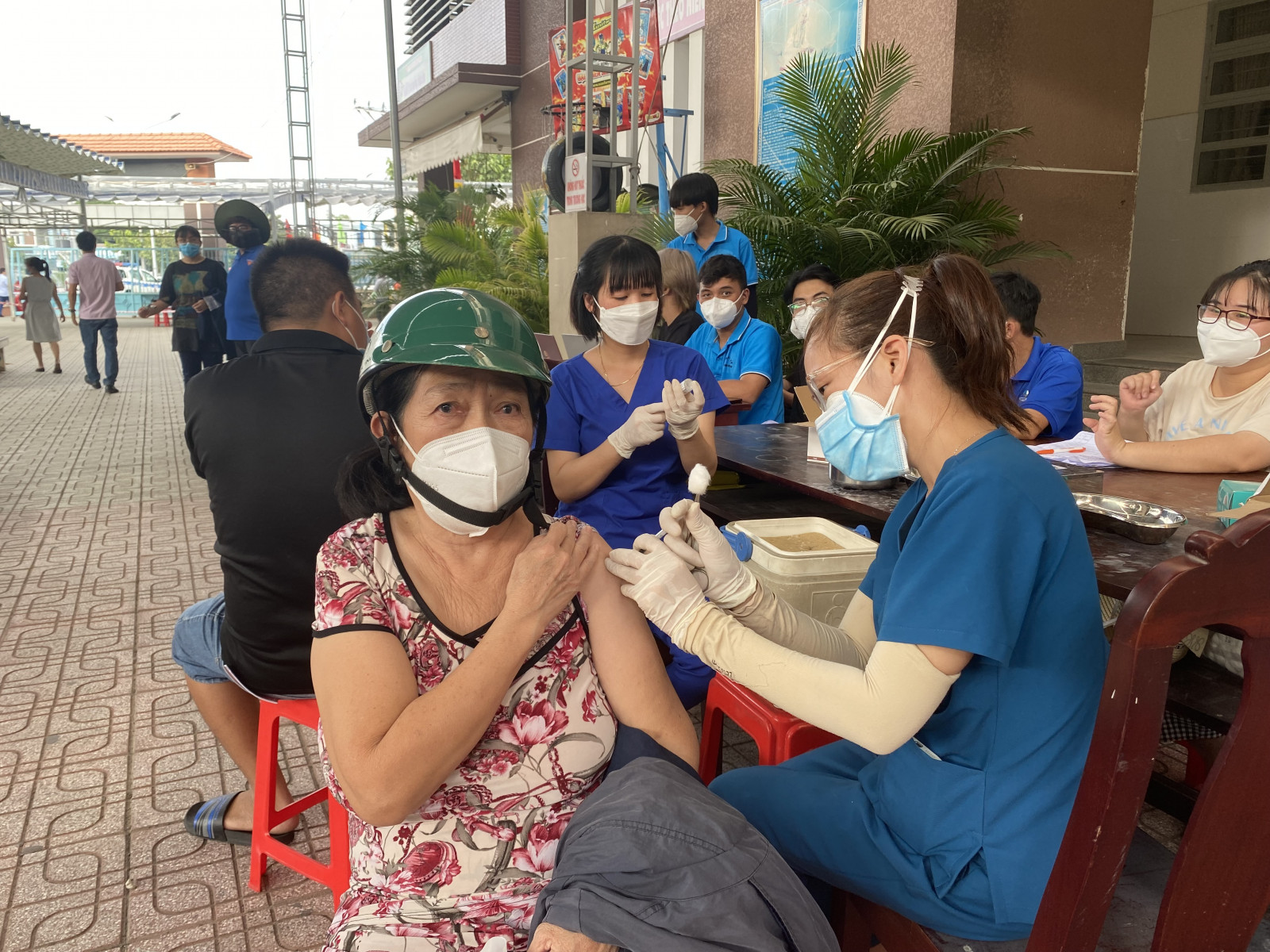 Medical staff carry out the injection of the third doses of COVID-19 vaccines on people in Di An city
Previously, at Vinamilk Dairy Joint Stock Company in My Phuoc 2 Industrial Park of Ben Cat town was also a mobile vaccination point for employees. Mr. Ly Tuan Dung, Director of Vinamilk factory, said: "The company has just organized a vaccination against Covid-19 for over 600 employees working at the company. On the day of vaccination, the enterprise coordinated with the health department to arrange the injection site to ensure epidemic prevention and prepared the medical declaration place and kept the distance for employees in each area before and after being vaccinated. Giving employees three injections of COVID-19 vaccines is the only way for businesses to soon resume production after the epidemic."
Meanwhile, in the community, mobile injection activities have also been quickly deployed by localities. According to our records, each locality has set up mobile vaccination teams for people belonging to the high-risk group to receive vaccinations, additional injections and shots at home. Mobile injection teams go to every corner where elderly and elderly families cannot go to desigianted injection points to inject vaccines. The activity is to ensure that no one in the high-risk group would not be fully vaccinated (unless contraindicated), especially those who are unable to walk.
COVID-19 vaccination certificate to include up to 7 doses of vaccines
In recent days, people often ask questions when going for vaccinations they are granted a certificate by medical staff that could include up to 7 different injections in the categories of basic dose, supplementary and booster doses. In this regard, Dr. Nguyen Xuan Tung, Head of Immunization Management and Biosafety Division under Department of Preventive Medicine of Ministry of Health, said: "The Ministry of Health has just issued Decision No. 4/QD-BYT to amend and supplement Decision No. 3588/QD-BYT on guiding the organization of vaccination sessions against COVID-19. Accordingly, when people get vaccinated, they will be issued with a certificate of COVID-19 vaccination with details of injections. Compared to the old sample with only two basic injections, the new confirmation form is supplemented with information related to the injection with a total of 7 injections, depending on the type of vaccines. Specifically, the basic dose is with 3 injections, the supplementary dose with 1 injection and the booster dose with 3 injections.
Explaining the injections, Dr. Nguyen Xuan Tung, said that currently in all countries around the world, the vaccination schedule for COVID-19 includes basic injections, additional injections and booster shots. The basic doses are mostly 2 injections such as AstraZeneca, Pfizer, Moderna, Sinopharm, Sputnik etc. Only the Cuba's Abdala vaccine has 3 injections, so the basic dose filling part consists of 3 positions.
Regarding additional injections, 1 dose is given who are 18 years of age or older including people with moderate and severe immunodeficiency (accounting for about 2.5%), who have received the full basic dose of the vaccines. Sinopharm's vaccine or Sputnik V vaccine are accounted for about 25%. Regarding booster dose, 1 dose after 3 months is to strengthen immunity. Some countries have given the second dose booster. Subsequent vaccinations are carried out when there is scientific information and practical experience of other countries as well as recommendations of the World Health Organization (WHO). Thus, currently in Vietnam, booster injection is the 1st dose. Most people in Vietnam only get 3 injections (2 basic shots + 1 booster), a part of people who are immunocompromised and need to strengthen their immunity for some vaccines that need 4 injections (2 doses of basic + 1 supplement + 1 repeating).
According to health facilities in the province, the new vaccination certificate aims to integrate vaccination information and to facilitate the vaccinated people and agencies in determining the type of vaccines to be given additional and repeating doses.
Reported by Hoang Linh – Translated by Vi Bao