Since the province returned to the "new normal" condition, students at all levels in the province have gradually come to schools and received face-to-face learning. The organization for students to go to school is performed by the education - training sector according to a detailed plan, step by step to guarantee safety as teaching directly.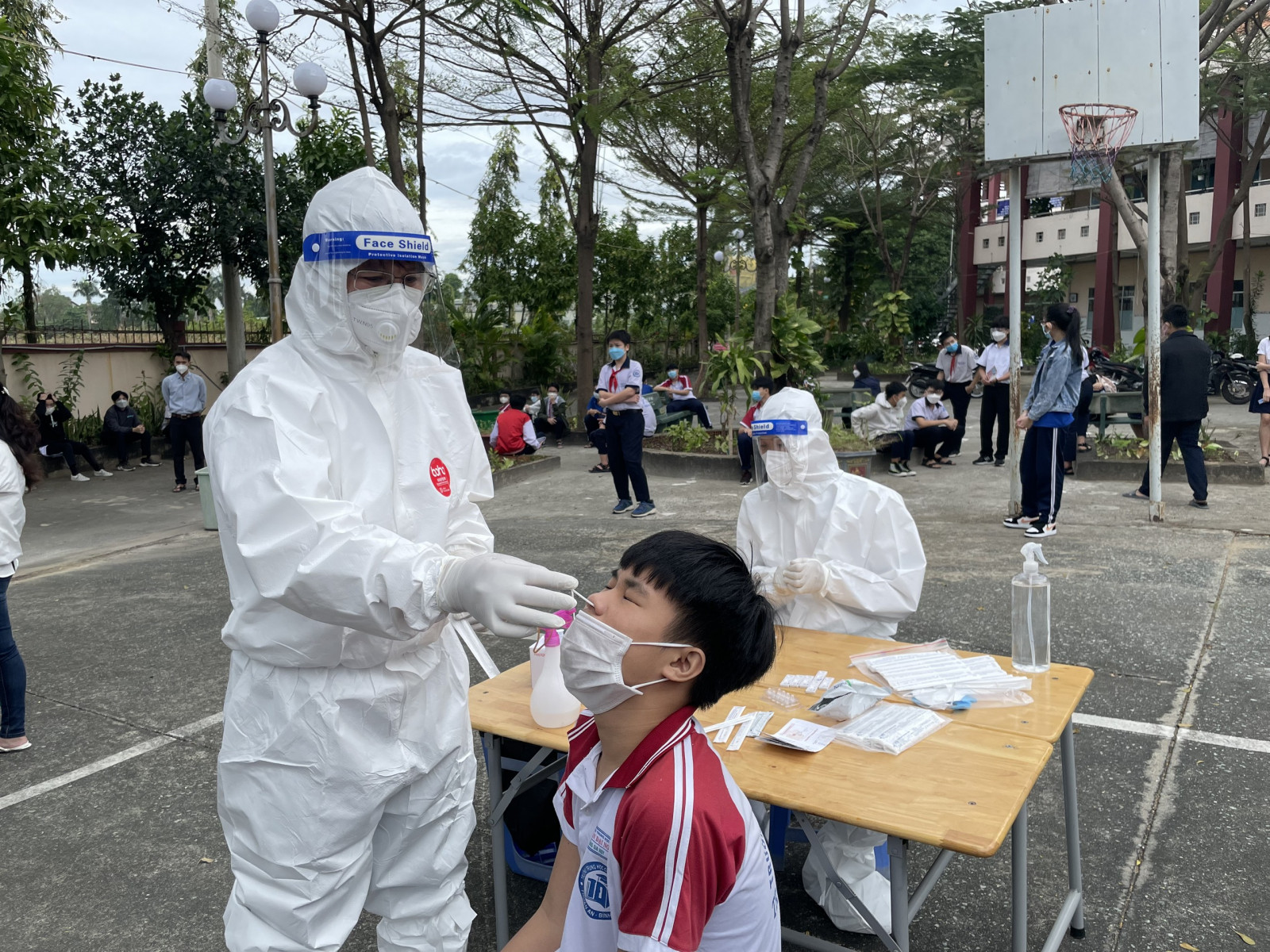 Students are tested for Covid-19 weekly during face-to-face learning.
Direct teaching done in stages
In Thu Dau Mot City, depending on the actual situation, the city leaders have directed education and training sector to implement a plan to teach directly for students at all levels. For junior high school, after eighth-grade and ninth-grade students returned to school in the previous weeks, from January 10, seventh-grade students have also come to school. Going back to school and meeting their teachers, friends is not only a joy to students, but also parents. Nguyen Thu Hoa, whose child attends Chu Van An Junior High School (Thu Dau Mot City), said that her child were vaccinated with two doses of Covid-19 vaccine, thus she felt assured sending him to school. Because her husband and she have to work during office hours, they cannot assist their child in online learning. Leaving their child alone at home for a long time was also insecure.
Provincial Department of Education and Training has implemented a direct teaching plan in safe and flexible adaptation conditions in the 2021-2022 school year. In recent days, students from seventh to twelfth grades in the city have returned to school. Particularly at the primary level, students are still learning online. The preschool level has piloted daycare at a number of non-public kindergartens.
Depending on the actual situation of the pandemic, districts, towns and cities decided the time for students to return to school. All students attending school must have a written consent from their parents. Schools then sent reports to Department of Education and Training to check their safety and hygiene conditions for disease prevention and control before reopening. In Ben Cat town, primary schools have welcomed back students. At Dinh Phuoc High School, currently students from first to fifth grades are learning at school. Namely, first grades have 122 students, second grades have 195 students, at least fifth grades have only 50 students.
According to the guidance of Department of Education and Training, Education Training Offices organized for students to return to school in stages. After two weeks of implementation, the department evaluated, then continued to increase the number of students who could go to school. In Thuan An city, phase 1 from December 20 to 24, students of first and second grades study directly; phase 2 from December 27 to January 28, students from first to fifth grades go to school, but only in the pilot phase of each block.
Huynh Thi My Ngan, Head of Education Training Office of Thuan An City, said that since face-to-face teaching directly at schools was performed, teaching learning and disease prevention control at schools have remained stable so far. As of this week, Thuan An city has about 25% of preschool children, 30% of primary school students, 90% of junior high school students from sixth grades and up have gone to school and learned directly.
Teaching performed according to the adjusted plan
Due to the impact of the Covid-19 pandemic, students at all levels have to study online. For junior high and high schools, teaching and learning assessment are still carried out online, and exams are organized according to the school year plan. The management board of junior high schools said that midterm and semester exams were still proceeded according to the school year plan. Phu An Junior High School (Ben Cat Town), the school has a review plan for students when they return to school after a period of online learning and for some students who could not participate in online learning. This is to ensure enough knowledge for eighth- and ninth-grade students to sit the final exam of the first semester in a direct manner.
For the primary level, due to age characteristics, schools only hold semester tests when the children return to school. Nguyen Thi Thanh Tam, Principal of Tuy An Primary School (Thuan An City), said that currently students from first to fifth grades have come to school, but only some classes. As all students return to school, the school will focus on reviewing for two weeks, then hold the firs-semester exam. Thus, according to the plan, the semester examination is postponed until after Tet.
For junior high school students, they have studied and taken exams online. However, they still want to go back to school, because the face-to-face learning and exams will be more convenient than online ones. Huynh Thi Ngoc, whose child is in seventh grade in Thuan An city, said that she assisted her child in the online learning process, she found that face-to-face learning was still more effective. "Taking online exams and tests, children are under psychological time pressure, because if computer performance or internet speed is slow, or testing time is over, the learning software will be locked, so they will feel inhibited, in the long run, it will affect learning", said Ngoc.
Teaching and learning activities at schools have gradually returned to normal, both ensuring the performance of the school year's tasks and preventing controlling the Covid-19. Particularly for students who have not yet attended school, teachers will continue to organize online teaching for students until they return to school.
Reported by Hong Thai - Translated by Ngoc Huynh