From beginning of this year, Organizing Board of the project of young workers gathering and unification at all levels in the province has coordinated to organize and integrate many new programs and activities to propagate and take care of local young workers.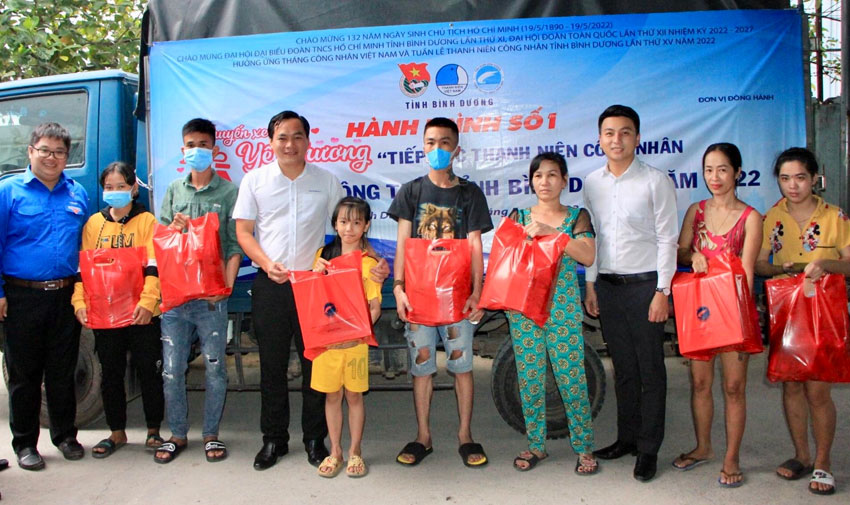 Provincial Youth Federation organizes a trip named "Giving strength to young workers" at lodging house in Thuan An city.
Various models
On weekends, "Street Playground" at Binh Duong New City Park has become a familiar venue for workers to relax and enjoy music, arts. This is a new program to serving the spiritual life of Binh Duong workers. Furthermore, the care and support activities for young workers are also diversified by Youth Unions in the province through many activities that are close to workers' lives. For example, Thuan An City Youth Union and its branches in local wards have maintained many models and activities to take care of young workers at lodging houses.
In 2022, Thuan An Youth Union carried out a program "young workers' weekend street" with job introduction booths; "0VND Market", original price booths giving 300 gifts to disadvantaged young workers. Thuan An Youth Union also opened a "Festival of giving strength to young workers" to commend excellent young persons in labor, production and business. Besides, the City Youth Union maintains a model of "The Room Rises - Lights the Dream" socializing the payment for one-year lodging room rent of two worker members in Binh Hoa ward with a total cost of about VND24 million. This support has helped family of the workers living in hardship to heighten their working spirit and overcome the harsh circumstances to better their lives.
The care and activities to stabilize the life and support startups of young workers always receive attention of the Steering Board and Organizing Board of the project at all levels, and regularly implemented in collaboration with competent agencies in activities of youth associations and unions in enterprises outside the State-owned sector. Prominently during Vietnam Workers' Month and Binh Duong Provincial Young Workers' Week 2022, Provincial Youth Federation organized a journey to help young workers go back home in An Giang province and 40 bus rides for young workers.
On the other hand, Youth Unions of districts, towns, and cities simultaneously organized cultural, artistic and sports activities, "Weekend playgrounds", and integrate propagation and dissemination of policies and laws at lodging house youth branches.
Practical and meaningful
Women's Union of An Binh ward has organized a propagation session on prevention of domestic violence, sexual abuse, and the "Godmother" program at Binh Duong 2 quarter (An Binh ward, Di An city). More than 75 members of lodging house workers' association in the quarter participated in this event. Women workers were informed about legal regulations on gender equality, domestic violence prevention, marriage and family; the status, causes and consequences of sex imbalance at birth. Besides, they also gained knowledge and skills to prevent child sexual abuse; on how to avoid dangers that occur every day; risk awareness, sexual harassment words, and the social security order situation at local lodging houses…
Also at this program, Women's Union of An Binh ward encouraged Nguyen Thi Xuan Trang, the head of Women's Union of Binh Duong 3 quarter, to sponsor Bui Thuy Tien in Binh Duong 2 quarter with an amount of 500,000 VND/ month. This was a humane program that affirms the role of Women's Union in community activities.
Tran Bao Lam, Deputy Secretary of Provincial Youth Union, said: "The propagation and communication at lodging house youth branches has been actively coordinated by the Project Organizing Board at all levels, grassroots Youth Union and Women's Union together with relevant agencies to carry out practical and effective caring activities for members and workers' children. Activities of branches and associations, tours of historic places, cultural and art movements, physical training and sports activities, mobile legal counseling programs, Binh Duong Women's flyers, and monthly young worker newsletters have provided many useful information for workers. The Provincial Project Steering Board and the Project Organizing Board at all levels have also mobilized and gave law books to youth branches and lodging houses, providing more materials for workers to raise law awareness and apply into life".
As of mid-2022, the whole province has 1,944 lodging house youth associations; 92 youth unions of migrant workers; 95 youth unions at businesses outside the public sector; 120 youth associations of non-state-owned enterprises. In which, over the first 6 months of 2022, the whole province established 67/104 lodging house youth associations, 5 youth unions of migrant workers, 7 youth unions at businesses outside the public sector, and 3 youth associations of non-state-owned enterprises.
In the coming time, the Project Organization Boards at all levels strive to complete the project targets in 2022 and focus on improving quality, ensuring daily life, and strengthening young worker unions and associations. In addition, it is necessary to strengthen the mobilization of social resources to take care of material and spiritual life and continue to develop and replicate good models of young worker gathering and unification.
Reported by K.Tuyen - Translated by Ngoc Huynh